Introdu
cing:
The
Power
of
Sequence Automation
for
B
2
B
Sales
Teams
Are you a B2B sales expert looking for an efficient and effective way to target potential customers? Automated outreach sequences are the perfect solution. Utilizing personalized email, SMS, LinkedIn, voice, custom tasks, direct mail and webhooks that post data to external platforms, sequences provide a powerful and personalized way to reach out to prospects at scale.
In this article, we will explore the types of actions you can include in your sequence playbook to drive higher prospect responses, generate interest and grow revenue.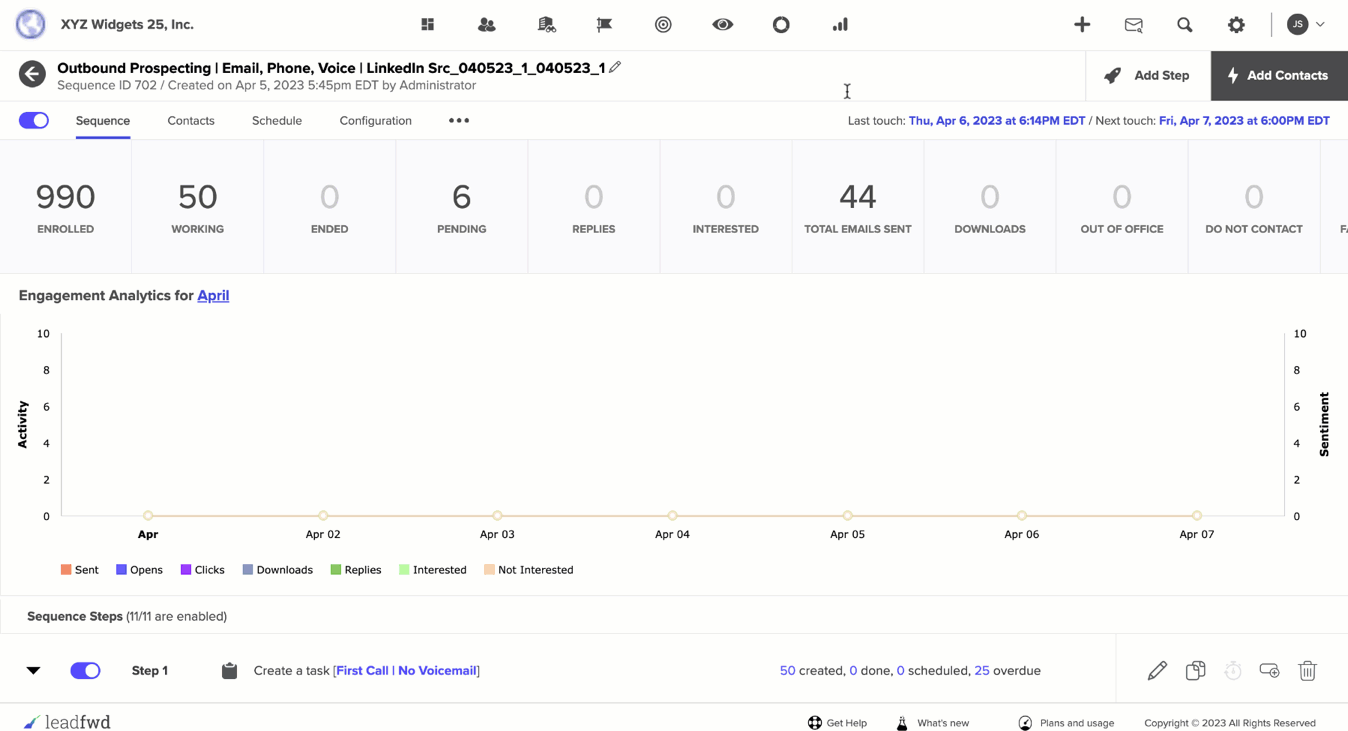 Send Email
Automated Emails in sequences help you reach prospects with personalized messaging, at scale and on a specific schedule. Learn more about deploying Next/Gen Cold Email
Personalization using tokens that represent data field properties in your Contact list
Spintax for randomizing email copy to help support deliverability and inbox placement
Access to 495+ industry expert email templates
Optional Open and Click tracking
Email attachment support
Multiple Mailbox Distribution with Smart Sender Rotation
Optional Opt-out Link or AI-Powered DNC Detection
Auto-BCC to an external email address or CRM (one or many)
Test your message by sending a email proof
Dynamic Sender Signature Personalization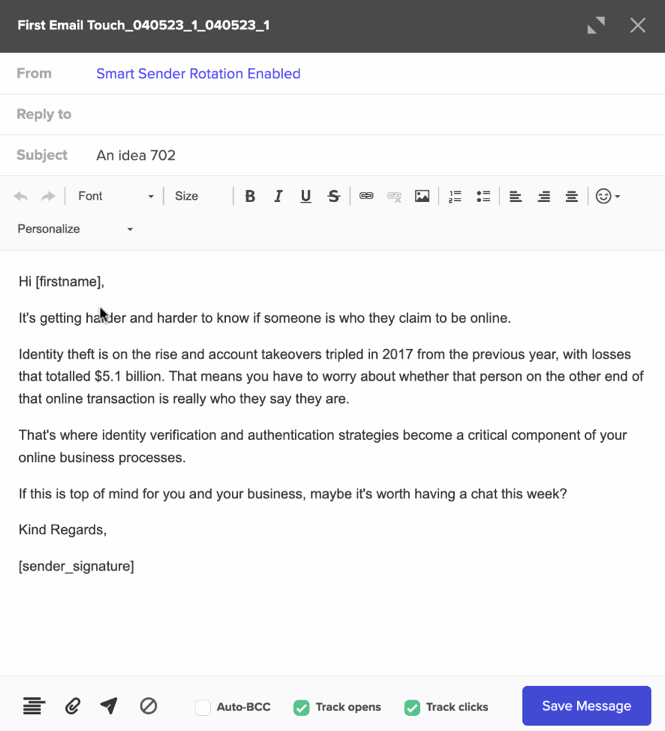 LinkedIn Tasks
For B2B sales experts looking to maximize their time, automation through LinkedIn can be a powerful tool. Automating your outreach can save countless hours and give you access to a wider variety of prospects and potential clients.
LinkedIn Automation tasks are available for Pro+ plans
Semi-automate Connection Requests, Direct Messages and InMail (LinkedIn Premium Plan Required)
Personalized Messaging supported for Connection Requests, Direct Messages and InMail using Personalization tokens for data field properties.
A valid LinkedIn profile URL is required to be saved in the default 'linkedin_url' data property for each contact. If you're using our LinkedIn Prospector tool, the LinkedIn profile URL will be automatically saved.
LinkedIn Tasks are executed using Leadfwd Sidebar with Task-flow.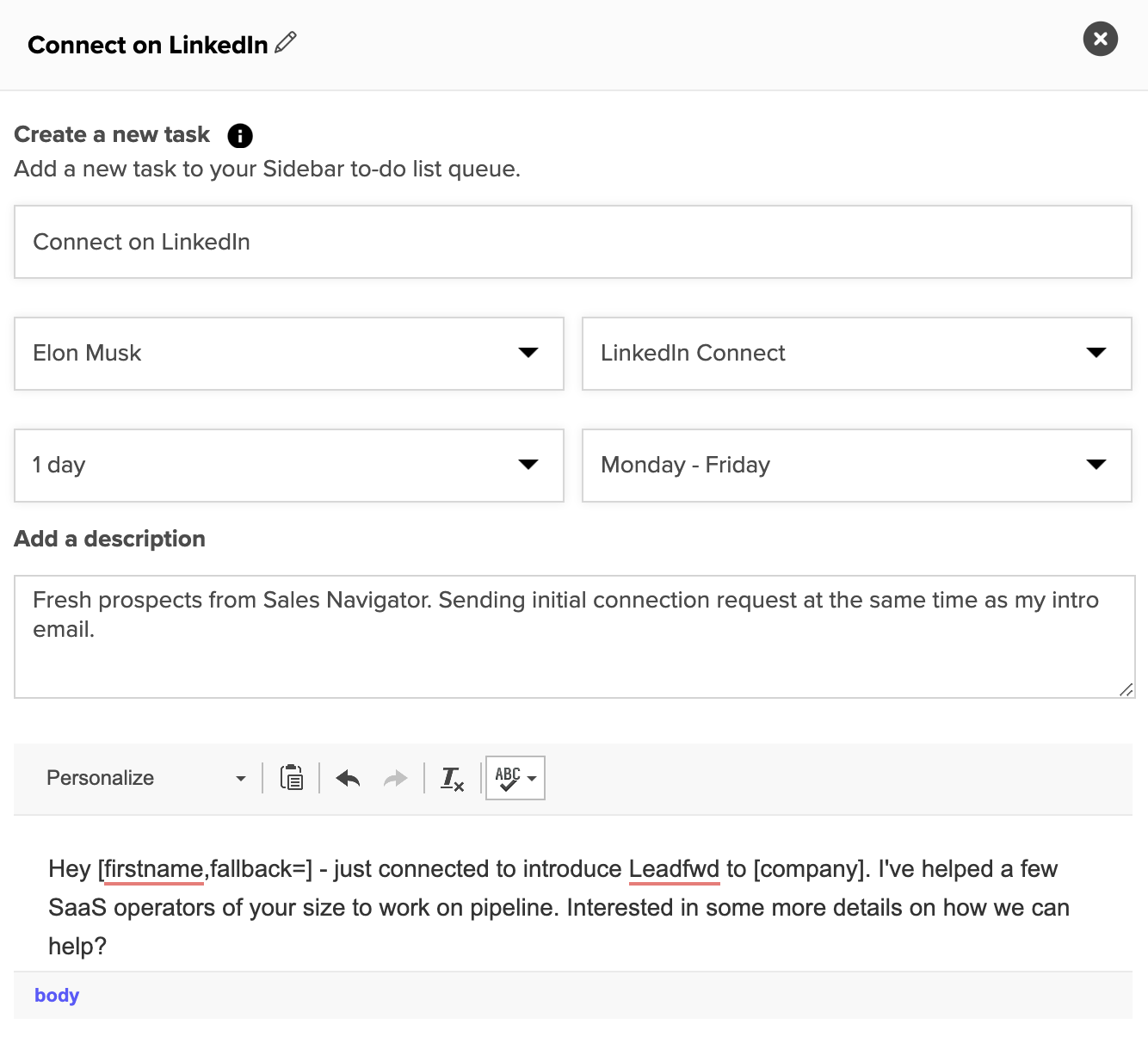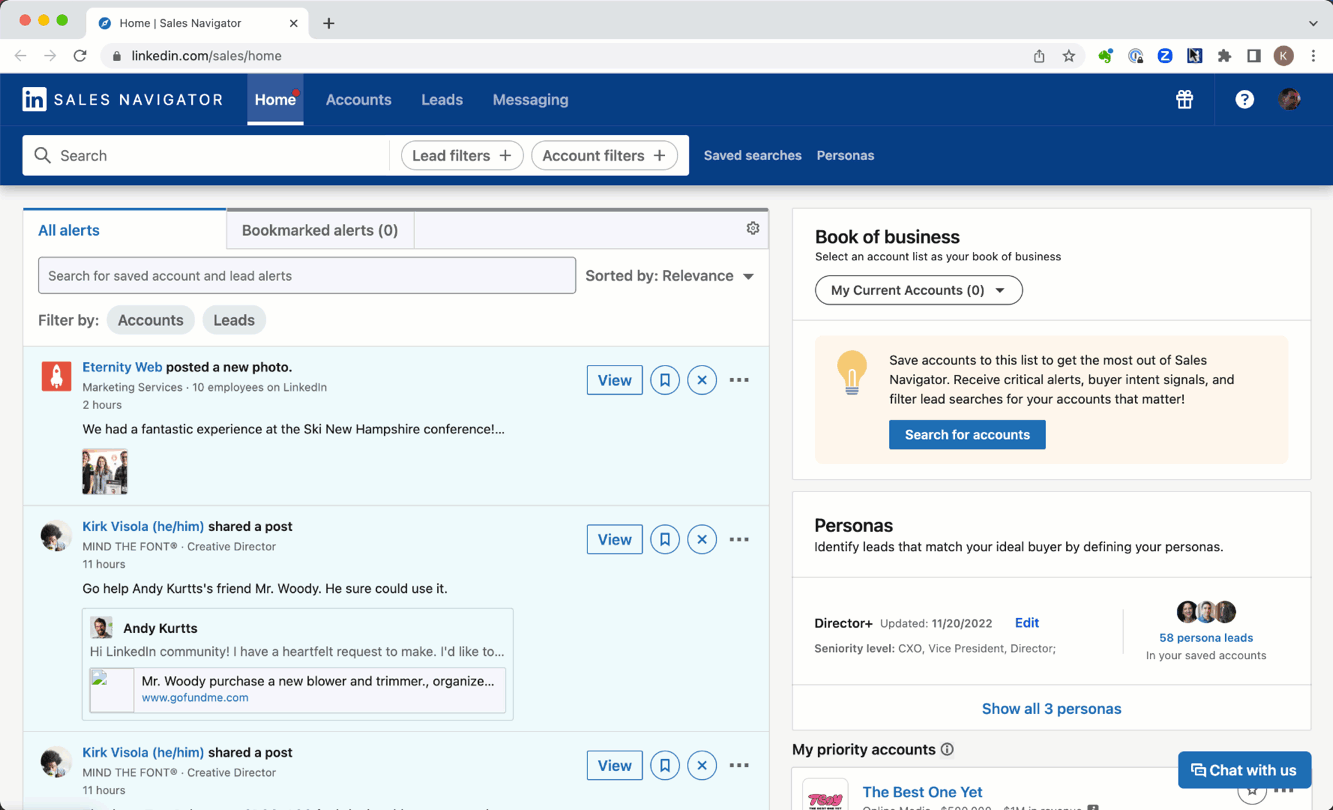 Voicemail Drop
Voicemail Drops are a powerful tool for B2B sales teams that allow them to quickly and efficiently reach prospects and customers in a way that both saves them time and drives higher response rates. By eliminating the need to make a phone call, voicemail drops enable sales reps to quickly and effectively reach out to their prospects and customers in a way that is both cost effective and productive.
Primarily only supported by mobile phones and certain direct-dial landlines, but very few. Recommend mobile phone numbers.
Voicemail drops use credits and one credit equals one successful drop. Failed attempts do not deduct a credit.
Pre-record your voicemail and upload to the Leadfwd Asset Manager.
Define a Call-back or Text-back number. This will also be displayed as the originating phone number for the voicemail. It must be valid to be in compliance. Use an E.164 format, which includes the country code and area code.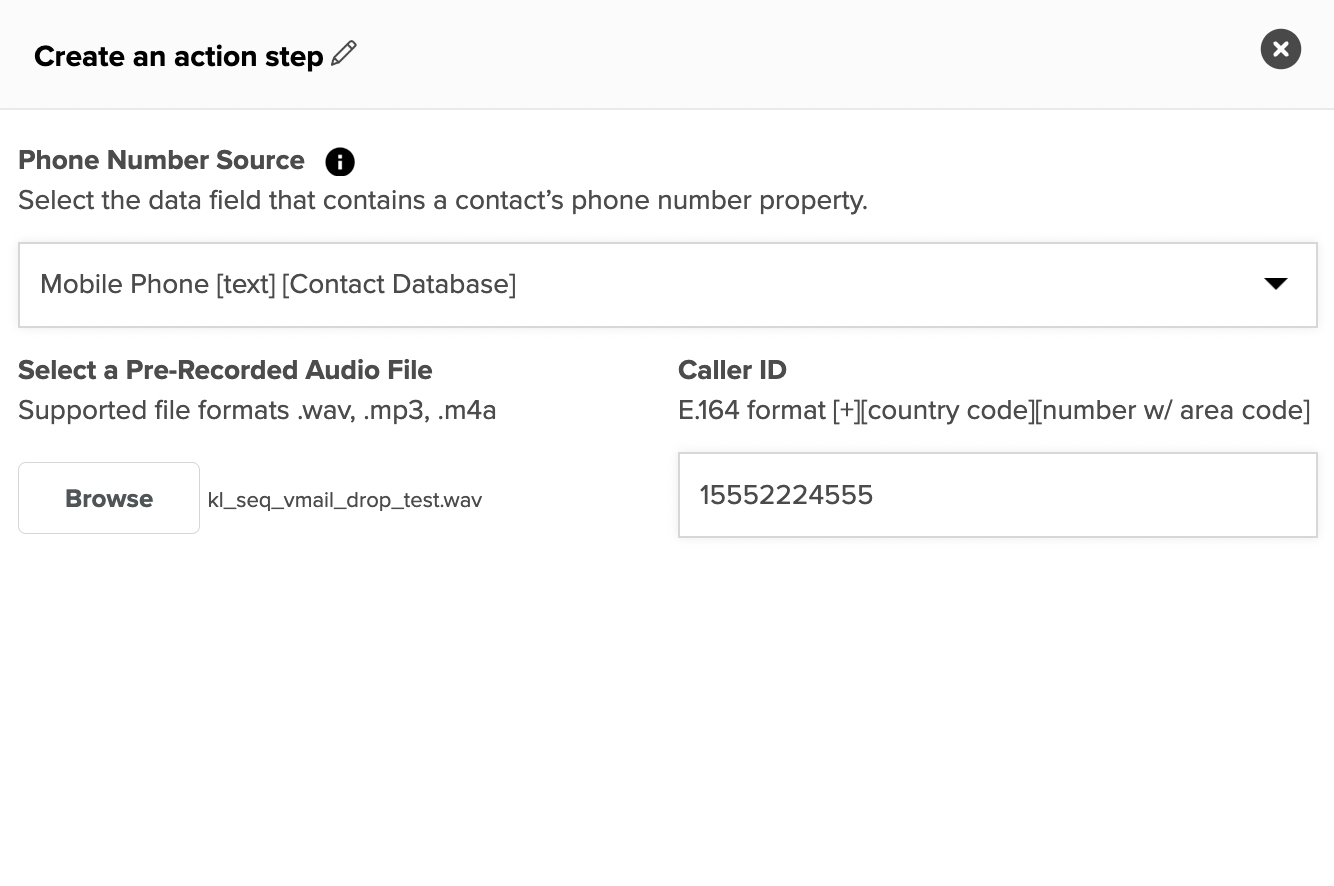 Text Message
With the ability to reach customers quickly and conveniently, text messaging is an effective way to start conversations, nurture leads, and turn those conversations into sales. By leveraging the power of text messaging, B2B sales reps can make meaningful connections with potential customers and drive more successful sales results.
Seamlessly connects to your existing Twilio account
Leverage your SMS enabled Twilio phone numbers for sending text messages
Assign specific phone numbers to Leadfwd users
Enable automatic reply detection for Sequences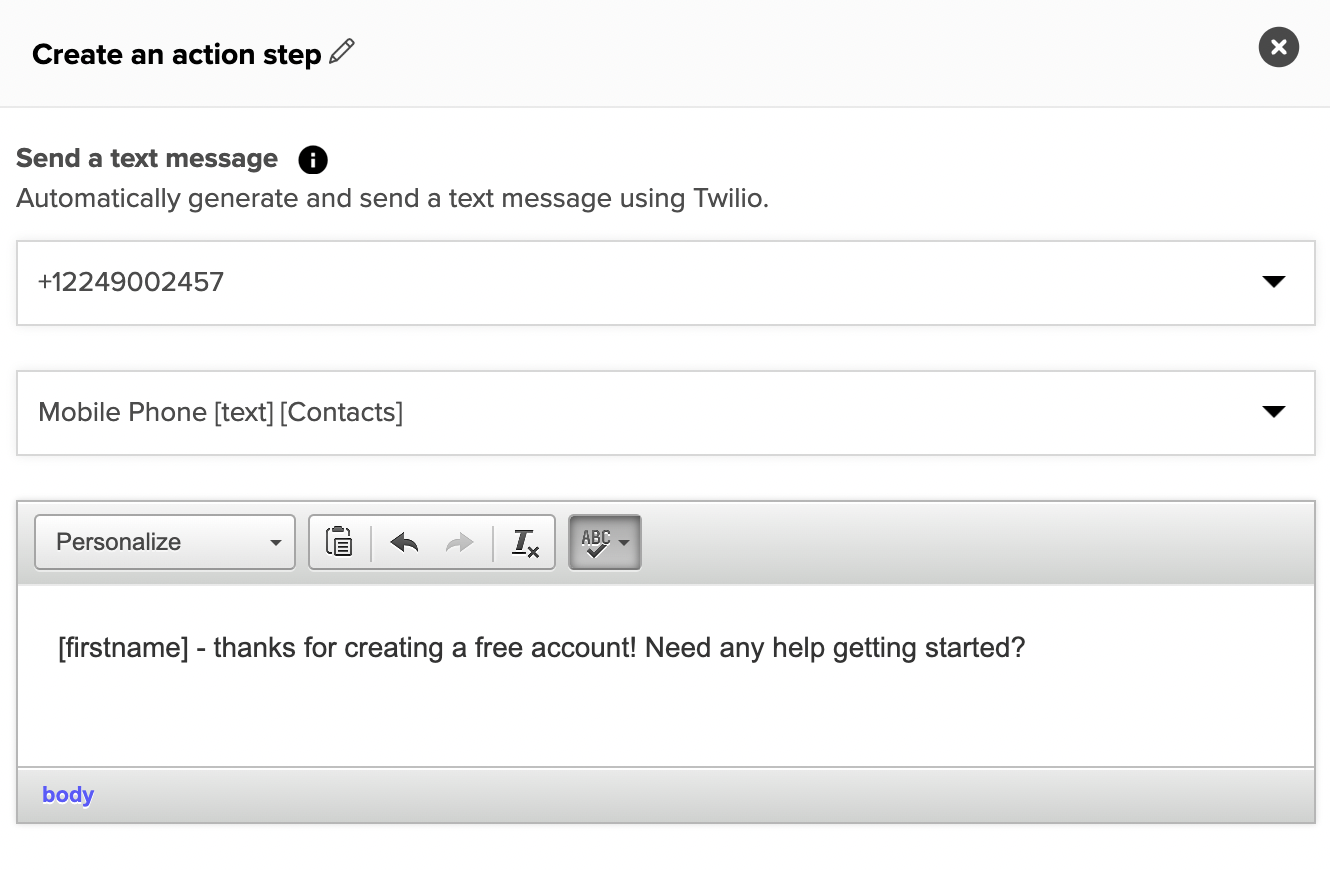 Schedule Tasks
Organizing your daily sales tasks into a single to-do list can help you maximize your efficiency as a B2B sales rep. Leadfwd enables sales reps to automatically schedule generic sales tasks as part of their automated Sequence playbooks. Scheduled tasks are actionable within Sidebar as a daily to-do list. With a clear, organized to-do list, you can stay motivated and on top of your daily tasks, so you can make the most of your time and succeed in your sales goals -- all while ensuring that you never forget to follow up or take the next best action.
Create custom task types
Assign tasks to specific Leadfwd users
Set schedule rules for tasks
Execute daily tasks quickly using Sidebar with Step-flow
Trigger additional actions based on task disposition and outcome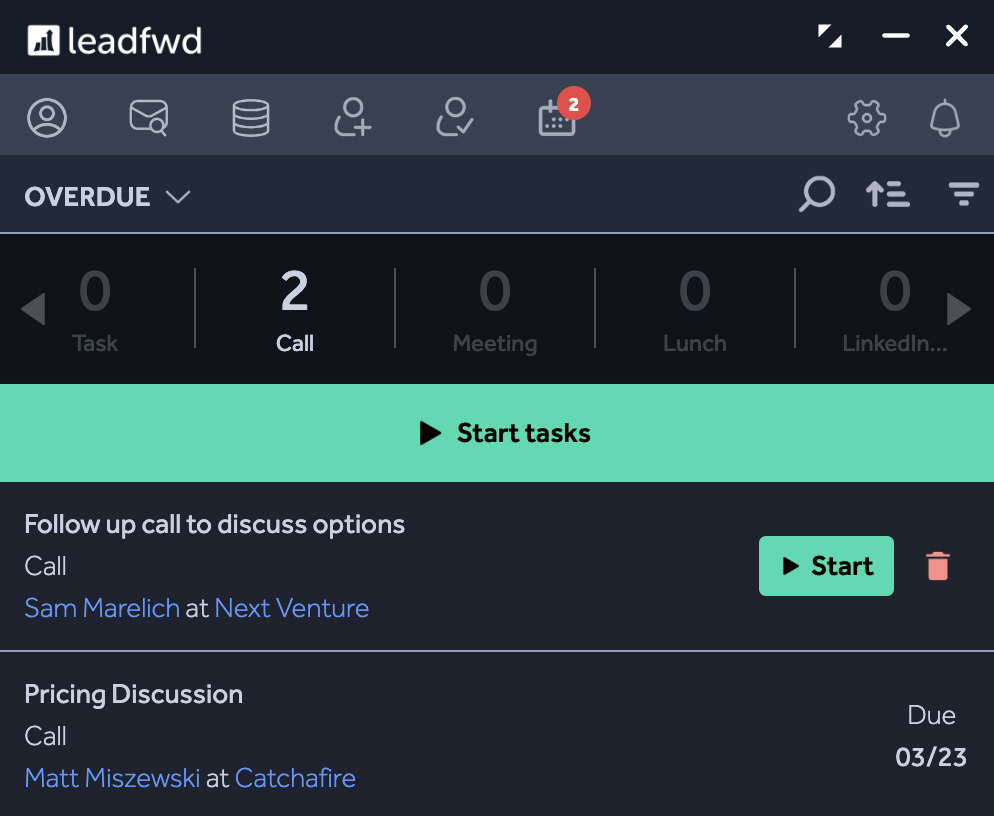 Send Reminder
Automated reminders and alerts help sales reps stay organized, ensuring they don't miss any important interactions or opportunities to follow-up with prospects. Reminders can be triggered at any point in a Sequence timeline, they can also be attached to workflows for more flexible conditional use cases.
Specify Leadfwd users or external email addresses for reminder alerts

Reminder email messages contain basic contact record details and their current engagement status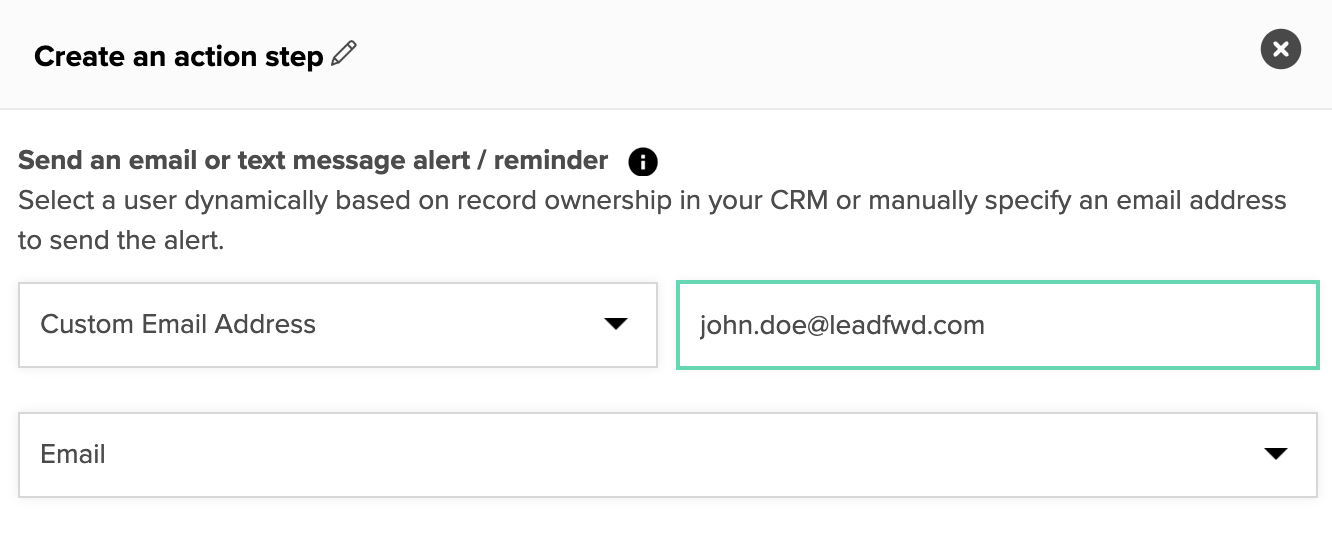 Transfer (Enroll) or Unenroll
Seamlessly transfer a contact from their current Sequence to a new Sequence using this action step. You can also End a contacts enrollment in alternate Sequences that they may be enrolled in by using the End operator.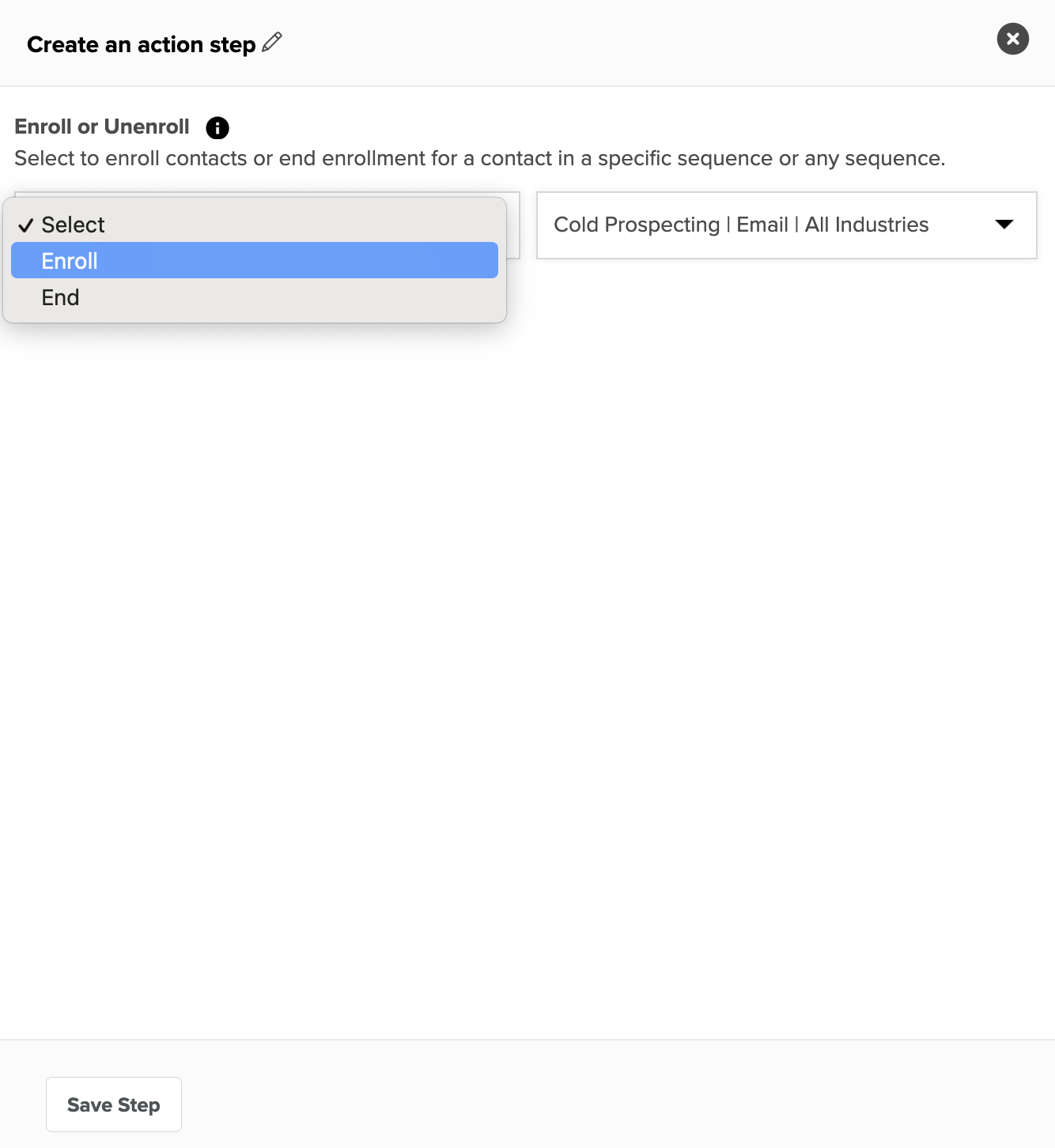 Trigger a Webhook, Zapier, Pabbly or Make
Push your Contact to a third-party platform by leveraging an outbound Webhook. When your contact reaches this step it will trigger the outbound post to your webhook endpoint or to an integration platform like Zapier, Pabbly or Make. Learn more about webhooks