Cold email is an effective and efficient sales tool that can help B2B sales orgs generate consistent lead-flow and sales pipeline. By using cold email, sales reps are able to reach and engage with potential prospects who they may not have otherwise encountered. Cold email is an ideal way to introduce prospects to a company's product or service, and it is also a great way to nurture relationships with existing customers. But, it has to be done right. The old approach of "spray and pray" or "batch and blast" are a one-way ticket to the junk folder. You need a next generation cold email program.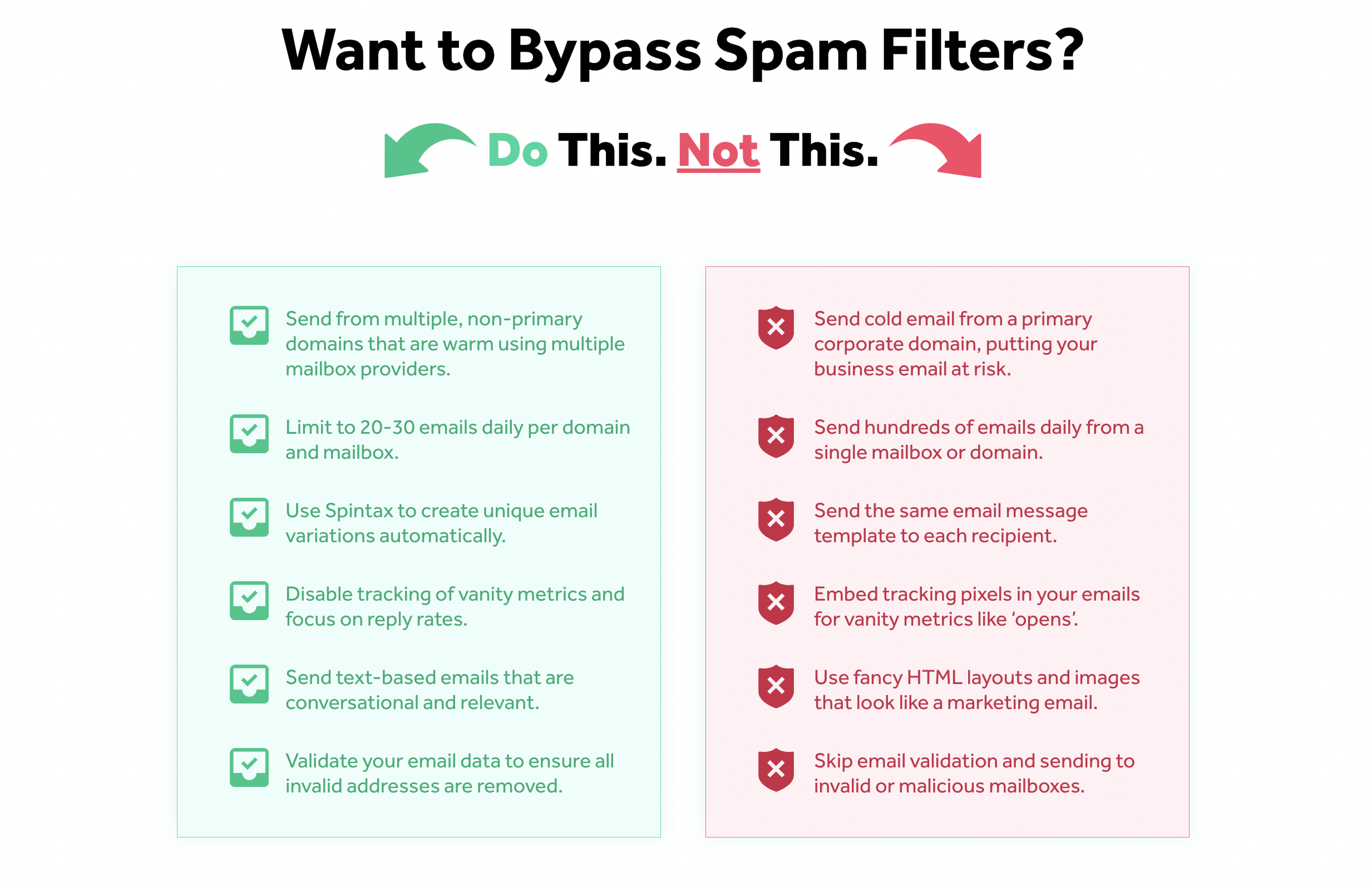 What's the secret to Next/Gen Cold Email?

Appear human

.
It's the inbox, or nothing.
Email is not effective if your recipients never receive or never read your email. Inbox placement can be your biggest challenge, but also your biggest success if you do it right. Email deliverability is a dark-art and not an exact science. ISP's do not share the exact rules for how and why they declare a message as SPAM. But, we do know that every domain has a sender reputation. When you're just starting that reputation is typically neutral, so not good but not bad. That still won't gain your entrance to the inbox with any guarantee, but you're also not destined for the SPAM box. This is the time and phase to properly warm up the domain to build a reputation (more on this later).
Important tips to get started:
Engagement helps. Don't ignore lack of engagement or think this is a "numbers game". User behavior matters across an ISP (i.e. Gmail, Outlook, etc). If recipients don't open your messages, ISPs take note. If recipients delete your messages without opening, that hurts your reputation.
Spam complaints hurt. If a recipient flags your message as spam, that dramatically impacts your reputation. Moving forward all of your messages to that recipient and possibly the entire domain, will likely go to SPAM. If multiple users of the same ISP flag your message as spam, then you'll start seeing all of your emails start directing to spam.
Too much volume hurts. High volume outbound email for cold sales outreach is not a durable or tenable strategy anymore. Don't waste your time. Right from the start higher email volume draws more scrutiny from business security platforms and spam filters, fast. The more volume, the less targeted and relevant your messaging and recipient lists become. As a ratio of sent to opened or sent to replied, you want to have higher rates of engagement with your messages. If only .05% of recipients engage with your message, ISPs are you going to consider your messages SPAM and handle them accordingly.
Opt-out links can hurt. Using opt-out links make your email look both automated and like a marketing campaign, instead of a human. A reply from a recipient asking to be removed (opt-out) from future communications is considered engagement, which means it helps your sender reputation.
No Corporate Domains, Slow and Steady and Multiple Domains + Mailboxes
Mailbox ramp up, sending volume and frequency is critical. Daily email volume per unique domain should not exceed 30-40 messages. Each email should be sent one at a time and there should be a random delay in between each send, much like how a human would be sending email. Platforms like Leadfwd deploy human-like sending to ensure emails are not scrutinized as bulk email.
Mailbox ramp up involves trickling out small numbers of email deliveries on a dynamic schedule. The number of email deliveries gradually increases every overtime based on an optimal schedule. This allows ISPs to become familiar with your domain and sending behavior. With most platforms like Leadfwd, this is a built-in feature that is completely automated.
1:1 Domain to Mailbox Ratio: Use one unique domain with one unique email mailbox

To send 300 emails per day, at 30 emails per mailbox
Recommendation: 10 unique domains, 10 mailboxes
Mix and match inbox providers (Gmail, Outlook 365, etc.) instead of using just one provider

Don't ignore IT. You absolutely need SPF, DKIM, and DMARC in DNS for each domain. Not sure what these are? Reach out, we can help.
Verify email addresses. Know your customer.
There's no free lunch when it comes to data. As has been said: Garbage in, Garbage out. One of the biggest investments of time for a cold email program is compiling a list of accounts and key contacts that fit your ideal customer person (ICP).
Know your customers. Know your ICP. Then leverage tools like Leadfwd Prospect, LinkedIn, Sales Navigator, Crunchbase, etc. to build a hyper-targeted prospect list. Gone are the days of simply purchasing a list of 'CEOs' in any industry under the sun.
Email verification should be performed on your Prospect List to weed out any invalid email addresses. Sending to invalid mailboxes hurts your sender reputation, while a clean list with minimal bounces helps your reputation. Email verification is unfortunately not perfect, as not every email address can be verified. As an example, domains configured to 'catch-all' email cannot be verified and some messages to these mailboxes could still bounce as invalid. In some cases without past delivery history, Leadfwd Prospect would consider these mailboxes risky. While these mailboxes could still be valid, its always a good idea to assemble your lists with your verified data and only a small ratio of catch-all addresses.
Text only. Images and links increase filtering.
Appearing human means that you're not sending email marketing campaigns. There should be no fancy HTML layouts, tables, images or hyperlinks. Your message should appear to have been sent directly from your work mailbox. In addition to increasing your messages chances of being filtered away from the inbox, it will also lack the appearance of being personal and make it much less likely to generate replies. Recipients don't hit the reply button on marketing emails.
Unique messaging with Spintax. Avoid templates.
Spintax is a term that refers to syntax used to create unique sentences with similar forms and styles. Effective Spintax means that the same sentence can be used repeatedly, with a different word or words being substituted randomly.
Spintax is a great way to save time by automating the creation of unique email content for individual recipients while also dramatically improving your deliverability and inbox placement. Spam prevention platforms look for templates and similar emails that are sent in volume. Spintax helps eliminate this risk by 'spinning' a different message version for each recipient, to make it less likely your message will appear like a template.