Prerequisites: Connect at least one mailbox and import contacts, before building your first Sequence.
From the Sequence Manager, select the create icon in the top right.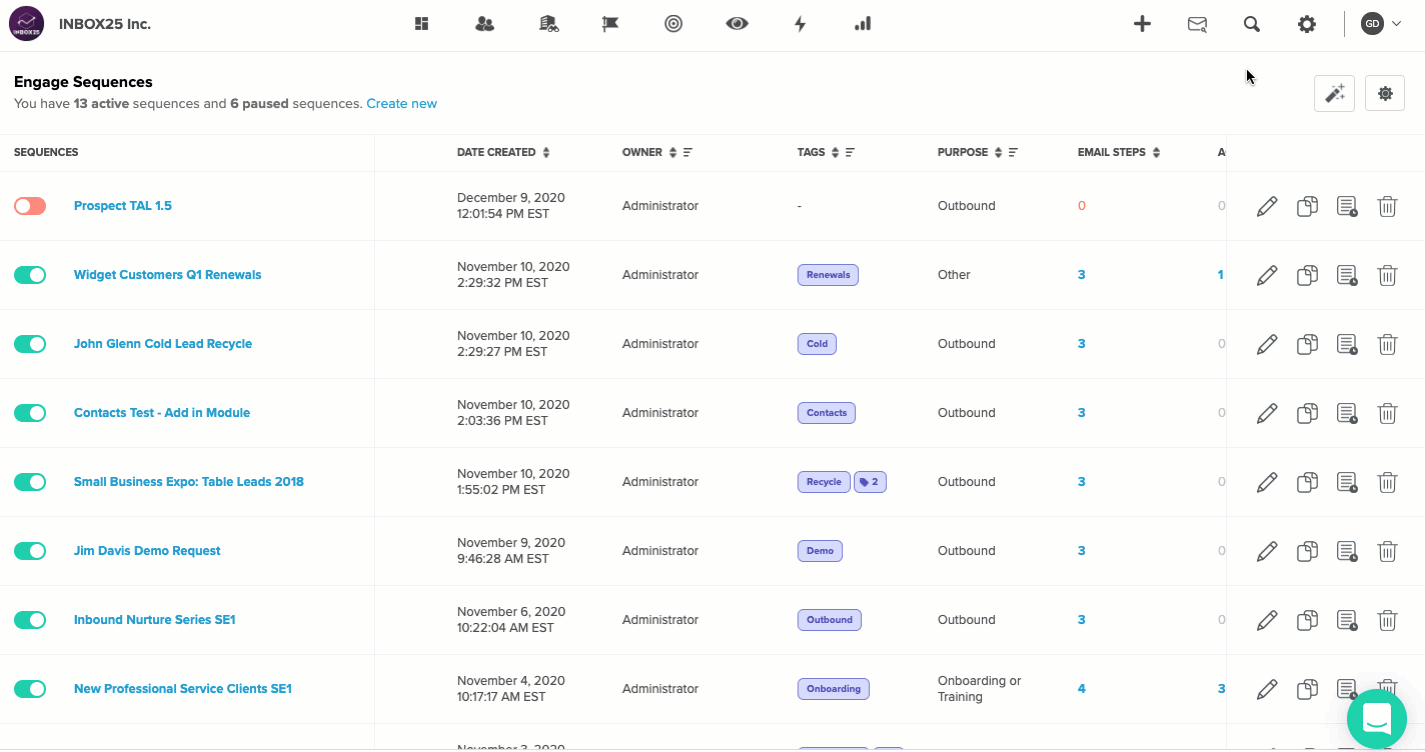 Step 1. Define your Sequence configuration
Each Sequence can contain unique rules and settings for handling a variety of situations and interactions. The first step on your journey is to define those specific attributes.
Name: The name of the Sequence
Sequence Purpose: What is the purpose for this particular Sequence? Options include:
Inbound

Outbound

Customer Support

Onboarding or Training

Event

Other
Custom 'Purposes' can be created and deployed by navigating to Settings > Engage
Access: Specify if your Sequence should be accessed only by you, the creator, or shared with your team. Sharing your Sequence enables other users to enroll contracts and edit the sequence. Private keeps it off-limits to everyone except the account owner and you.
When a contact replies: If a reply is detected what would you like to happen to the person that replied?
End Sequence early for that person

Do nothing (the Sequence continues)
If a DNC reply is detected - If a Do not contact or negative reply is detected, you can rely on our AI engage to automatically take the appropriate action.
Do nothing (sequence continues)

Set person to unsubscribed (sequence also ends)

Set person to ended early (sequence ends, but the record can still be engaged)
If a contact opts-out: If a record clicks on the unsubscribe link in the email what happens to the record. Options include:
End Sequence

End Sequence and set status to unsubscribed
Set to unsubscribed: If the option to End Sequence and set status to unsubscribed is selected there will be two (2) additional options to select with it. These options include:
Set Status as opted-out in CRM

Add recipient to Global Suppression List
Tags: Organize your Sequences by assigning tags to create relevant groups for sorting and filtering.
Step 2. Add Steps to your Sequence
Once your basic settings are configured for your Sequence, the next step is to begin building the step-by-step flow that will engage your contacts.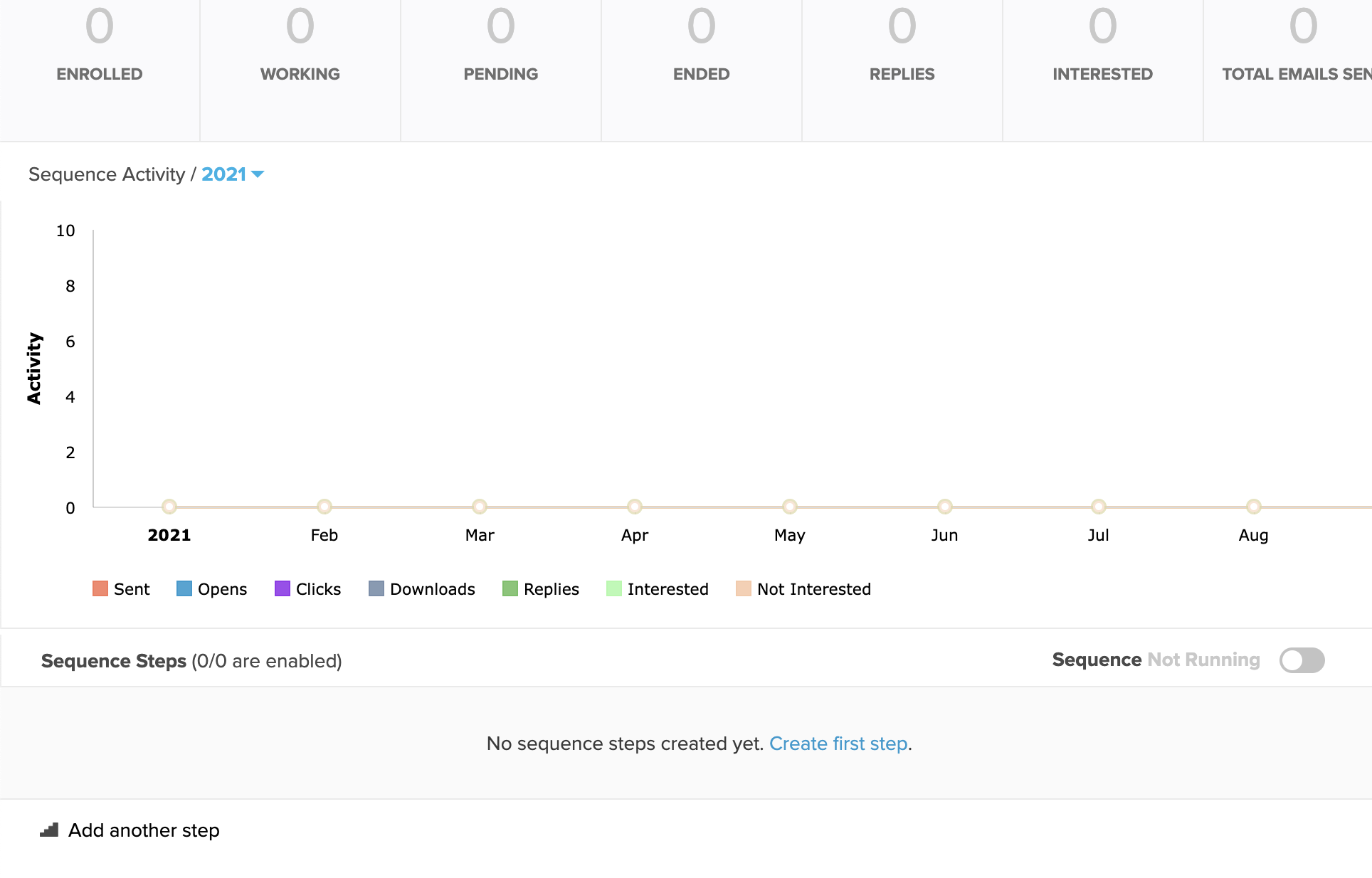 To begin, click on Create first step.
Next a drawer will open that contains available actions that you can select and configure for your step, as shown below.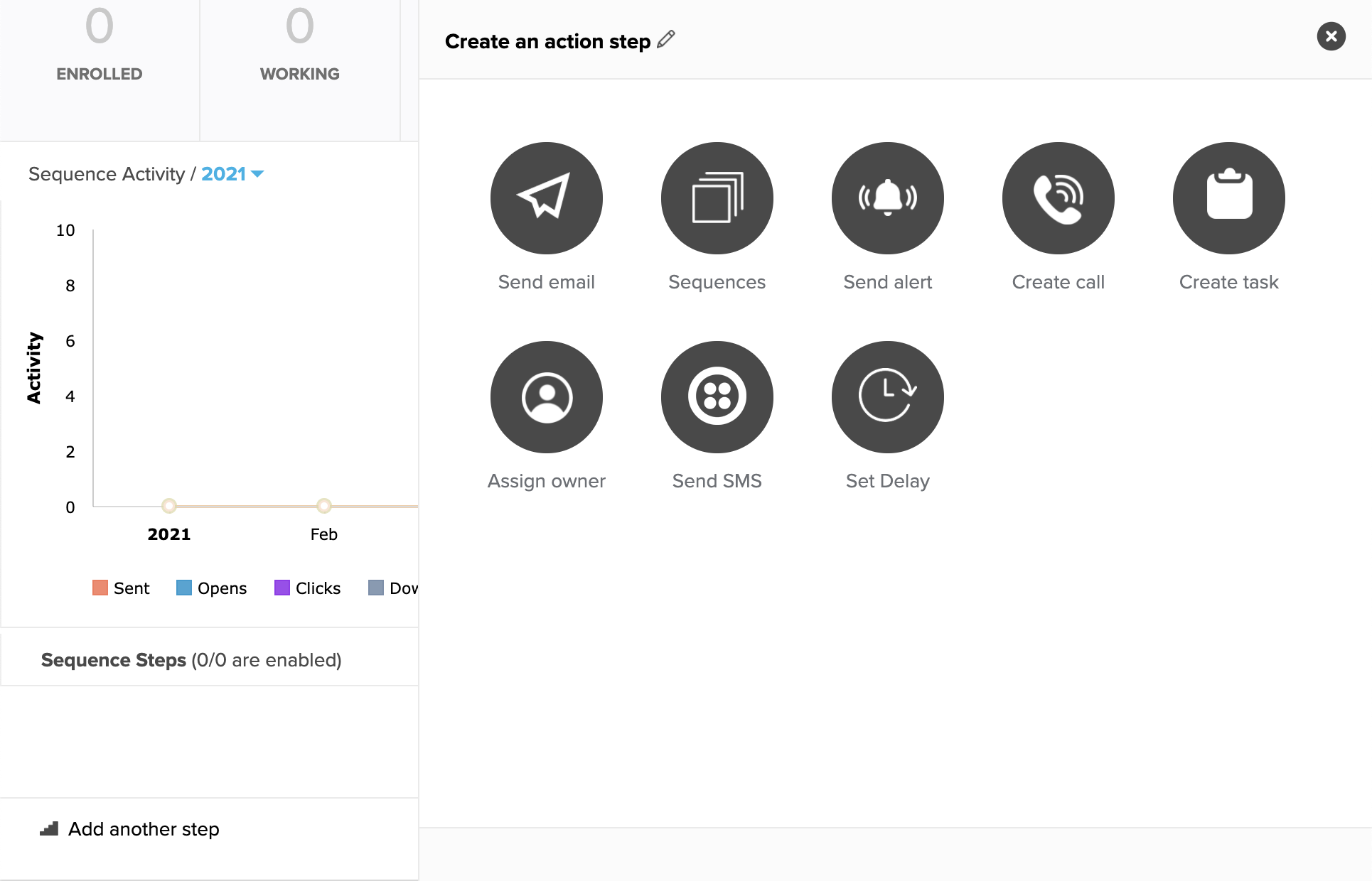 Sequences can be multi-channel and include automatic emails, SMS messages or scheduling manual tasks or calls for sales reps to execute. Learn more about Sequence Steps.
Sub-steps
Sequence steps are triggered according to the schedule you define. Only one sequence step will be actioned at a time based on your schedule. Sub-steps enable you to combine and trigger multiple actions, without requiring multiple windows in your schedule for the same day.

Sub-steps are still separated by individual time delays that are triggered after the parent step is completed.
Sub-steps must complete before a contact can be queued up for the next parent step. In the example above, the next parent step is Step 3.
Sub-steps can be created after any parent step, simply by clicking the Add Sub-step icon
You can continue building your Sequence step-by-step by clicking on Add another step.

Step 3. Set your Sequence Schedule
Sequences run automatically in the background and trigger your action steps based on a schedule that you configure.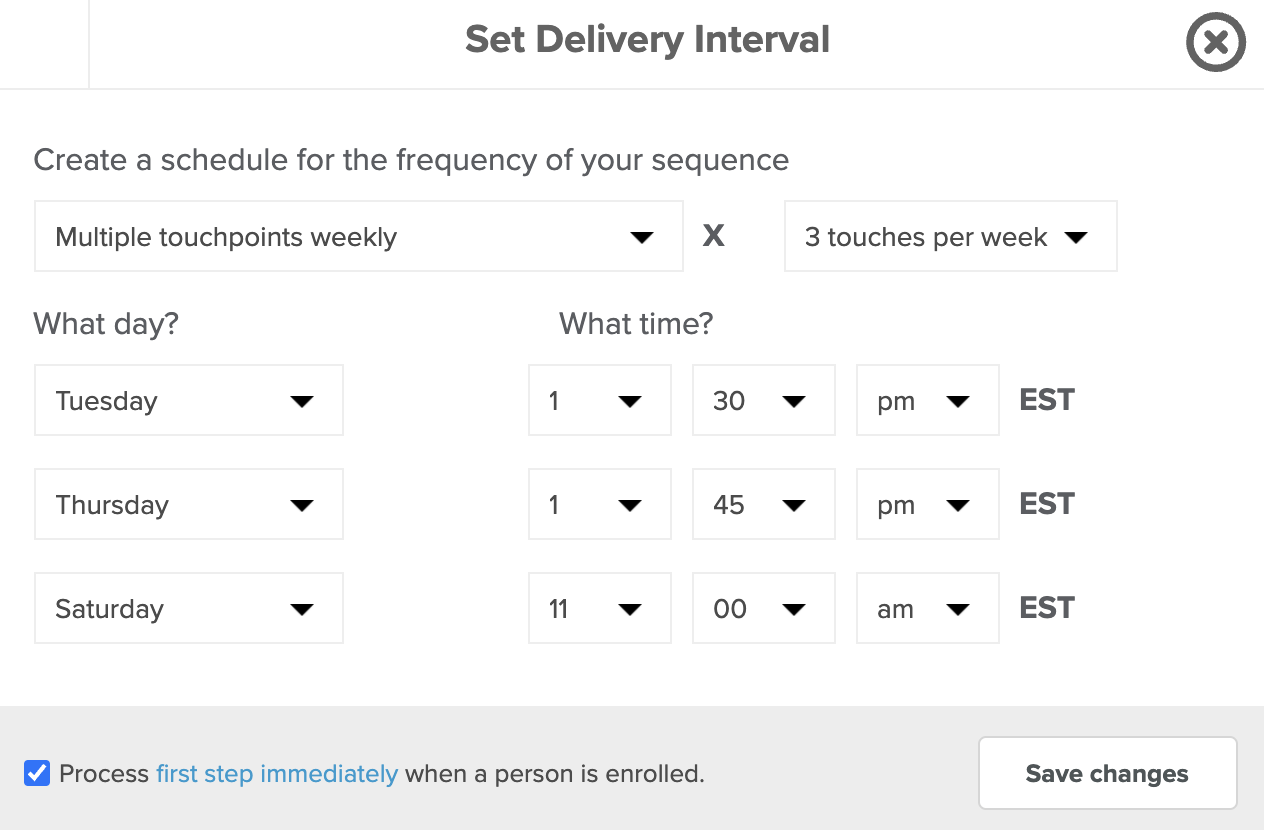 The schedule creates the baseline for when each enrolled contact will be transitioned and actioned in their next step in your Sequence.
An exception to the schedule is that you can set your Sequence to process Step 1 for a contact immediately when they're enrolled.
Only one step (plus sub-steps) will be processed per contact, per scheduled touchpoint window.
Timed Delay
While the schedule controls the available days and times for when steps can be triggered for contacts, the overall Sequence can be configured with time delays that reduce the frequency of your touch points.

Time delays will overrule the schedule and skip actions for a contact until the time delay expires. When a time delay expires the contact automatically becomes eligible for their next step, at the soonest point determined by the schedule.
Step 4. Enroll Contacts to your Sequence

Once you've completed adding your steps and configuring your schedule, you can add contacts to engage with your Sequence.
Contacts originate from lists and segments that you've imported to your Accounts & Contacts in Leadfwd. You can also enroll individual contacts, simply by typing their name or email address.
Tags
Enrolling based on tag assignment is a seamless approach to automating engagement. Tags represent 'groups' of contacts that you've either tagged manually or automatically. When you choose to enroll Tags, the Sequence will constantly monitor for tag assignments and enroll contacts when a specific tag is assigned to their record.