To make the most of ringless voicemail (RVM), you'll want script out your message in advance, making sure it's short, sweet, human and aligns with ICP that you're reaching out to. While you can always outsource this portion to voiceover talent, we recommend that your team record their own voicemails personally. Since the goal is to spark up a conversation with your recipients, that means eventually they're going to hear your voice. It's better that it aligns and it's also more human this way.
Since this is pre-recorded for your entire group or segment, you can't personalize names, company identities or anything specific to your individual contact. But that doesn't mean the voicemail can't be personal through relevance. Ensure the message's content is general enough for your entire target group to feel the value, but personal enough to feel like it was just for them.
"Hey there, John from Leadfwd giving you a ring. I sent you an email yesterday, but I thought I'd give you a call to quickly introduce myself and see if I can help accelerate some of your revenue goals for this quarter. I noticed we were both in attendance at MailCon and that's what sparked the connection. I'll shoot you another follow up email, but if you have time you can reach me at 718-555-5555 x5."
In the script example above our Sequence is targeting attendees from an event that we prospected on LinkedIn using Sidebar. The pre-recorded voicemail is accomplishing the following goals:
We can't personalize the pre-recorded voicemail with our recipients name, but that doesn't mean it can't flow naturally and feel personal. Our greeting (Hey there, John from Leadfwd giving you a ring...) is natural, informal and our tone is professional, but relaxed.
Referencing an email sent in the previous step of our Sequence. This will enable the prospect to revert to the email message for response more easily, plus it adds context for the call.
We are just lightly touching on our value proposition (revenue growth) without a cold pitch.
Communicating to a prospect how you found them or groups that are familiar to you both, can go a long way in helping to build basic credibility.
"Hey there, John from Leadfwd giving you a ring. I sent you an email yesterday, but I thought I'd give you a call to quickly introduce myself. I noticed that we both travel in some LinkedIn SaaS groups. My role at Leadfwd is to help connect with founders looking to grow their pipelines fast, without adding bodies or budget bloat. I'll shoot you another follow up email and I'll follow up again with you next week. Cheers."
In the example above, you can see how we communicate our purpose based on the group that our Sequence is targeting, which is SaaS founders. Letting your prospects know that you're reaching out because of the group they're in (i.e. founders) or the problems that you solve (pipeline growth) is yet another form of personalization, but at scale. The messaging is relevant for each prospect that will receive this pre-recorded voicemail.
If you need help building a hyper-targeted list of prospects to reach with your message, check out our Prospect platform.
Short and sweet is best. We recommend that your pre-recorded voice message have a maximum duration range of 20-25 seconds.
Ensure your messages abide by rules and regulations in your area, then get started!
Recording your message
Microsoft Windows
We recommend Voice Recorder for Windows users.
MacOS
MacOS includes Quicktime Player, which in addition to being capable of playing videos and audio it is also capable of recording sound through a microphone.
1. Begin by searching for 'QuickTime' and opening the app in Mac OS.
2. When QuickTime opens it will initially show a file browser for you to select a file to play or view. You can ignore that dialog and simply navigate to 'File' and select 'New Audio Recording'.

3. Ensure your microphone is connected and then select the red record button to immediately begin recording.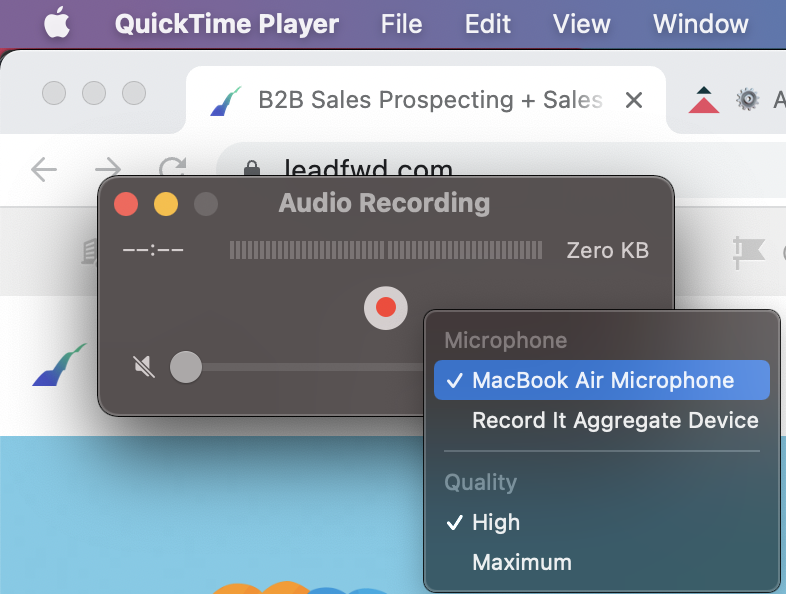 4. When you're finished click the stop button and then proceed to File / Save.