Warming up mailboxes is essential for maintaining a successful cold outreach program. Properly ramping up your email volume helps ensure your emails make it to the recipient's inbox and don't get caught in spam filters. This can give you a better chance of engaging with prospects and ultimately converting.
Leadfwd's approach to warming mailboxes is a sustained and gradual ramp up of email volume for the individual mailbox. Our ramp up mode is available for every connected mailbox and is fully customizable depending on your domain(s) sending history. Ramp Up mode utilizes your actual Sequences, Messaging, Contact data and practices to help develop your sender reputation.
Enabling Ramp up Mode

Navigate to Engage from the application navigation bar
Select Mailbox Connector
From the Mailbox Connector table, click the gear icon for a specific mailbox and select Mailbox Options.
Scroll down to Mailbox Ramp Up Mode and from the pick list, select Enabled.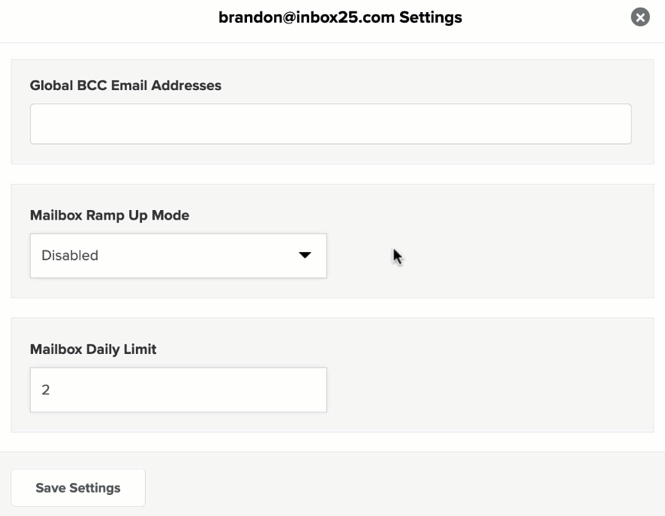 Configuring Ramp Up Mode
Ramp Up mode begins with a daily sending limit of '2' by default. It cannot be changed.

Daily sending limit will increase by a specific % on each sending day. The minimum increase is '1' per sending day. The greater the %, the faster your mailbox will reach the Ramp Up Goal Limit.

The daily sending limit will only increase if the mailbox is sending on that specific day. If the mailbox is not being utilized by Leadfwd on a given day, the sending limit will not adjust.

The recommended Ramp Up Goal Limit range is 35 - 45 per mailbox for optimal deliverability with a Ramp Up velocity of 14 days for existing domains. If your domain is less than 30 days old, we recommend at least 21 days, but ideally a full 30 day cycle.
Recommended First Time Ramp Up Formula (21 days)
Create a Starter Sequence
Enroll only Contacts with Verified Email Addresses
Set a Schedule of Monday - Friday
Separate Email Steps by at least 2 days
Set Maximum Daily Enrollments to 5
Enable Ramp Up Mode with a Daily Limit Goal of 35 and a Daily Increase of 20%
Enroll at least 50 contacts into the Sequence
The velocity of you ramp up period should be determined based on your domains sending history. If you're adding a domain and mailbox that has sending history with a similar provider (like Leadfwd), then you're generally safe with a shorter ramp up period.