Segmenting leads is an effective tool for sales targeting since it allows sales teams to divide a list or database of leads into different groups based on their particular persona, needs and account qualification. This segmentation of leads ensures that at each step of the sales process sales personnel are applying more precise strategies to target that particular sector of customers. By being as specific as possible in terms of sales targeting, businesses can increase the odds of making the sale and providing customers with a positive experience. Additionally, segmenting leads ensures that marketing dollars are being utilized most efficiently.
Segments in Leadfwd
Your Contact database within the Leadfwd platform supports an unlimited number of segments. A segment is simply a group of contacts that can be accessed and targeted separately from your whole database.
Important:
Contacts can exist within multiple segments, while residing in the primary Contact database.

Segments do not duplicate contacts, nor do they increase or add to your Active Contact limit.

Smart segments can only be updated by an Automation Workflow (automatically) and you cannot manually add Contacts to a smart segment.

Segments can be utilized and targeted by Sequences, Campaigns and Automation Workflows.
There are two types of segments within the Leadfwd platform:
Smart Segments | Built using specific qualifying conditions that a contact must match and updated automatically to feed new contacts that match the criteria - as your Contact database is updated.
Manual Segments | Built manually by a user using manual filtering and contact selection. These segments do not update automatically and will remain static until a user updates the segment.
Creating Segments in Leadfwd
There are multiple methods within the Leadfwd platform to build segments manually or automatically.
Automation Workflow (Add to Segment)
Auto-Created by Leadfwd (Prospect Search Results, CSV Import)
Bulk Action: Add to Segment
From the Contact Manager list view you can seamlessly add one or many Contacts into a new or existing manual segment.

Apply search filters to find the appropriate contacts for your segment, which can include also include custom data field properties with our 'Create a Custom Filter' option.

When your list view is updated, review your contacts and using the checkbox located in the top left of the table header choose to select all the records on the page or all of the records for your view.

The floating bulk action toolbar will appear at the bottom of your browser view, select Add to Segment in the action pick list and then proceed to select an existing segment or to create a new segment (enter a name for your new segment)

Click Apply Selection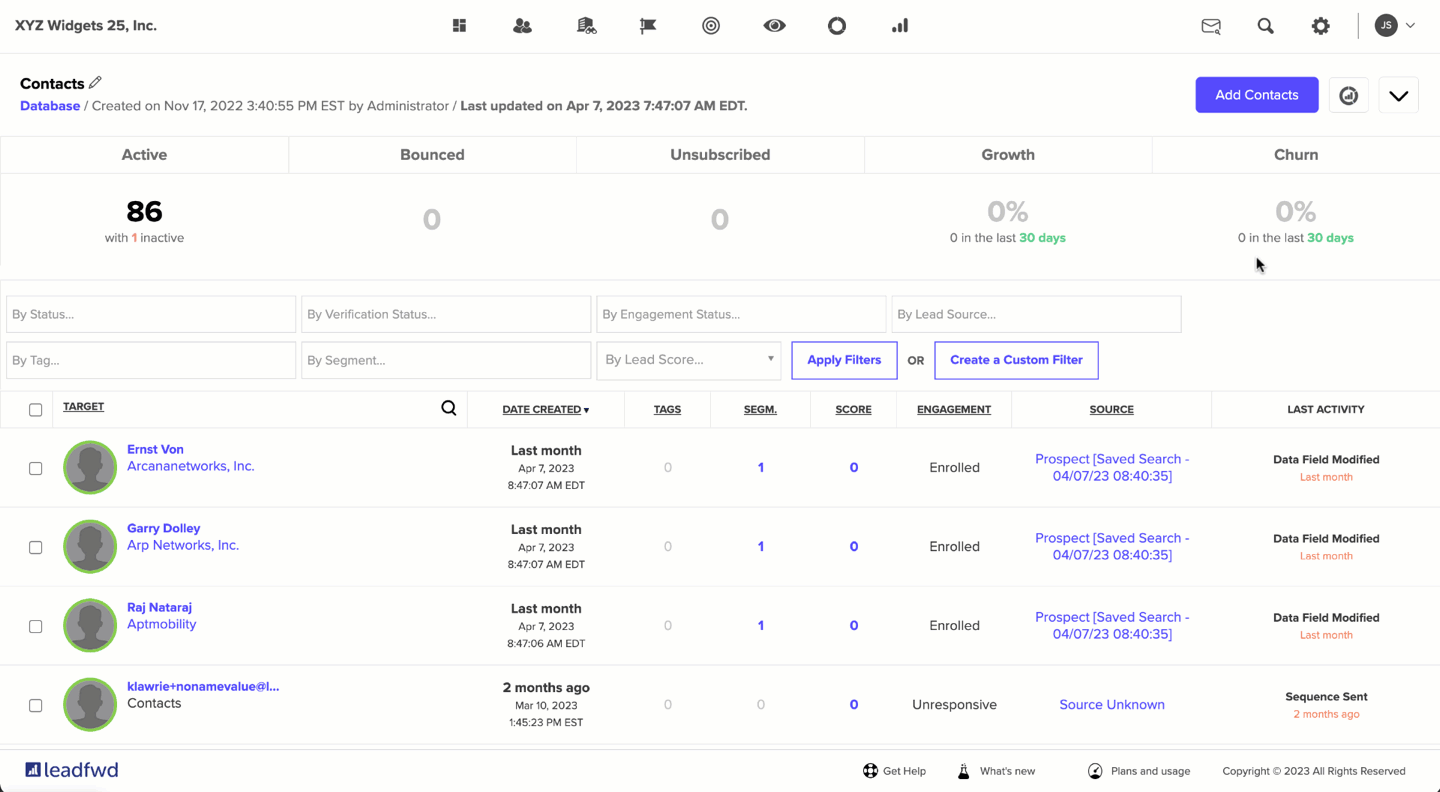 Segment Builder
Quickly create manual segments using multiple data property conditions with our Segment Builder.
The Segment Builder is best suited for creating segments based on one more data field properties, as the segment builder supports AND/OR statements to build granular rules.
To begin, navigate to options and select Manage Segments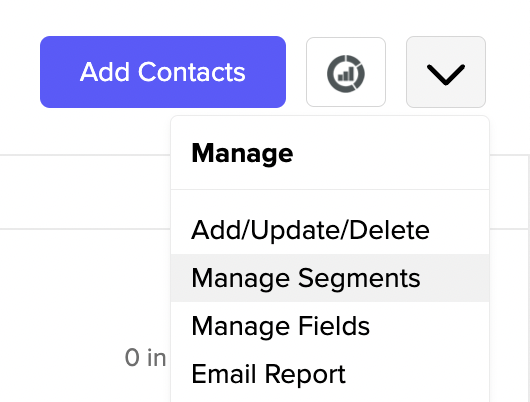 Then, click New Segment

Using the Segment Builder
Choose a unique name or ID for your segment. This will be the label used to identify your segment everywhere in the Leadfwd platform.
Select a data field property in the 'Create a new rule' pick list and click Add Rule
From the rule property row select an operator from the pick list (i.e. Equals, Contains, Is Provided, etc) and then define the appropriate value (if required) in the next input field. In the case of Is Provided or Is Not Provided, no value is required in the next input field.
In the example below we are creating a segment of contacts that we exported from LinkedIn (where a LinkedIn profile URL was saved) in 2023. This example uses an AND statement that requires both unique rules be true.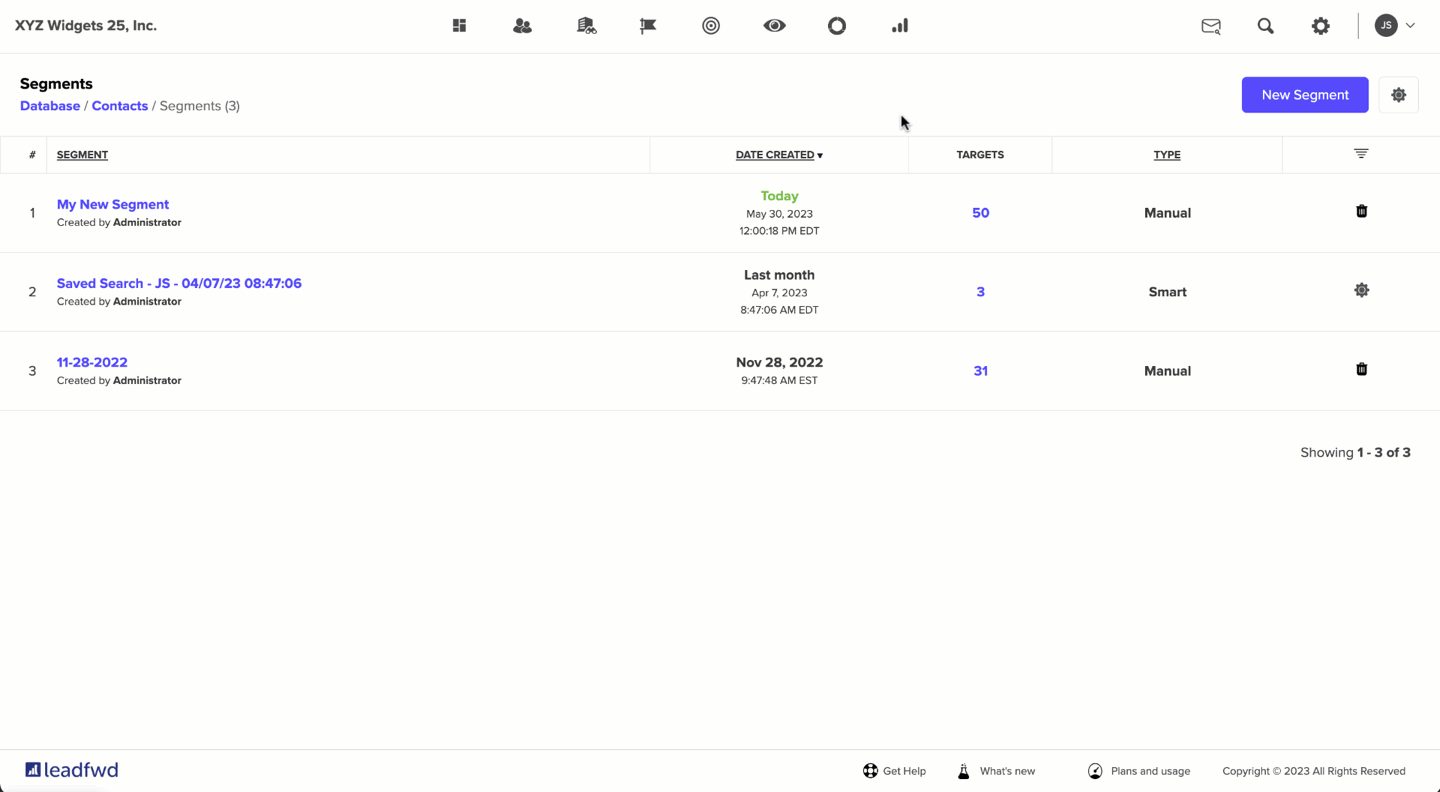 Automation Workflow
Segments can be generated automatically by creating condition-based Automated Workflows within Leadfwd. This method is be suited for segments that are being built using multiple data conditions with potentially multiple data sources. Segments created by Automation Workflow will also be generated as our 'Smart' type, which will continuously update as new contacts meet/match the criteria that is set by your workflow.
Using the Automation Workflow Builder
Navigate to Engage and click Automated Workflows
Click on New Automation
Click the Configure Automation option in the workflow timeline (gear icon)
Name your Automation Workflow
Select Contacts
Click Save Changes
Add a Condition(s) and Configure the Rule(s)
Add a 'Add to Segment' action
Click Save and Finish
Activate your Workflow by clicking the On toggle at the top
For a full tutorial on building an Automation Workflow, refer to this article
Segments Auto-Created by Leadfwd
There are a few platform functions that will automatically generate a segment of related contacts. These segments are generated to provide easier lead source tracking, reporting and targeting with tools like Sequences, Campaigns and Workflows.
Prospect Search
When you export prospects to your Contact database using our built-in Prospect Search Engine, the Leadfwd platform will automatically create a segment of those specific contacts. The segment will represent the contacts that passed our real-time email verification process and were saved to your Contact database.

Example above displaying a Prospect search export with three successful contact verifications that were saved to Contacts.

Example above displaying the segment that was automatically created for the three (3) contacts that were contained in Prospect export.
CSV Contact Import
For any bulk import of new contacts that is performed by using a CSV file of contact records, the Leadfwd platform will automatically generate a segment of contacts that were contained in the CSV file.