Including a method for your contacts to unsubscribe from future communication is both a best practice and depending on your geo-location or your contacts geo-location, potentially a compliance requirement.
Leadfwd makes it easy to for you to ensure your contacts can unsubscribe and that all current and future communication ceases immediately. We have several options available:
Add and customize an unsubscribe link
Do Not Contact (DNC) reply detection
Manually change a contacts status to unsubscribed
Manually classify an email reply as Do Not Contact (DNC)
Add and personalize an unsubscribe link
By default every new email you add to a Sequence will have an unsubscribe link enabled. When a
unsubscribe icon appears next to an email step, that means an unsubscribe link is enabled for that specific email.

You can access and customize the unsubscribe / opt-out link options on an individual email basis by opening the edit email drawer and clicking
To disable the automatic inclusion of the unsubscribe link, simply uncheck the the Enable... checkbox.
To customize the text that will be used for your link, you can make your edits in the Automated Opt-out link dialog window. The text/copy that appears between the brackets [ ] will be the text that is hyperlinked with the unsubscribe link.
You can customize the placement of your unsubscribe text and link in your email by placing a personalization token [unsubscribe] anywhere in your email body.
If you don't add an [unsubscribe] personalization token to the body of your email, the unsubscribe text and link will automatically be inserted at the bottom of every email sent.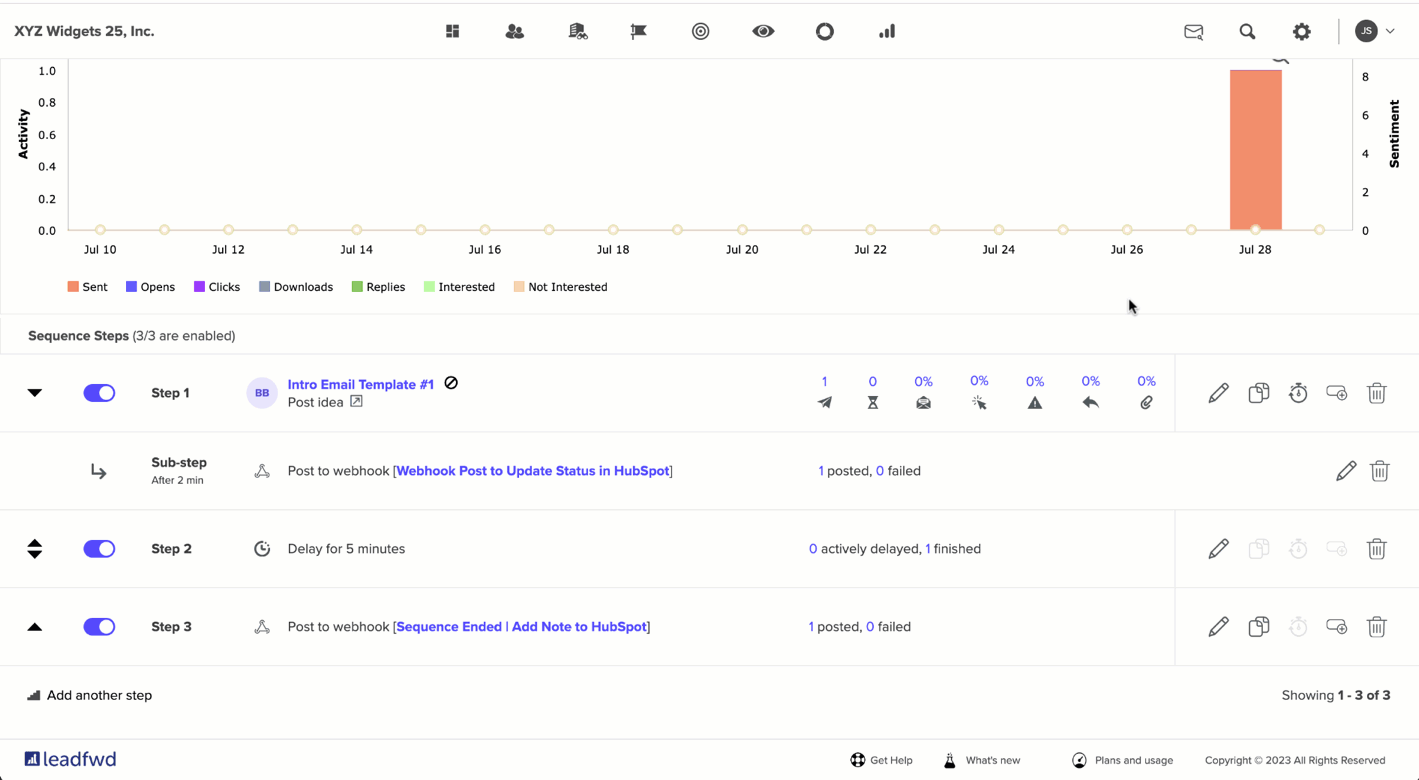 Personalize unsubscribe text
The unsubscribe personalization can be a simple [remove me] or you can create a full sentence with the link embedded, to appear more conversational -- and less like a marketing campaign. The text that appears inside the brackets [...] will be the text that is converted to the actual opt-out hyperlink.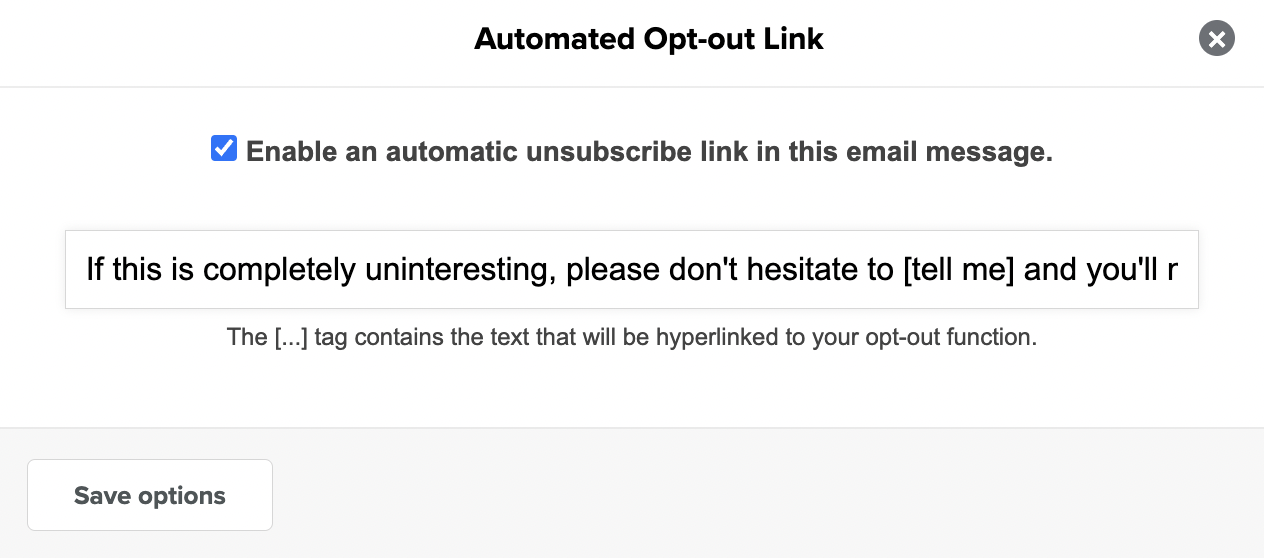 Preview unsubscribe
You can send an email proof to test how your unsubscribe text/link visualize in your email body. It's important to note that the unsubscribe link will not be active in an email proof test. The unsubscribe link is a personalized link that is injected at the time of sending for each unique contact.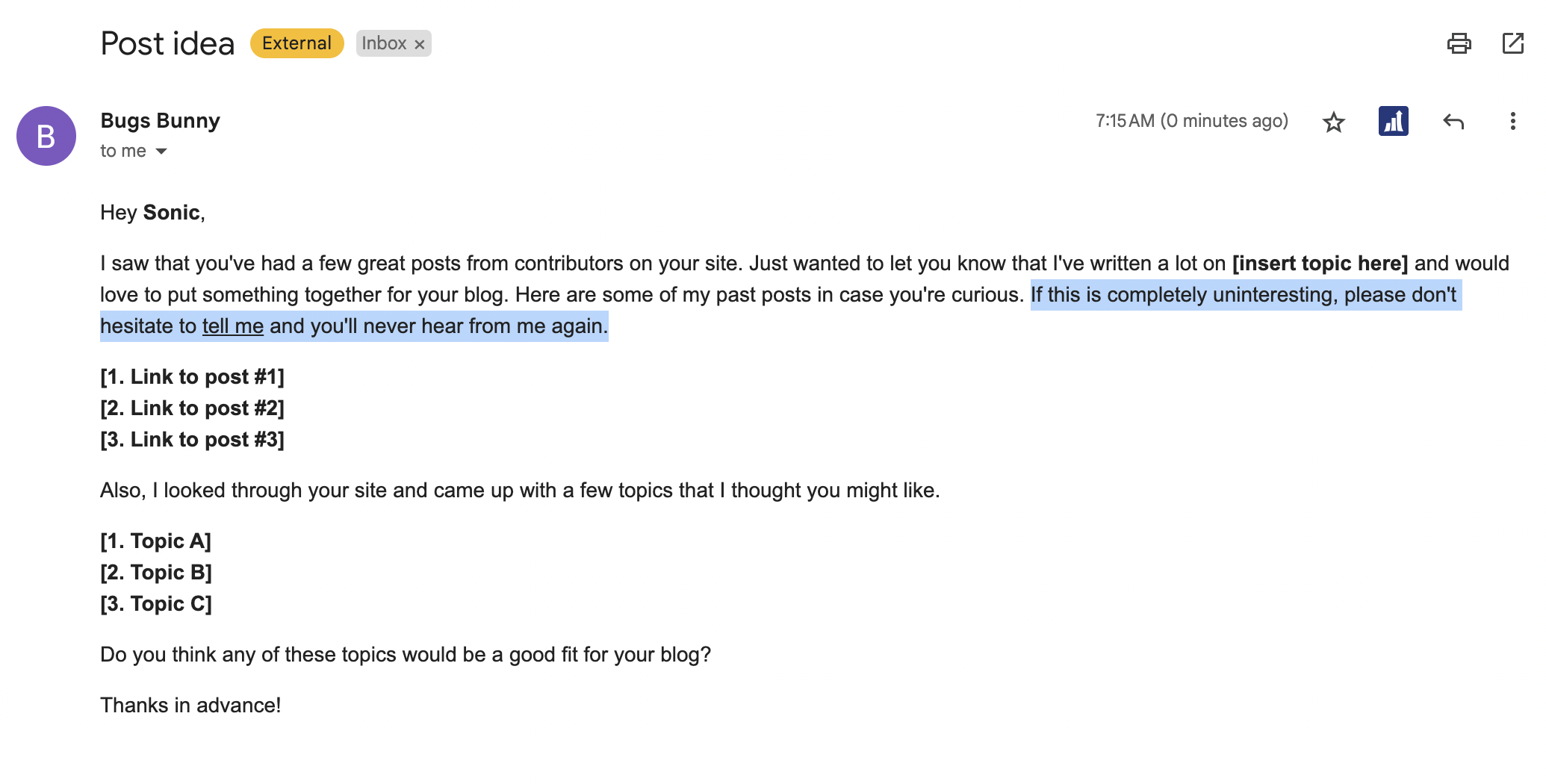 Do Not Contact (DNC) reply detection
There are a couple of downsides to consider when including an opt-out link in your sales email:
It looks like a marketing email. The first is that it's a signal to your recipient that the email was probably sent by an automated system and isn't actually from a human. Opt-out links are synonymous with marketing emails and not 1:1 emails that you send from your mailbox.
It can impact deliverability. The second is that any hyperlink inclusion will automatically subject your email to more scrutiny by spam filters, which could negatively impact your overall deliverability and inbox placement. Now, its true that

not

including an opt-out link can ultimately hurt your deliverability as well, as recipients might simply flag your email as spam/junk to unsubscribe. But... you can consider our DNC reply detection as well:
If your goal is to avoid a hyperlink for your opt-out process you can consider our automatic DNC reply detection. Our DNC reply detection looks for specific negative phrases or opt-out commands: remove, remove me, take me off your list, unsubscribe, stop, etc. When a DNC request is detected, we automatically set the contacts record status to 'unsubscribed' and the records can no longer be engaged by Leadfwd.