Start a New Search
You are able to create an unlimited number of Persona's to search for records for. The only limit is your imagination with the variables that will be presented to you. To create a new search click on the Prospect icon on the main toolbar and then select the Start New Search option.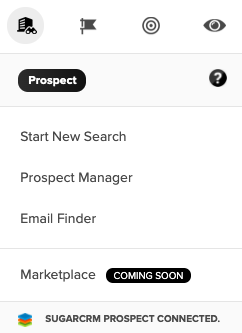 You will then be prompted with our guided mode or you can skip it and jump right into the Prospect search engine.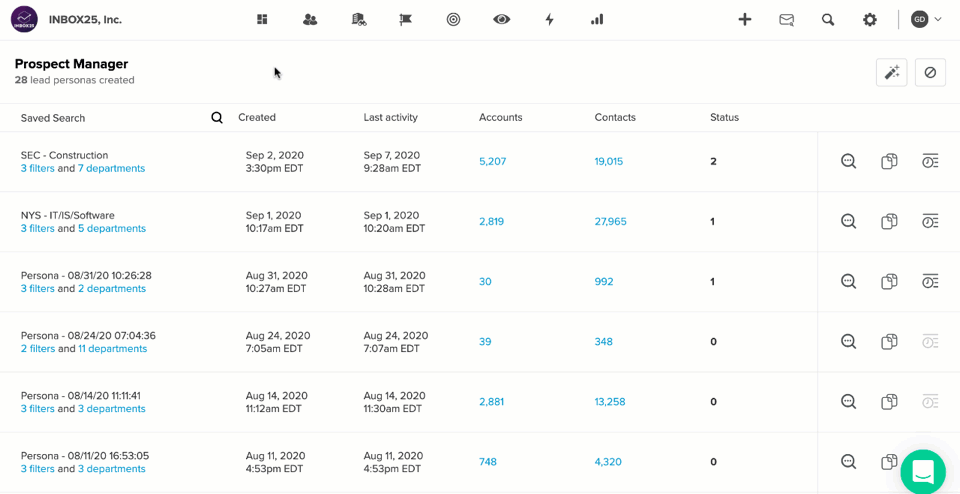 Building your search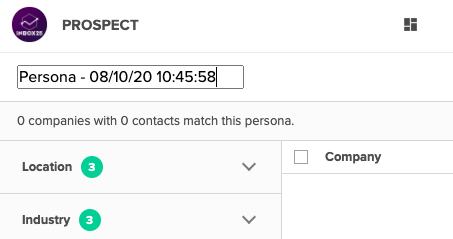 Step 1. Choose a name for your search
To get started, choose a unique name for your prospect search. This unique name will become a 'saved search' and any exports will be organized under this umbrella. A saved search can be resumed at anytime to find and export more accounts and contacts.
Step 2. Select a geographical location to target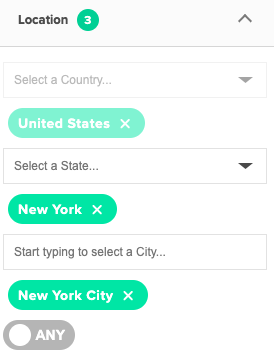 You will be prompted to put in the geographical location of where your target companies reside. You will be asked to input a:
The default value will be the United States for the country. You are required to choose at least one State in order to continue. You are not required to select a city.
Step 3. Select a target industry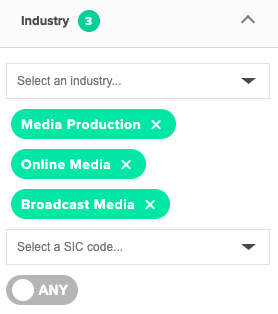 At least one industry or SIC code will be required. You can select multiple industries to increase the breadth of your results. You may also search by Standard Industrial Classification (SIC) codes if you know them.
Step 4. Select a company size to target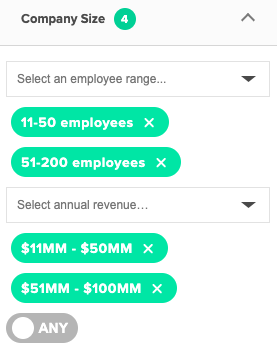 You must select at least one target range for account size based on employees. You can also select revenue range(s) for accounts, but it's optional.
Step 4. Select the roles and stakeholders do you want to target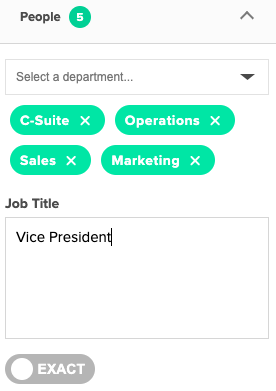 Select the department(s) that your typical buying committee represents. You must select at least one. If you're not finding results, we recommend trying 'Other' to browse for potential contacts. When your AI engine is unable to reliably sync a role or title to a department, they're automatically routed to 'Other'.
You can filter by specific Job Title as well. We recommend deploying this filter after you conduct your core search as it's most useful in trimming down larger results. It also gives you the opportunity to review nuances in job titles before you attempt to search for something specific. As an example, the term 'CMO' will not automatically identify an actual title of 'Chief Marketing Officer'.
Step 5. Optional filters to target
In addition to our standard search criteria, you can also filter your results by technology used, technology spend and social footprint. We recommend that these filters be deployed after you conduct your core search.
If you are interested in targeting companies exclusively by technology used (past or present), please reach out to your Account Executive and we can assist you directly with our data Marketplace.
Technology used (technographics)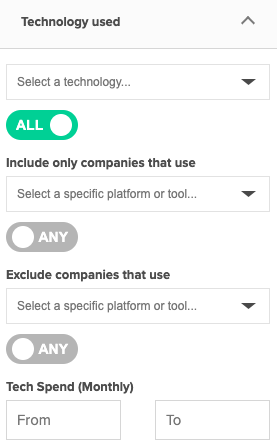 To drill your prospects down even further you can add some technographics and variables within them. These selections can be broken down in to four (4) sections:
Technology type

Include specific software

Exclude specific software

Monthly tech spend min/max
The technology type will let you add a vertical from the industry such as: Ad Analytics, CRM, Hosting, etc.
Include/exclude would allow you to target companies by specific software usage. For example you could target company's by their specific CRM: Salesforce, SugarCRM, MS Dynamics, Oracle, etc.
And finally tech spend will let you target company's that meet a specific threshold of monthly expenditure for software.
Is there a social footprint?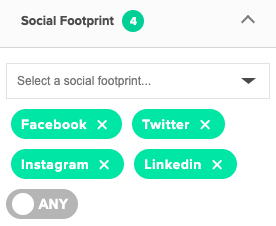 Do your target company's have a social media presence? Further filter who you'd like to target by returning results that have specific profiles on:
Facebook

Twitter

Instagram

LinkedIn

Pinterest
Please note that additional company profiles on Crunchbase, Vimeo, GitHub and others may be found after export. We just allow greater segmentation by more populous options to start with.