Sending email outreach to invalid email addresses can quickly harm your sender reputation. ISPs monitor these failed attempts and it can be viewed as a red flag that so many of your recipients are not valid.
The best practice is to verify the validity of your email recipients in advance and to not rely exclusively on hard bounce detection for hygiene. While the Leadfwd platform will automatically scrub and disable contacts with invalid email addresses after a failed delivery, the potential damage would already be done at that point.
It is especially critical during a mailbox ramp up phase to ensure that you're only sending to email addresses that are valid.
The Leadfwd platform offers a built-in email verification solution that can validate your contacts quickly and with just a few clicks.
How it works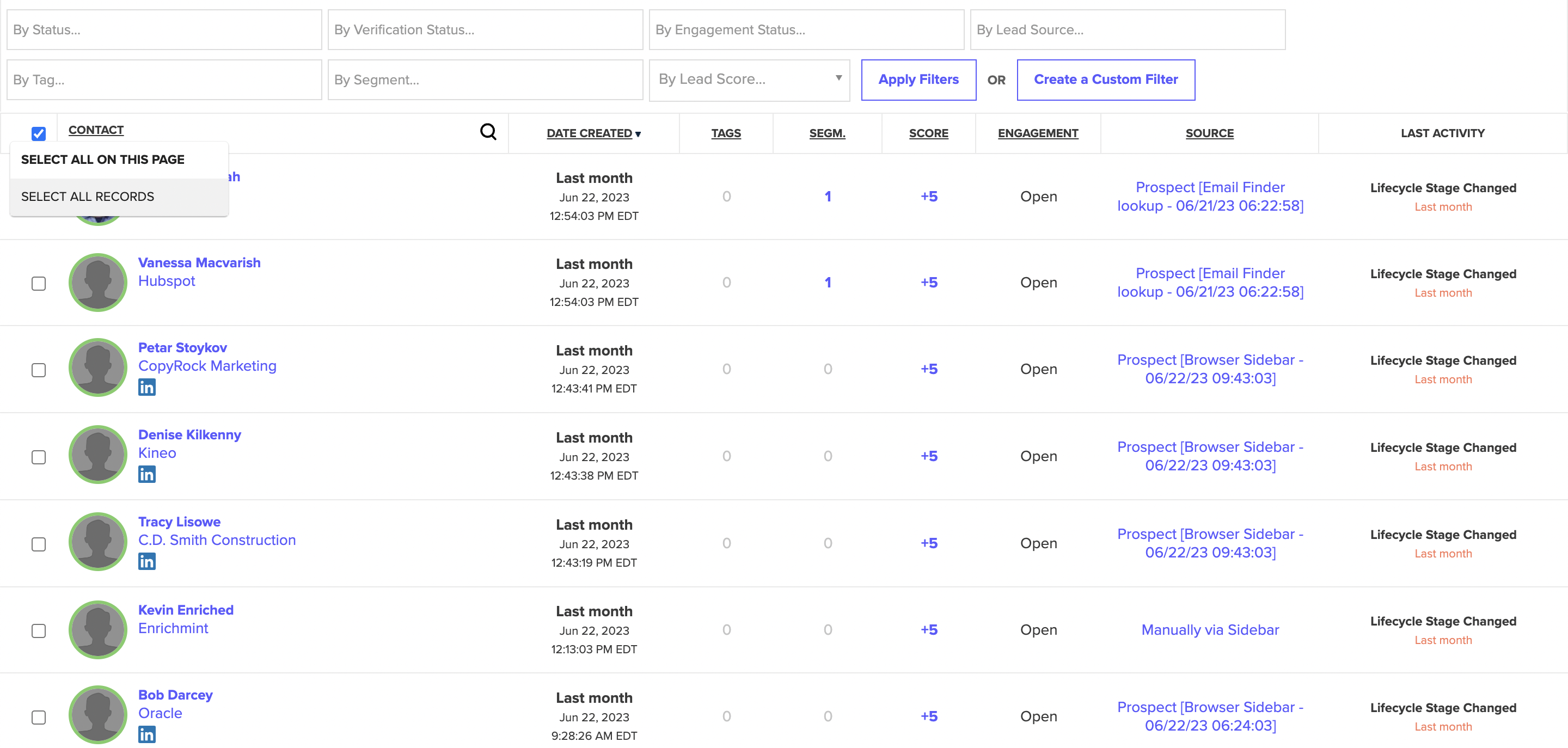 Import your data using a CSV, CRM or Third-party connector
Ensure you have enough Email Verification credits added to your plan.
From the Contact list view, select one or many contacts from the list view using the checkboxes provided. You can apply filters (i.e. Segments, Engagement Status, Tag, etc.) to target specific contacts for validation.
From the bulk action row at the bottom of the list view, select the Validate Email Address option and then click Apply Action.
Don't Double-Test!
Contacts exported from our Prospect tools (Email Finder, Prospect Search or LinkedIn) do not need to be verified. They're verified as part of the process flow of those tools and their test results will be saved to their contact profile.

Email Verification Status
Once a contact record is tested by our verification tool, the contact will have a value assigned to their profile based on the result: Verified, Risky or Invalid.
| | |
| --- | --- |
| Verified | With > 98% confidence this email address is valid. |
| Risky | The test attempt was inconclusive or the email address is part of a domain that is configured as catch-all / accept-all. In which case we cannot verify that an individual mailbox is valid and will be able to accept email. |
| Invalid | The email address is not valid and will result in a permanent delivery failure. |
Automatically Disabling Invalid Contacts
When a contact record fails the verification test and is returned as 'Invalid', Leadfwd can automatically change that contacts record status to 'Bounced'. This is our internal classification of a record with a bad email address that we are unable to successfully deliver to. The moment a record is classified as 'Bounced', they are automatically removed from all Sequences, Workflows, etc. Their record is in-effect now off-limits to the entire platform.

A contact with a 'Bounced' status also ceases to count against the Contact limit of your plan.
Automatically Disabling Risky Contacts
For maximum data hygiene you can also opt to set any contacts with a 'Risky' result to a record status of 'Bounced'. Now, this can be viewed as a very extreme approach and it's not necessarily something we would recommend. As an example, unless we have confirmation of a recent successful delivery of a mailbox nearly all Office 365 mailboxes (Outlook) will be labeled as 'Risky', as the response will be 'accept-all domain' no matter if the email address exists or does not exist.
We would recommend not using 'Risky' contacts in Sequences during your ramp up phase and only adding 'Verified' contacts during the first 30 days or so.
Filtering Contacts by Email Verification Status
From the Contact manager choose the Verification Status field and select the appropriate value to filter all of your Contacts based on their test status.

Data Field Property: Saved Test Result
Each Contact that is processed through our Email Verification tool will have their test result saved to a custom data field property that's related to their Contact record. The data field property is exposed and accessible to Segments, Automation, Lead Scoring, Webhooks and our API.