The Unified Inbox feature is a powerful tool designed to streamline and enhance your lead generation response management, focusing on capturing and centralizing prospect email replies. With this feature, you can access and respond to all prospect email responses from every mailbox connected to Leadfwd, providing your entire team with a single master inbox view and the ability to reply using any mailbox.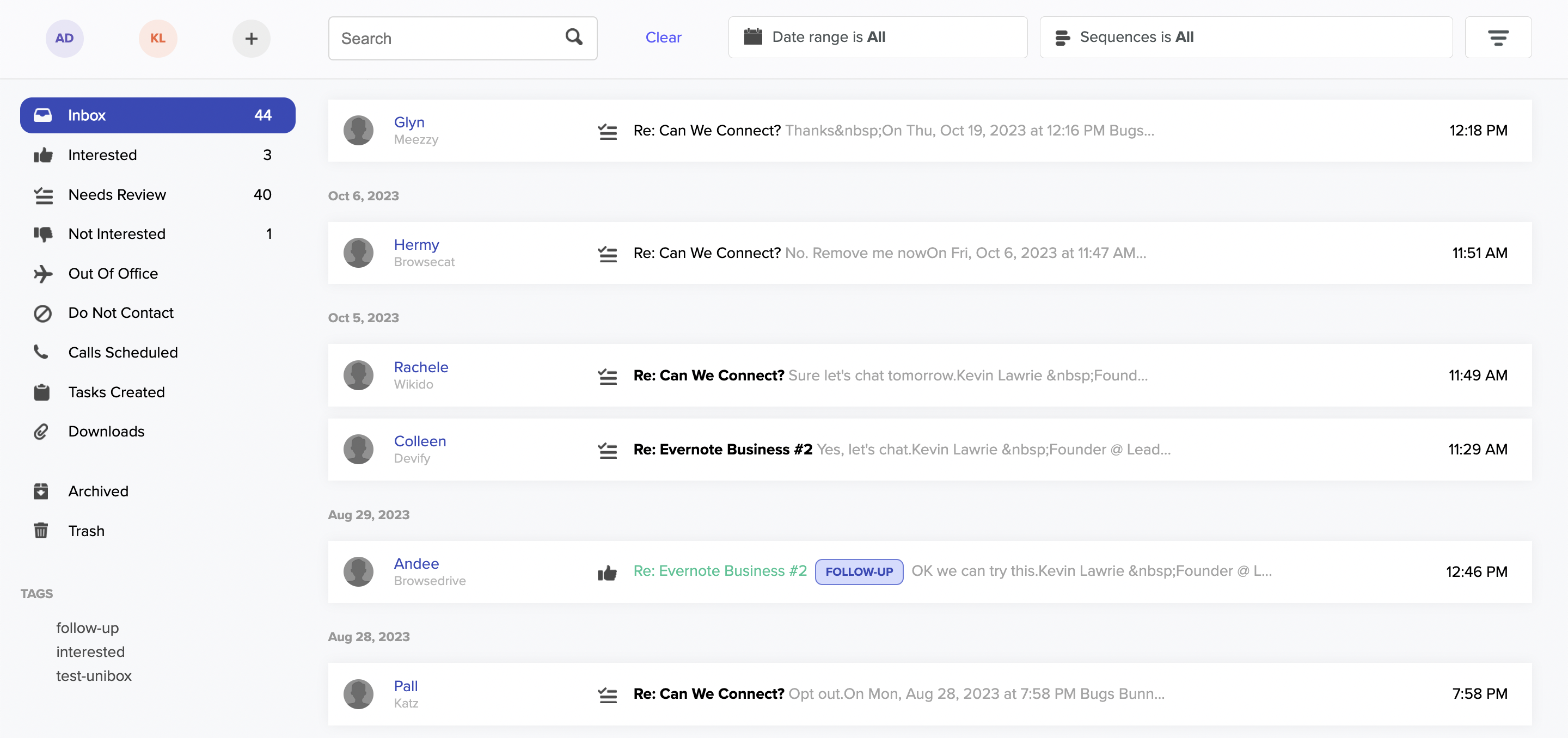 Key Features:
Centralized Prospect Email Replies: The Unified Inbox aggregates all email responses from prospects, regardless of which mailbox or email address they were sent to. This centralization ensures that no valuable prospect communication is lost or overlooked.

Single Master Inbox: No need to monitor multiple mailboxes manually. Your team can view all responses from all connected mailboxes in a single, easy-to-navigate interface. User's can filter mailboxes quickly, including showing replies to only mailboxes they own or shared mailboxes.

Custom Access Control: Response and mailbox access to read or reply can be easily restricted by each individual team member, ensuring users only have access to their own mailboxes and prospects. Expanding access to an entire team or department is quickly accomplished by enabling specific mailbox sharing in a user's role/permissions.

Built-in Prospect Insights: Unified Inbox provides one-click access to the full Timeline Insights report drawer for every prospect. Simply click their name and the drawer will reveal a full picture of your history of interactions with your prospect, allowing your team to analyze prospect profiles, engagement history, tracked activities, and other metrics without leaving the inbox.

Take Action: Empower your team to respond to prospect emails using any connected mailbox. Whether you prefer to use a sales-specific email, an assigned sales rep, or a shared team address, the Unified Inbox lets you send replies from the mailbox that best suits your needs. Flag prospects that wish to 'opt-out' with a single click or add

Organize: Categorize prospect responses based on sentiment, such as Interested or Not Interested. Apply tags to responses to both organized your response history and also automate next steps for prospects based on reply-tag assignments using workflows.

Filter, Find and Sort: Easily search for replies by keyword (such as prospect name or email address) or use advanced filtering to view replies by Sequence, Sequence Purpose, Reply Tag or by Time.
Filter Unified Inbox
Select the option in the top right and configure filters based on your requirements. Only responses that were generated by the Sequences that match your filter criteria will be displayed.
Filter by specific Sequences
Filter by Sequence Tags (assigned via the Sequence Manager)
Filter by Sequence Purpose (assigned via the Sequence Manager)
Filter by Sequence Owner
Filter by Time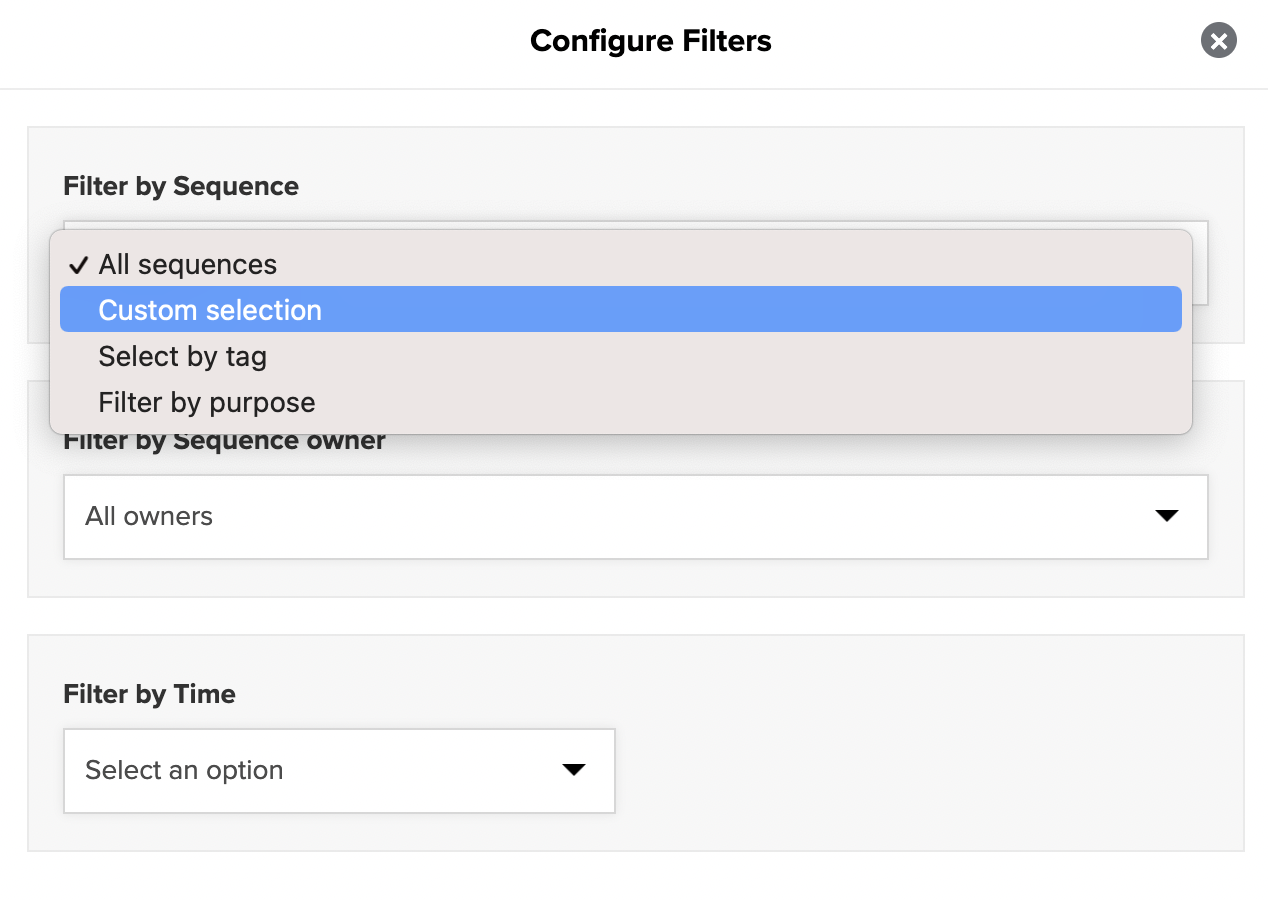 Built-in Contact Insights
View a contact's timeline insights from Unified Inbox with just a single click, including their data profile, engagement history and key performance insights.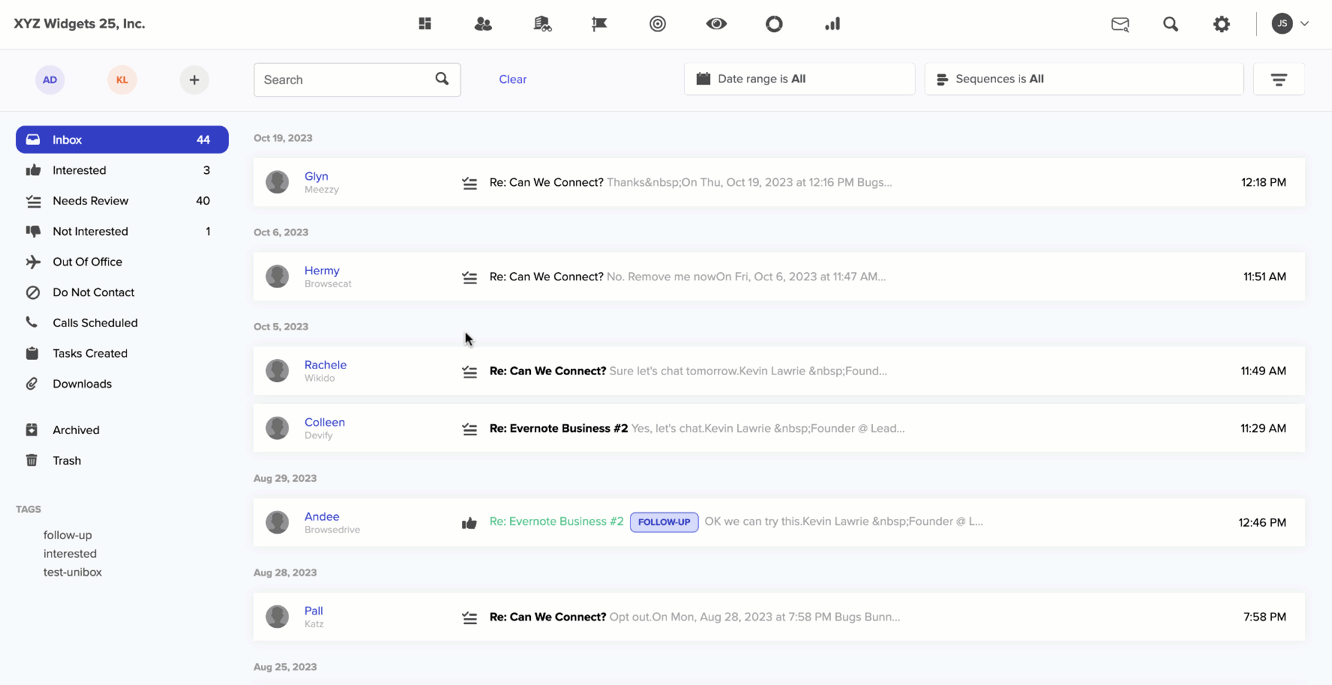 Response Assignments and Categories
The Sales Inbox overview screen will look similar to standard email inbox screen. There are several different categories that reply's will be filtered in to based on the content of the response. The categories include:
Inbox - a collection of all reply's and items

Interested - collection of all reply's with positive sentiment

Needs Review - collection of reply's requiring human interpretation. AI is unable to successfully decide if reply is positive or negative

Not Interested - collection of reply's with negative sentiment

Out of Office - reply's detected from a vacation responded

Do Not Contact - reply has indicated they don't wish to be contacted

Call Scheduled - call has been created for a record via the Engage call action item

Tasks Created - task has been created for a record via the Engage task action item

Downloads - contacts have opened an email with a tracked attachment
Replying
Besides aggregating responses from contacts, users can also respond directly through Sales Inbox.

Open a response from a contact and click on the Reply button. This will open the email editor. From the editor you can craft your message response. You also will have the option to decide which connected inbox you want the reply to come from as well as CC or BCC any additional team members you might need.