Engage sends email through your actual mailbox using native integrations, like Google Workspace (Gmail) or a standard SMTP connection. You may need to seek assistance from your IT Administrator to help you get started.
Connecting your mailbox
To begin, click on the Mailbox Connector option from the Engage menu.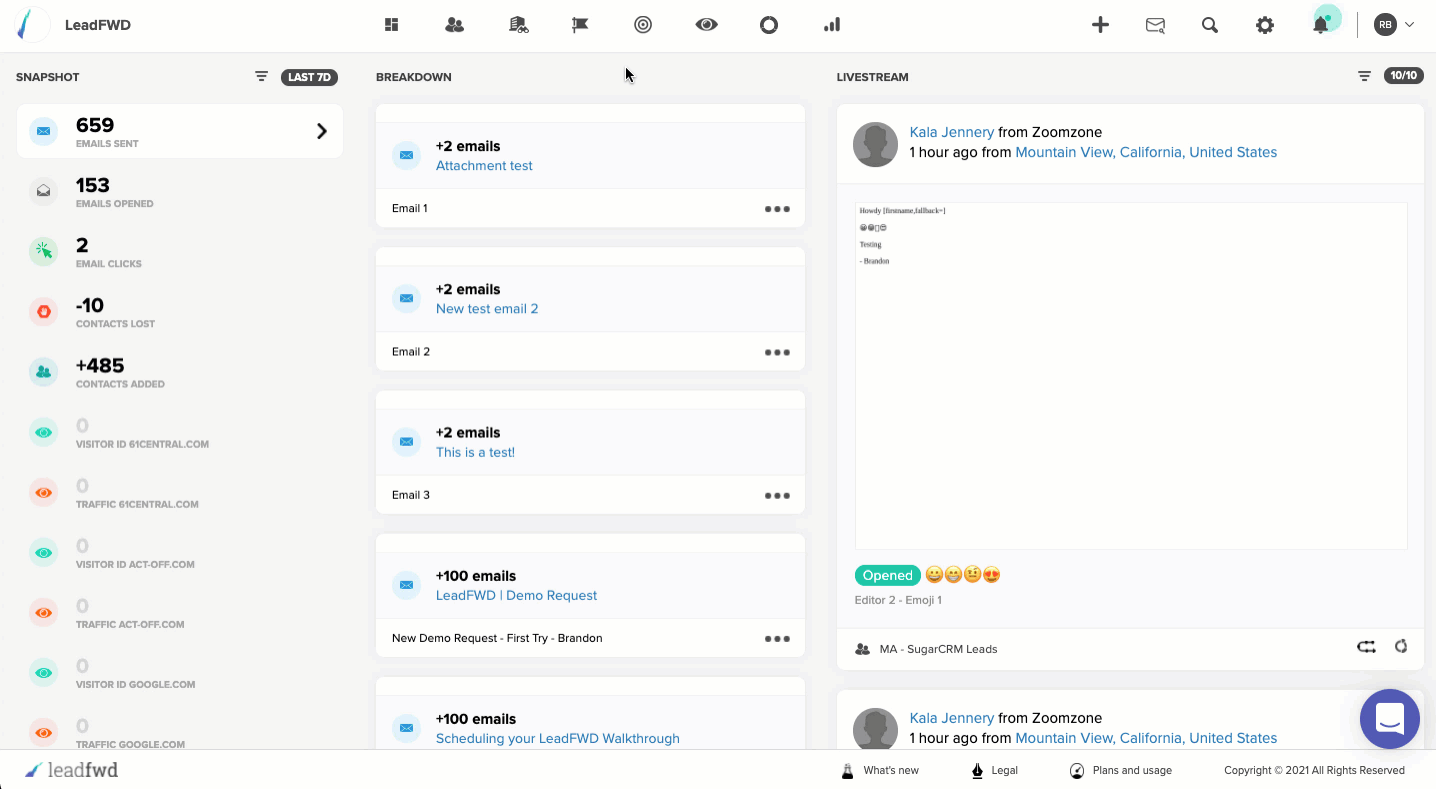 If you're an Account Owner or Administrator, you'll see a table view of each licensed Engage user. From this view you can edit an existing mailbox connection or establish a new connection.
For users that have been assigned an Engage license but have yet to connect their mailbox, select Run setup.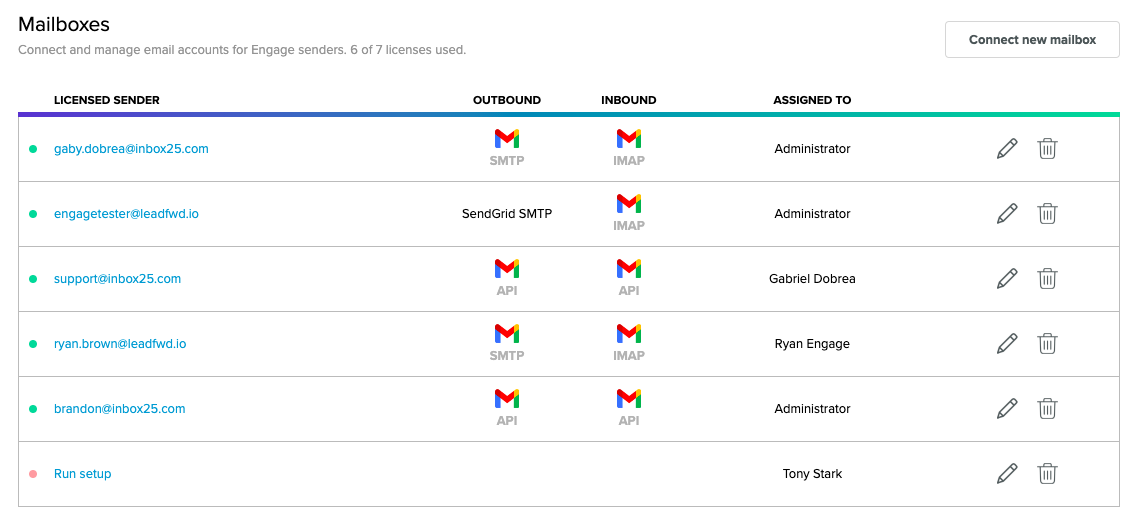 Mailboxes Manager Overview
Licensed Sender - Mailbox associated to an assigned license.

Outbound - Integration or SMTP service that is connected for outbound email.

Inbound - Integration or IMAP service that is connected for inbound reply detection.

Assigned To - The user assigned to the license.

Edit - Manage/edit an existing mailbox.

Delete - Remove the license assignment and create an available license.
If a user has a license that is not currently in use they will see a Connect new mailbox button. Clicking on the button will take them to a screen to begin setting up a new mailbox.
Connect your Mailbox (End-user view)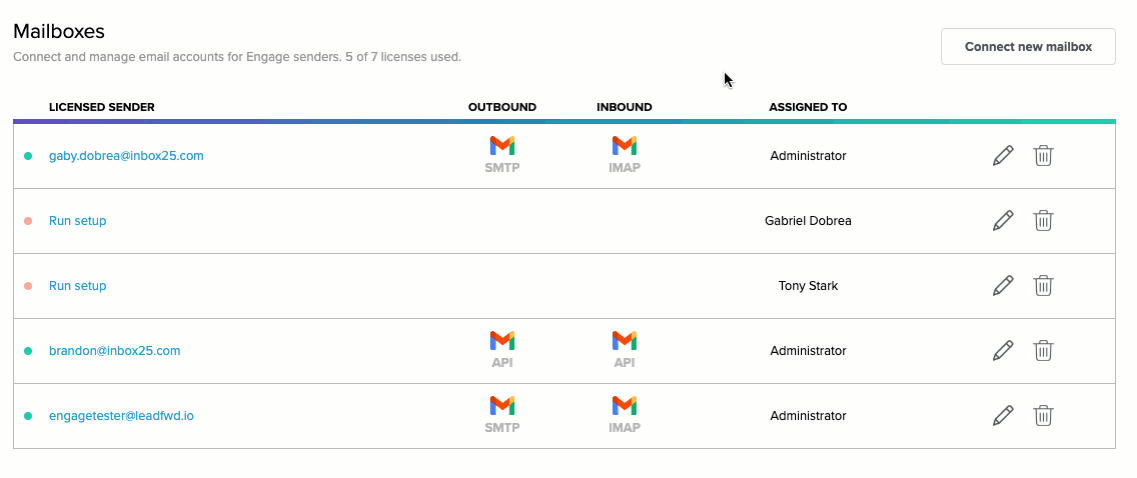 To connect a mailbox you will need to first select which method you will receive & send emails with. The dropdown box will give users six (6) options for receiving emails and seven (7) options for sending emails. The options are:
Custom - user will connect to a custom SMTP/IMAP service that they have access to

Google Workspace (Gmail API) - user will connect using a Google Workspace (Gmail) Connector for SMTP/IMAP

Google IMAP/SMTP - user will connect using Gmail's SMTP/IMAP service

Rackspace Cloud - user will connect using Rackspace SMTP/IMAP service

GoDaddy Americas - user will connect using GoDaddy Americas SMPT/IMAP service

IONOS by 1&1 - user will connect using IONOS by 1&1 SMTP/IMAP service

SendGrid (Sending Only) - user will connect using SendGrid SMTP (need access to API key)
For Google Workspace (Gmail API) a Google project will need to be set up for the organization. Follow our quick guide to getting starting: Google Workspace (Gmail API)
For all choices, aside from Custom & Google Workspace (Gmail API), the SMTP/IMAP host and port values will automatically be filled. The only things to add are a Username & Password for IMAP/SMTP and a Reply-to and Sender Name for SMTP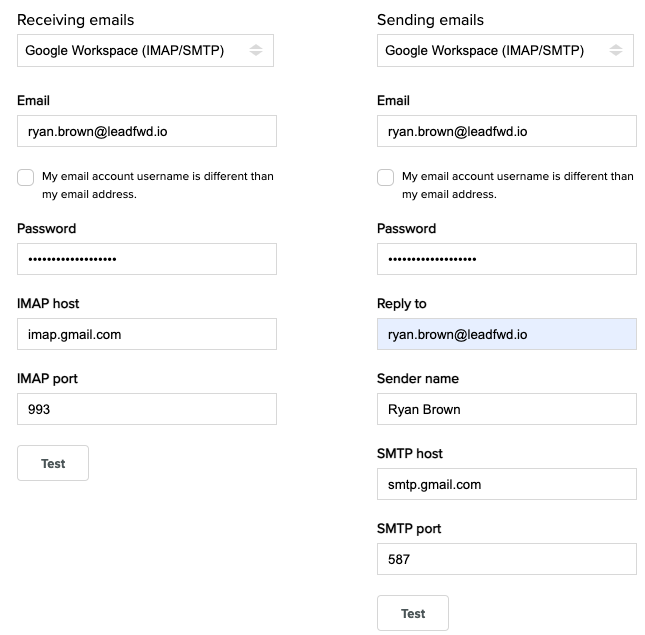 After credentials have been inputted, a user can test the information to make sure a connection has been established. If successful a Success message will appear. If unsuccessful an error message will appear.
Once a mailbox is successfully connected the mailbox will appear on the Mailbox Connector screen. It can now be used in Sequences for Engage.