The purpose of this article is to provide direction to Leadfwd administrators in configuring a branded link.
Branded links enable organizations to personalize email engagement tracking links (opens and clicks) and unsubscribe links with their own web domain. This can improve a messages spam assessment by placing these services under a domain that matches the organization's sender address.
Intended Audience:
Account-owners and Administrators
Notes:
Completing this process requires access to the organization's DNS provider.

Do not use 'leadfwd' as part of the CNAME.

The process for adding a CNAME record varies depending on DNS provider and can take up to 20 minutes to generate. For more information regarding adding a CNAME record to a DNS provider, refer to documentation from your DNS or hosting provider.

It can take up to 24 hours for a DNS change to propagate.

Please create your CNAME in your DNS zone and wait at least 30 minutes before you attempt to authenticate.
Step 1. Create a CNAME in your DNS zone
| | | | |
| --- | --- | --- | --- |
| Subdomain | Record type | Value | TTL |
| eg. [hello.domain.com] | CNAME | Points-to value (see below) | Default / Auto |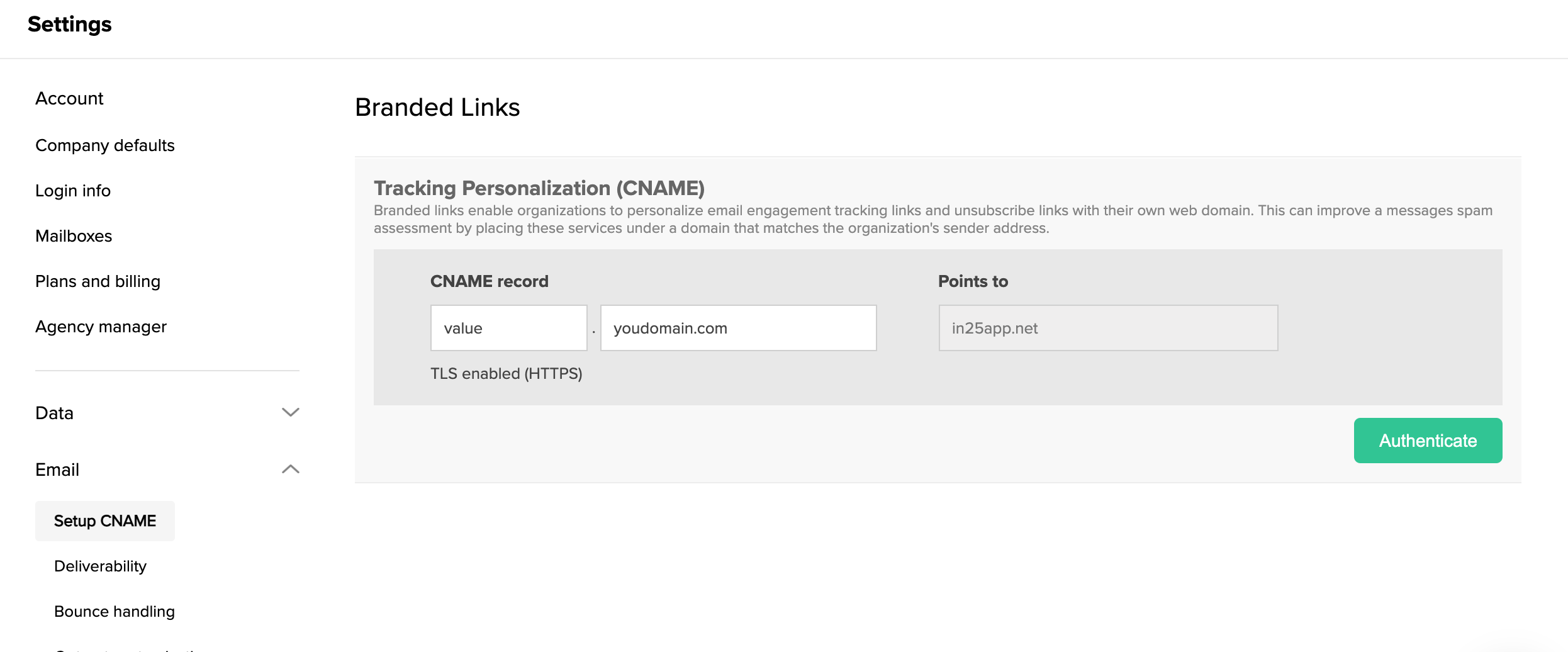 Locate your Leadfwd App Domain (Points to)
Login to leadfwd.com

Navigate to Settings

Expand the 'Email' settings menu

Select Branded links

From the Create and Edit view, note the domain value in Points to. That's the domain you want to forward your CNAME record to, to create your Branded Link.
Step 2. Authenticate
Once DNS is updated, wait 24 hours and then return to authenticate and test your CNAME.
Login to leadfwd.com

Navigate to Settings

Expand the 'Email' settings menu

Select Branded links

Enter your subdomain value (ex. email) in the first field and your actual domain in the second field (ex. yourdomain.com).

Click Authenticate
During the authentication process our platform will check to verify that your CNAME exists and resolves properly. This verification test is conducted instantly. Once that verification is completed your request is queued while our team generates an SSL certificate to encrypt requests made to your CNAME using TLS. This process can take up to 24 hours to complete.
Need help adding your CNAME?