Icebreakers allow users to deliver personalized email copy/text on a contact-by-contact basis. Icebreakers are supported using a specific personalization tag and default custom field property in your Contacts database: [leadfwd_icebreaker]
Quick Summary
Provide sales reps a manual email option within Sequences, with the benefits of backend automation and sequence organization.
Hyper-personalize an email intro to a templated email for any prospect.
Simply add a [leadfwd_icebreaker] personalization token within your email body and the token will be replaced by the icebreaker copy/text at the time of sending.
Icebreakers can be personalized on-the-fly exclusively within Sidebar, but the [leadfwd_icebreaker] custom field property can also be updated via CSV or an external app like Zapier.
An icebreaker can be a single sentence, paragraph or an entire short email body.
Requirements
Leadfwd Sidebar for Google Chrome installed and fully configured
[leadfwd_icebreaker] personalization token must be added to an email body within a Sequence. Typically the first email sent is the email that icebreakers are most frequently used.
Step 1. Add [leadfwd_icebreaker] to your email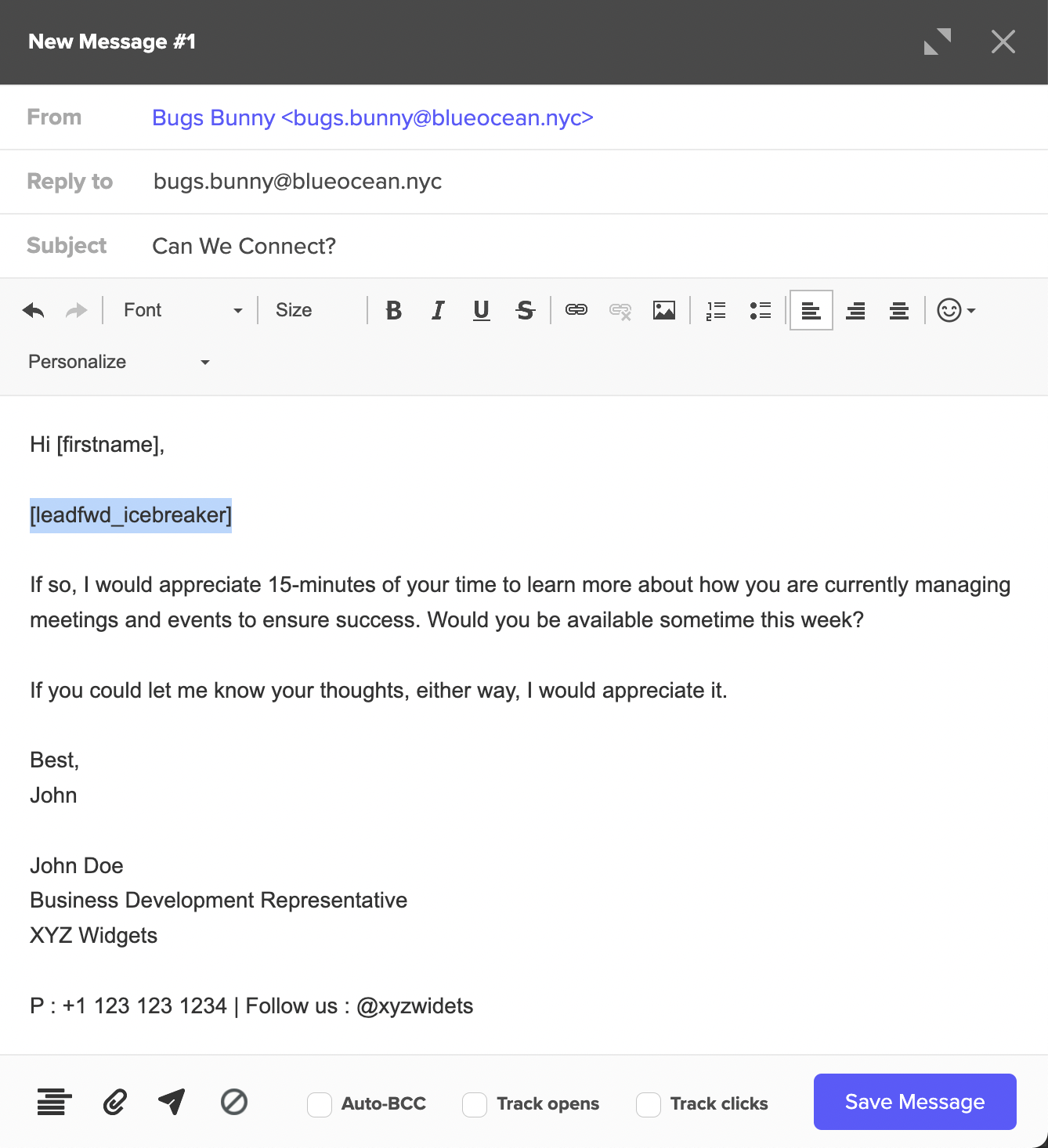 When an email is configured with an Icebreaker, the email step will be shown with an
icon.

Step 2. Personalizing your Icebreaker
Icebreakers should be generated and personalized when enrolling a prospect into your Sequence using Sidebar. You can leverage the Add / Enroll in Sequence feature from any Sidebar view, including a Contact timeline or LinkedIn Prospector.
Select a Sequence with an Icebreaker
After the selection a button will appear 'Add Icebreaker'
Clicking 'Add Icebreaker' will initiate the Icebreaker dialog view to enter/edit your icebreaker text.
At any point you can see how your icebreaker will look in the full email template by clicking Preview Email with Icebreaker.
When you're finished click Save...