Export Leads from Visitor Report

As LeadFWD works to identify Leads (companies) they will be displayed in the Visitor's Report. An email report of the visitor traffic can be sent at any time, however the Lead (company) data, the visitor history and firmographics can also be exported via .csv. This in turn can then be used to import the Visitor data into a CRM, Marketing Automation or other Digital Engagement Platform of your choosing.
Click on the Manage Icon (Gear) at the top of the visitor report and select to Export to CSV. Your browser will then automatically download a .csv or prompt you to identify the location of the download. Each visitor will constitute a row on your .csv


---
Export Leads from the Database
Exporting the Prospector Database
Step1: Accessing the Database List

You may also elect to export Leads that have been stored in your Prospector Database. To get an export of your entire Prospector Database, head to Accounts & Contacts > Marketing List > Prospector Database. From there, you'll select the manage (Square) icon at the top right and select 'Export Records'.
Step 2: Determining the fields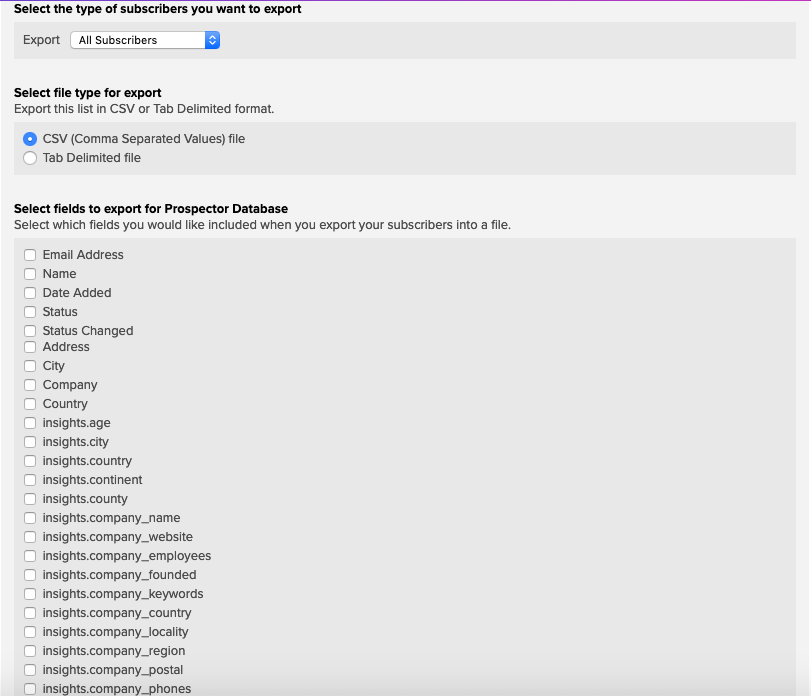 After you've selected to export your Prospector Database, you'll now have the opportunity to select which fields you'd like included in the export. These will include fields you have created yourself, LeadFWD has provided in stock as well as Vision insights. Check the box next to each field you'd like included as a column. When you're ready - hit 'export' and the file will be prompted on your browser.
Exporting Segments from Prospector Database

Lead Segmentation is key in LeadFWD to divide your buying personas into viable, targeted audiences. Instead of getting an export of all your leads, you may elect to get a segment of your database our for immediate sales qualification or that they have been converted to customers. From the Prospector Database, you can select to Manage your Segments instead of view the entire list. Once you click on a segment, you'll be taken to a page displaying all Leads in the available segment. Clicking on the purple chart icon (top right), your browser will be prompted to download the .csv. Note that all fields (stock, user-created and Vision insights) will be included in the .csv.
Exporting Leads from Tags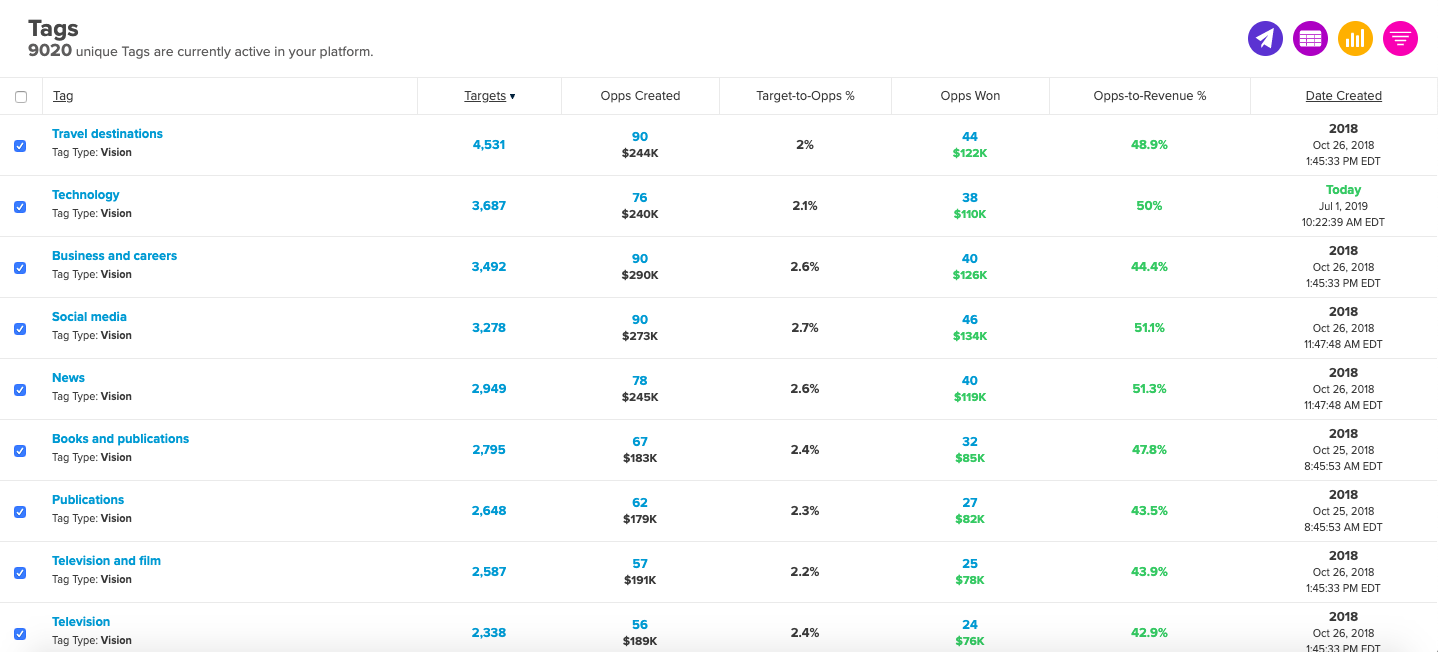 There's one additional avenue to export your leads. You may apply LeadFWD tags to Leads and/or Tags will automatically be applied to Leads based on the devices they're using or affinity data collected. You may sort by tags, and selecting the value under 'Targets' will bring up a pop up window displaying all Leads with the selected Tag. Clicking on 'Export to csv' within the pop up will give you a list of all Leads with that Tag. This export is a bit light as it does not include the email address and Vision Insights of each Lead.