Analyze the influence of any inbound link or CTA that you promote and attribute revenue to a specific marketing channel. Click Campaigns are the ideal solution for tracking the success of Link Exchange programs, PPC (AdWords or Facebook Ads) or Retargeting Campaigns (AdRoll). Simply supply a destination URL (i.e. Landing Page CTA link) and we'll provide you a shortened URL to share and market.
Pay Per Click advertising (PPC) has become an important marketing channel for many companies looking to establish themselves in a sea of crowded data. When used correctly, PPC campaigns can increase brand awareness, drive relevant website traffic and stimulate lead growth. Sounds great right? PPC campaigns can be effective but tend to run as independent entities from your structured marketing system. With LeadFWD's Click Campaigns you can incorporate and connect your PPC campaigns to the wealth of data found within your marketing system. Track clicks, new conversions and most importantly, correlate these analytics to revenue growth within your database.
Click Campaigns are direct and as such a single call to action is employed. Providing your leads a clear, concise and powerful CTA is key for landing that conversion. A typical conversion happens through a lead-capture form created through LeadFWD. Converting on the form will capture the lead's information and allow for the future tracking of interactions and behavior, including if revenue is attributed to the conversion. Click Campaigns are not reserved for PPC advertising. LeadFWD's Click Campaign functionally can be utilized on any link, whether it's an outbound email or an inbound capture form.
Your Click Campaign will record total clicks, unique clicks, resulting conversions, geo-location and attribute revenue-per -campaign and revenue-per-click.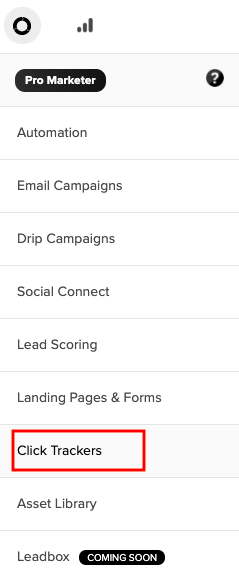 To create a click campaign hover over Pro Marketer --> Click Trackers --> Create New.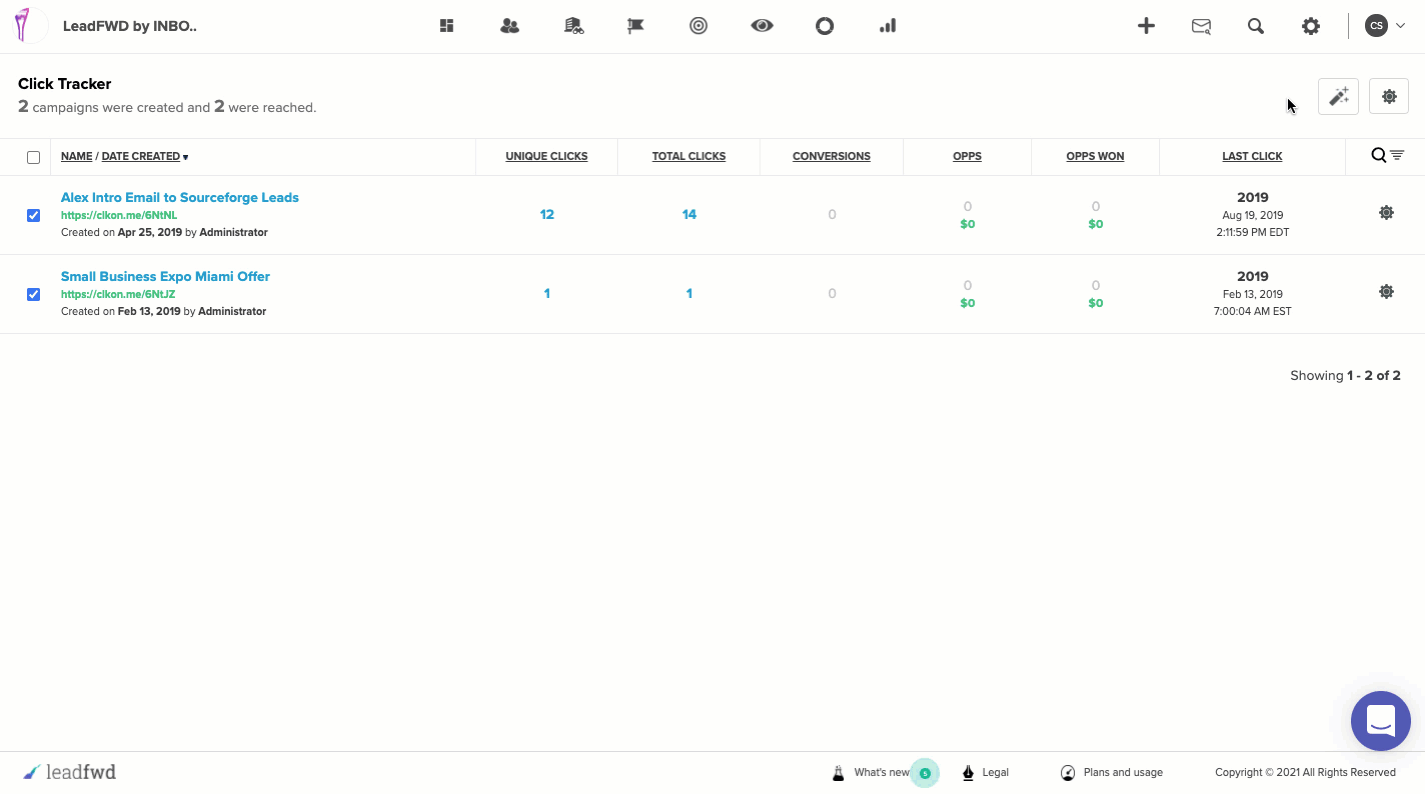 The pop-up window will prompt you to then name your campaign, and enter the destination URL for this campaign. Once a Click Campaign is created, a shortened URL will be generated. This shorted URL is inserted into your medium of choice with the analytics being populated real time.