In this article we will discuss the basic setup for Social Connect 2.0. Social Connect revolves around incorporating and leveraging social media marketing within the realm of your marketing automation strategy. As Social Connect depends on well, "social", getting started is simple and requires that you connect your social media platforms with LeadFWD. Currently SC supports Facebook, Twitter and LinkedIn with no cap on the amount of profiles you can incorporate into your strategy.
It is strongly recommend to use Social Connect 2.0 within Firefox.
To start connecting your Social Media profiles head over to Social Connect once logged into LeadFWD. Select "My Profiles" on the top of the dashboard and click the green "plus button".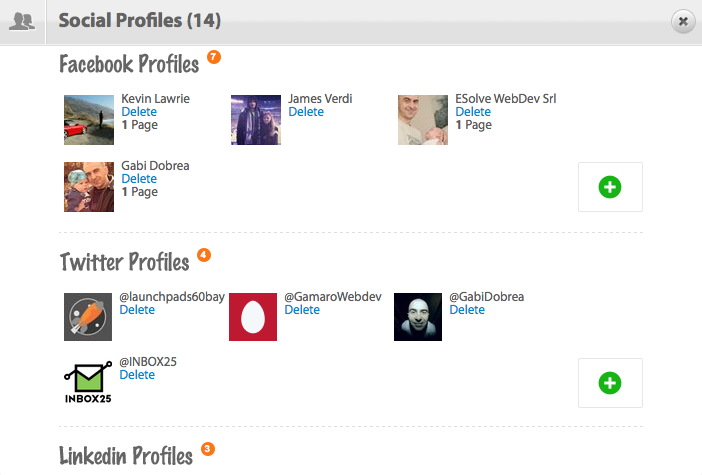 Connecting Facebook
Connecting your Facebook profile(s) is fairly straightforward and first involves inputting your Facebook credentials. Once the green "plus button" is clicked a separate small browser window will open. Input your credentials and follow the on screen directions for allowing the appropriate permissions.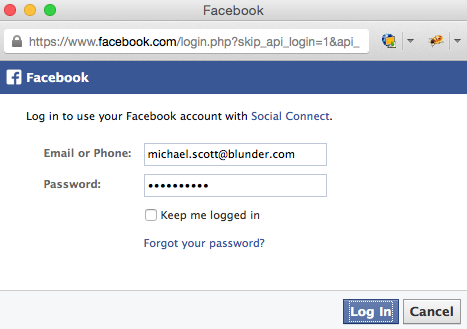 Our integration with Facebook through Social Connect 2.0 allows for the access to your managed pages. Are you an admin of your company's Facebook profile? Not a problem, we allow for direct access to any and all Facebook pages you manage.
Connecting Company Facebook Pages
Natively Facebook company pages are created and managed through a personal Facebook profile. In order to integrate your company Facebook page, a personal profile will need to be integrated with Social Connect. Within the integration wizard select to allow access to your managed pages to integrate your company Facebook Page.
To view your managed pages select the Facebook profile icon found under "My Profiles". (Image Below)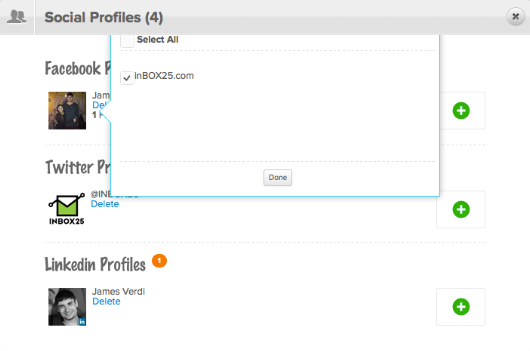 Tip - If you do not wish to connect your personal Facebook profile, create a "false" personal page and assign admin access to your company page.
Connecting to Twitter
Connecting your twitter profile(s) is even easier and requires you to only input your credentials.
Connecting to LinkedIn
Similar to Twitter, LinkedIn only requires your LinkedIn credentials. Social Connect will only allow the integration on personal LinkedIn profiles.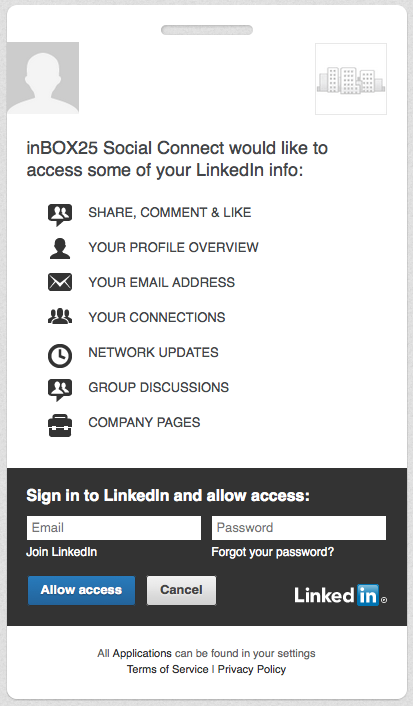 Once your desired platforms are integrated, you can begin to utilize the full capabilities of Social Connect 2.0.
***Note, Social Connect requires a certain level of permissions in order to manage and track your Social Media activity within LeadFWD. All permissions are disclosed prior to connecting your profiles.