Today we'll discussing our native integration with SugarCRM's personalization tag, [sugarcrm_assigned_to].
For those on our pro-marketer plans this new tag will make personalized email creation more efficient. (Note, you will have to have SymSync installed to use this tag) Email blasts are great, but often lack the feeling of personalization, which can greatly hinder the recipients interest. Receiving an email directly from a human will always have the advantage over an automated generic blast email.
But creating personalized emails are time consuming and with a company that has many users(e.x Sales Reps), creating the feeling of deep personalization may seem too overwhelming. With the new [sugarcrm_assigned_to] tag we brought the best of both worlds together. You can now create the feeling of personalized emails without the hassle of manual input.
The [sugarcrm_assigned_to] tag allows you to automatically personalize the sending headers of your emails From Name, From Email Address and Reply-To with the assigned owner of a SugarCRM record (lead, contact, account or target).
This function can streamline a Marketing Manager or Sales Managers efforts by only having to create a single outbound campaign for all of their sales agents. Instead of creating an outbound campaign that is customized for each and every sales agent.
Using this tag couldn't be easier. Lets move over to our Email Campaign Wizard. On this screen we can define the basic parameters for our email, like Subject Line, Sender Name and Reply Address. As we can see directly under the "From Name" we have the option to use the [sugarcrm_assigned_to] tag. Simply type/paste the tag into the assigned box and you are ready to go.

But we can expand this functionality even more. We can also utilize this tag on the "Email From Address" and "Reply Address" to add deeper personalization to the email. Click the drop down menu and select the [sugarcrm_assigned_to] tag. The reply address will automatically propagate with the tag as well.
It's that simple. From this point we would continue building our email, but for this article's sake we will skip that. If you would like to learn more about our email builder you can find our walkthrough here: Link
Let's jump over now to our recipient screen and select the recipients for this email. I am going to choose a target list segment called "Middle Earth" and finalize the email.

Now that this email is ready to be sent, lets jump over to SugarCRM to view the owners of the records we are sending to. As we can see, these three records belong to different users, (i.e James Verdi and Jane Doee).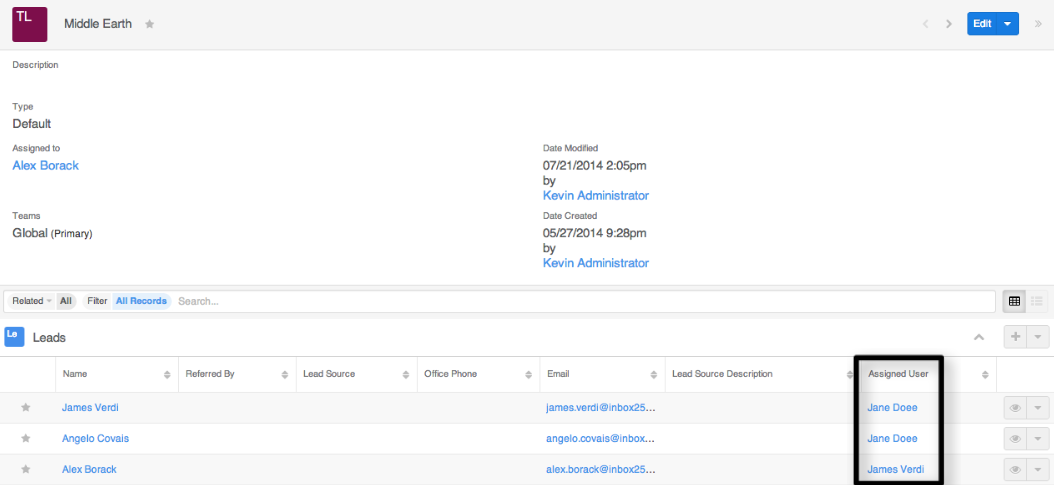 Before this tag, sending emails on behalf of these users was a chore as three separate campaigns would need to be created. With the use of the [sugarcrm_assigned_to] tag we can now streamline this process into one concise campaign.
As we can see "James Verdi" is assigned to "Jane Doee". If we move to Jane's user profile we can see the email assicated with her account. The email address is "learninbox25@gmail.com"


Finally we can view the email as it's sent with the [sugarcrm_assigned_to] tag. Here is the view from the Gmail inbox with the from name as "Jane Doee". We can also see the dynamic subject line as it addresses me as "James Verdi" with the use of the [name] tag.

If we dig deeper we can see the email address this email was sent from. Notice both the "From Name" and "Email From Address" reflect Jane Doee, as she is the assigned record owner in SugarCRM.
And it is that simple to create deep user personalization with the use of the [sugarcrm_assgined_to] tag. That's Marketing Automation Made Easy!