How do I understand open rates?
Our customers often ask us what 'open rate' means, and whether the open rate they are getting is any good or not. We've put together the following guide to help you understand what an open actually is, how they are measured and what typical rates are.
What is an open rate?
Open rate is a measure of how many people on an email list open (or view) a particular email campaign. The open rate is normally expressed as a percentage, and at LeadFWD we calculate it as follows:

So a 20% open rate would mean that of every 10 emails delivered to the inbox, 2 were actually opened.
How do you measure an open?
When each email is sent out, we automatically add a piece of code that requests a tiny, invisible image from our web servers. So when a reader opens the email, the image is downloaded, and we can record that download as an open for that specific email.
It is important to understand that the open rate is not a 100% accurate measure. Recording an 'open' can only happen if the readers email client is capable of displaying html with images, and that option is turned on. So if you are sending text-only emails, there is no way to record open rates (the exception is if they actually click a link). Similarly, people reading your html email without images showing will not be recorded as opens.
Another issue is that your readers may have a preview pane in their email client. That preview pane might be displaying your email automatically (and therefore downloading the images) without the reader ever having to click on it or read it.
So you should never take your open rate as a hard and fast number, because you can never know the true figure. It is much better used as general guide, and as a way of measuring the trends on your email campaigns.
What is a typical open rate?
Really, there is no typical open rate. The rate obtained for any list, or group of lists will depend on how it was measured, when it was sent, the size of the list and a zillion other potential variables. There is no shortage of benchmark numbers out there, but even between benchmark figures you will find big variation in the reported open rates.
So instead of giving a specific percentage, we've come up with the following chart.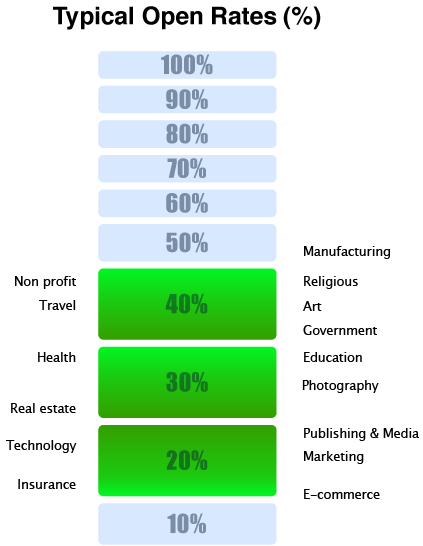 There are certainly some broad trends in open rates.
1. As list size goes up, the open rate tends to fall; possibly because smaller companies are more likely to have personal relationships with their list subscribers.
2. Companies and organizations that are focusing on enthusiasts and supporters, like churches, sport teams and non profits see higher open rates
3. More specific niche topics, like some manufacturing areas also typically have higher open rates than emails on broader topics
If you are getting an open rate between 20% and 40%, you are probably somewhere around average.
Very few lists of reasonable size are getting much above 50% open rates from normal campaigns. Your list may have some specific factors that give you higher rates; if so, well done.
However, don't expect to be getting 80% open rates. People are too busy, inboxes are too full and the measurements are technically limited.
How do I understand Reports?
For several years now, our campaign reports and general interface has remained relatively unchanged. We have been toying with several ideas on how to 'refresh' our interface, without losing our simplicity and easy-to-use architecture and after months of planning we are ready to unveil the first phase of a multiphase interface overhaul.
Although we have made some rather radical changes to the report interface layout, the reporting structure has remained consistent and relatively unchanged. We're pretty pleased with the final results and we hope you find the updated interface much easier to navigate; with a new button palette that allows you to bounce from report-to-report with a single click and an updated results table that makes reading lots of data, much more soothing on the eyes ;)
A new and improved layout
The first thing that you will notice is that we've given the look and feel of the report interface a major overhaul. Not only is it easier to view results, but you now easily traverse all of your reports using our new navigation buttons.

Recipient Activity (Open Activity)
Recipient Activity provides a detailed time-line view of all of your campaign open activity, by recipient. As with the majority of our reports, you can drill-down to see minute-by-minute activity by user on any day during the campaigns cycle. This level of reporting can be extremely valuable to help pinpoint ideal delivery times and spot trends.
Link Activity
With link activity we show you all of the URLs contained within your campaign along with detailed metrics on who clicked, which link and when.
Unsubscribe Activity
Which recipients unsubscribed and when.
Bounce Summary
We'll show you which emails couldn't be delivered and tell you why (along with a detailed server response for each message).
Social Sharing Activity
By leverage Social Connect you can dramatically expand your campaigns reach to include your recipients social network of friends and colleagues. This valuable report will show you detailed analytics on Facebook Likes, Shares, Comments; Mentions on Twitter and Shares on Linkedin - and who shared your campaign.
Its never been easier to view and read reports
Emails campaigns can yield a ton of valuable data to analyze and compare, but that much data can often times be overwhelming to dive into, without a friendly table format. To help make our users' lives easier, we have improved our results table to make them easier to read and export.

Compare campaigns and spot trends
By comparing stats like opens, clicks, bounces, unsubscribes and even spam complaints, you can quickly see what content your subscribers find relevant, and just as importantly, what they don't. Simply use the check-boxes and select at least two campaigns and click 'Compare Campaigns'.