LeadFWD and its many features include several different avenues for email to be utilized. Whether it's through Automation, Drip Series, or stand-alone email campaigns, the one connecting string between all of them is the process through which an email is created.
In this article we will go over the basics of email creation within LeadFWD.
---
To begin creating your email navigate to the Campaign --- Create New drop down selection. Select Create New and you will be taken to Step 1 of the email builder.
Step 1 - Email Settings
The first step in the process will be to set up some general settings for your campaign. This includes items such as the campaign name, subject, and the From/Reply-to Name/Email Address that the recipient sees.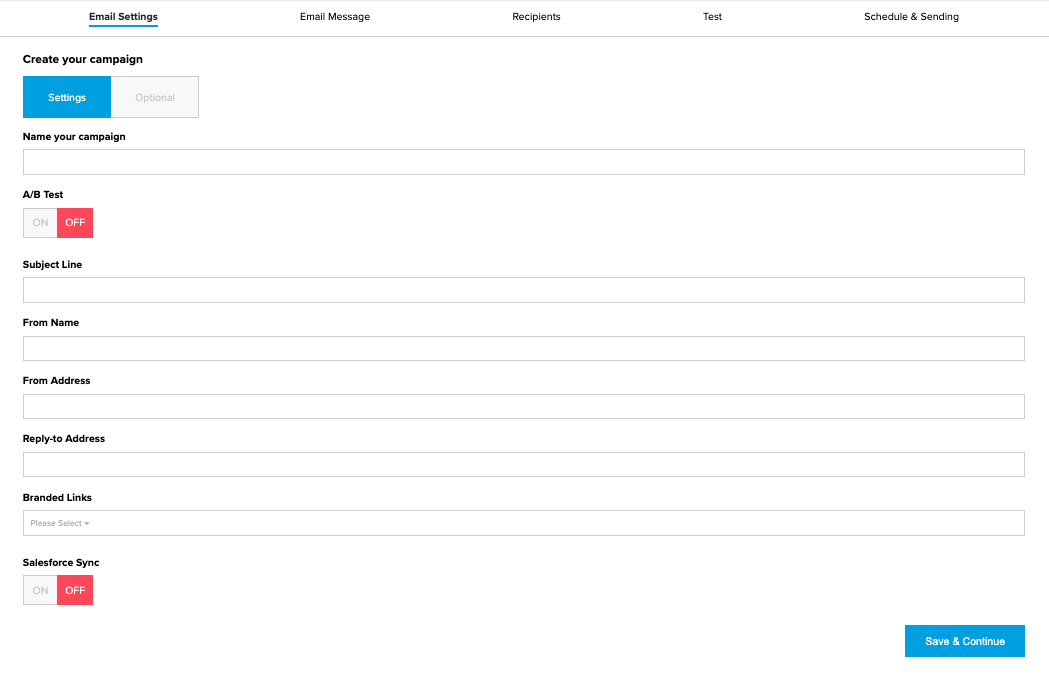 Let's go ahead and break down the sections one by one. First up you your Settings.
Name your campaign - the name of the campaign as it appears in LeadFWD. This will be used in other facets of the application such as Reporting or Resending Previous Emails.
Note: If you're integrated with one of our compatible CRM partners this will also be the name that shows in the Campaigns Module if you decide to sync directly to the CRM.
A/B Test - Do you wish for this email campaign to be part of an A/B scenario? If yes please click here to learn more about A/B testing.
Subject line - The title of the email that shows for the recipient.
From Name - Name that appears as the sender of the message. If integrated with a CRM you can use [assigned_to] to personalize the blast across different members of the organization.
From Address - Email address that appears as the send of the message.
Reply-to Address - Email address that responses will be routed to.By default the system will put the From Address as the reply-to but it can easily be changed.
Branded Links - If you have set up Branded Links then you may choose which Brand you want to be displayed. Learn more about Branded Links here: Setting up Branded Links with a CNAME
Sync with CRM - Decide if the campaign will sync back to the Campaigns Module of your CRM. The CRM name will change depending on which CRM you're integrated with.
You'll notice there is another tab with Optional Settings that you can click to. These different items include:
Enable Web Friendly Version - Automatically include a hyperlink in your message to view the email as a standalone web page. Useful if there are concerns about formatting issues across many different device types
Enable Forward to a Friend - Embedded Forward to a Friend link within the email. Allows us report if the message has been forwarded by someone (not whom it was forwarded to though). Analytics on this are only possible if done through the hyperlink. Forwarding correspondence through the ESP will be attributed to original recipient.
Enable Permission Reminder - Embedded message telling the recipient why they have received this message. Examples - "You're receiving this message because you signed up for our newsletter."
Redirect recipient to a Specific URL following a successful opt-out - If a recipient opt-outs of correspondence with you have them redirected to a specific web page after unsubscribing.
Select a Physical Address to display in your Email Message - Physical Address of organization will be displayed in footer of email. CAN-SPAM rules require this. By default we will show the address used to sign up with LeadFWD.
Once you're happy with your settings go ahead and click on Save and Continue to move on to Step 2.
---
Step 2 - Email Message
The 2nd step in the build process deals with building your actual message. There are several different options you can choose when building your message. In this section we will go over the different options and what they mean for you.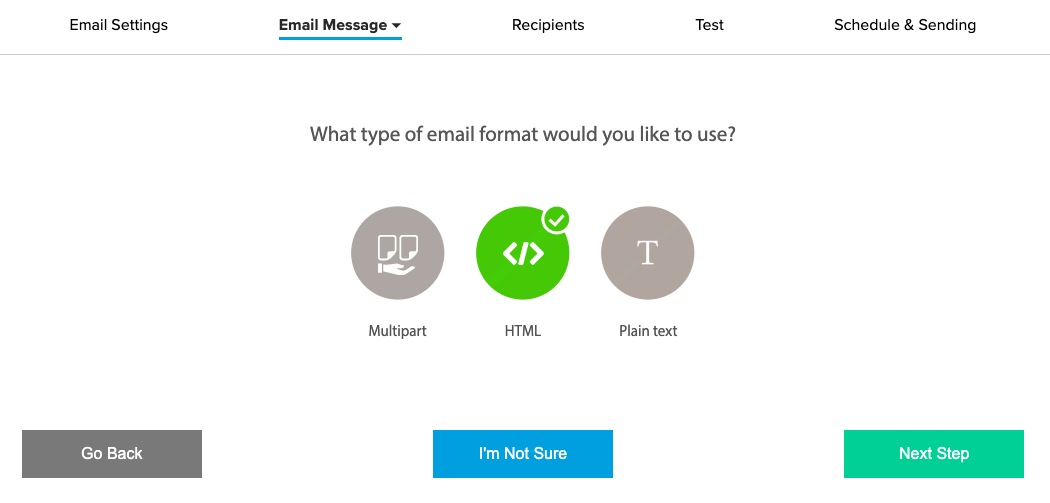 In Step 2.1 you will decide which type of email format you would prefer to use. With LeadFWD we give you three (3) different options:
Multipart is a combination of both the HTML & Plaintext options.
Once you've chosen your desired format go ahead and click Next Step.
In Step 2.2 you will decide how you wish to proceed building your message. We have several different options for you to choose from to best suite your needs.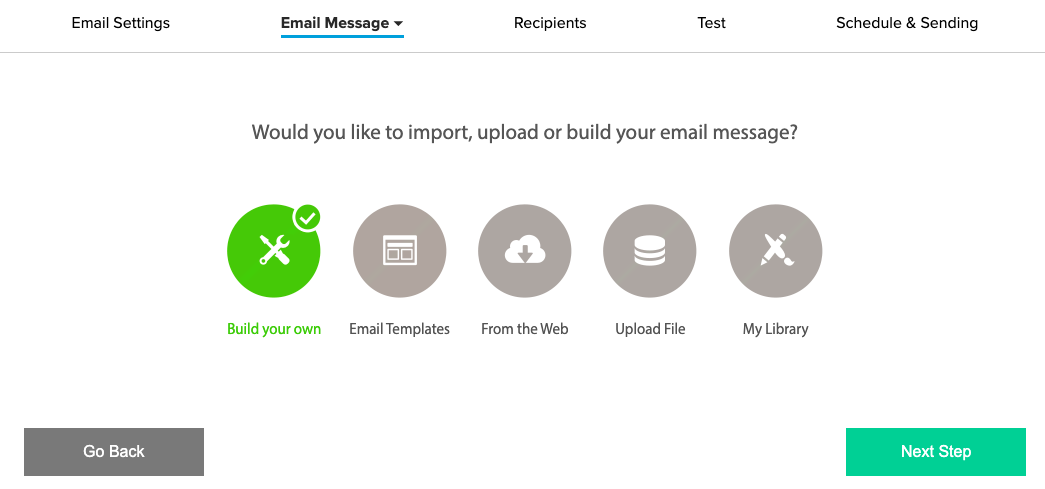 Build your own - The Build your own option will take you to our What-You-See-Is-What-You-Get (WYSIWYG) editor. This is a straight forward email builder that's only limited by the user's ability.
Email Templates - Choose between nine (9) different possible layouts with distinct styles. Perfect for building the marketing email of your dreams.
From the Web - Quickly download your HTML content from a web source and utilize.
Upload File - Choose HTML content from your local or connected drives.
My Library - Access the Asset Manager for your account. This includes Email Drafts and previously sent email campaigns.
---
Step 3 - Recipients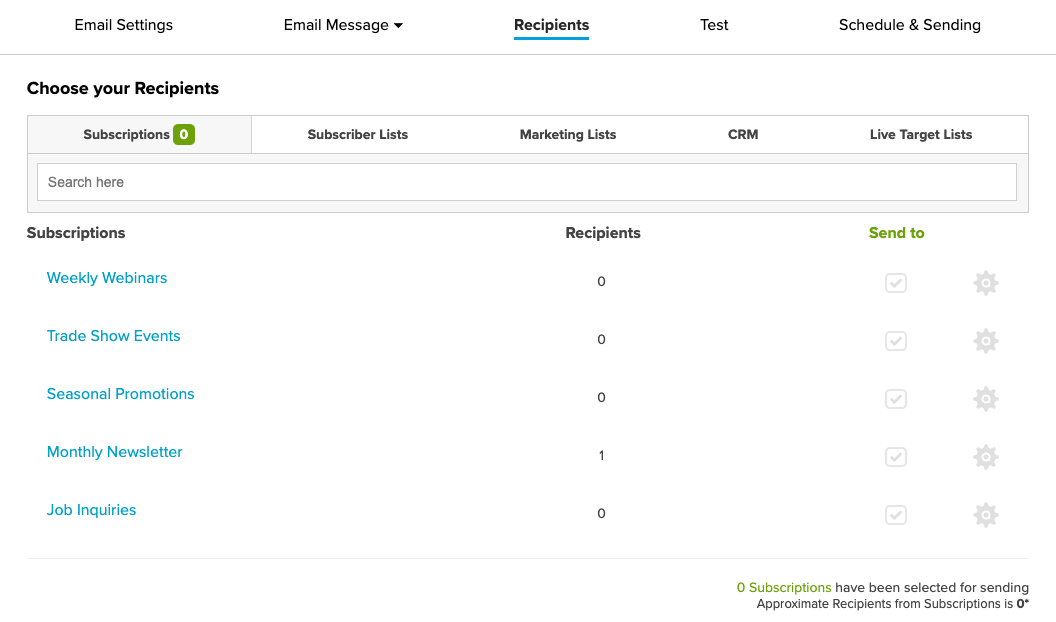 With your message built out we now need to decide whom the recipients will be. On step 3.1 you will be given a screen where you can choose your desired recipients. Depending on your account you will access to different lists that will show. Your options will be:
Subscriptions - If you have the Email Preference Center enabled then the subscriptions you have created will appear here to select.
Subscriber Lists - Stand alone lists that have been uploaded to LeadFWD. Require Email credits to send to.
Marketing Lists - Stand alone lists that have been uploaded to LeadFWD. Are compatible with Pro Marketer plans and do not require email credits
CRM - Send to CRM data modules that have been Sync'd over via SymSync. Require's Pro Marketer plan and integrated CRM to access
Live Target Lists - Choose to send directly to CRM Target/Campaign Lists. Require module to be installed in your CRM instance and use email credits.
Once you select which lists you would like to send to you will be taken to another screen asking you to finalize your recipient list. This overview screen will then let you go back and select more lists to be included or remove lists that you had chosen.

Once you're done click on Next Step.
---
Step 4 - Test & Schedule
With your message built and your recipients selected we have now come to the testing phase. On this screen you will be given the option to send a PROOF of your message to an email address or multiple email addresses of your choice.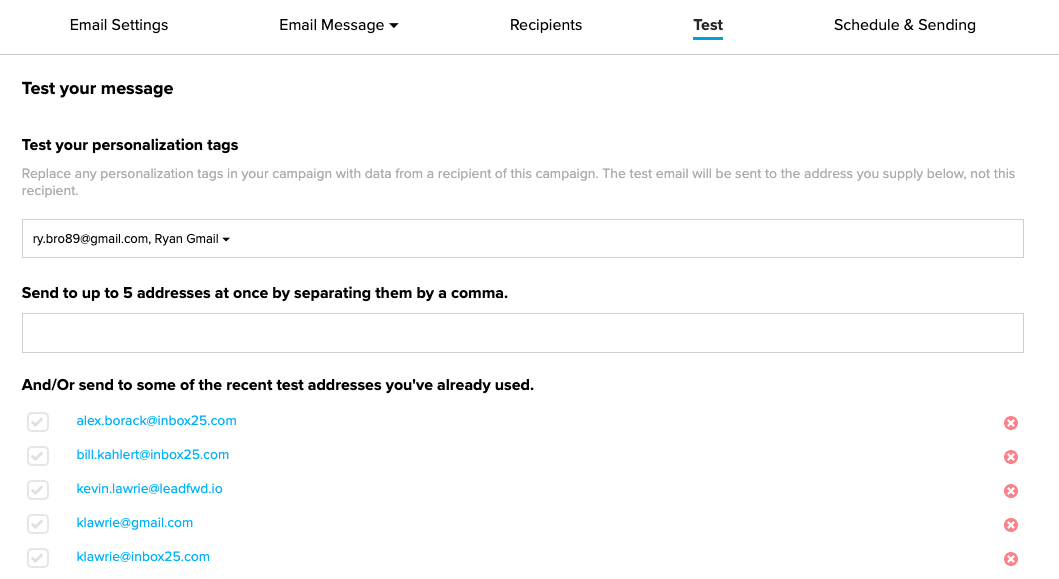 And finally once you're done with all your testing and proofing you can schedule your message for send.

Once you've scheduled your email campaign go ahead and click Finish/Save.
Congratulations! You've just set up and sent your email campaign with LeadFWD.