Email Sequences are a great way to introduce your brand to all stakeholders identified by LeadFWD 24/7. With flexible delivery scheduling, dynamic targeting and time sensitive content. Drip Campaigns provide the intelligence and one of the core functionalities of Lead Automation, while streamlining the creation process for simplified execution.
Email Sequences keynote features:
Dedicated tool -- requires no complex automation logic. Everything is fed from custom lead feeds.

Touch-free Lead Generation -- setup your email sequences, configure your Lead Automation, LeadFWD handles the rest.

Add individual Leads to a Email Sequences (right from the Timeline)

Send the first email immediately when a record enters the Email Sequences (instead of waiting until the next delivery date)
To create a Drip Campaign begin by hovering over Pro Marketer ---> Drip Campaign ---> Create New. As Email Sequences are their own dedicated tool, all aspects of your sequence will be configured within one core location.

The Drip Campaign manager displays all sequences created to-date. View the email reports of a specific sequence or create new ones. Pause/play sequences or clone an Email Sequence to begin another one. Email a report of Email Sequence activity to your staff or export the results out to .csv. You may also organize your email sequence into categories, for example, a category of all email sequence that target stakeholders in the marketing department.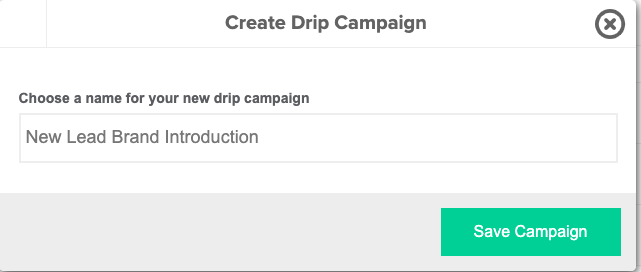 After selecting to Create New from the navigation or the Create New from the Sequence Manager, name and save your Email Sequence.
Step 1 - Email Sequence Management
Email Sequences require no complex automation logic. Your custom lead feeds from the Visitor Report will fuel which Leads can automatically be added to a sequence. Additionally, you can enroll Leads by Tag, Segment or individually into an Email Sequence.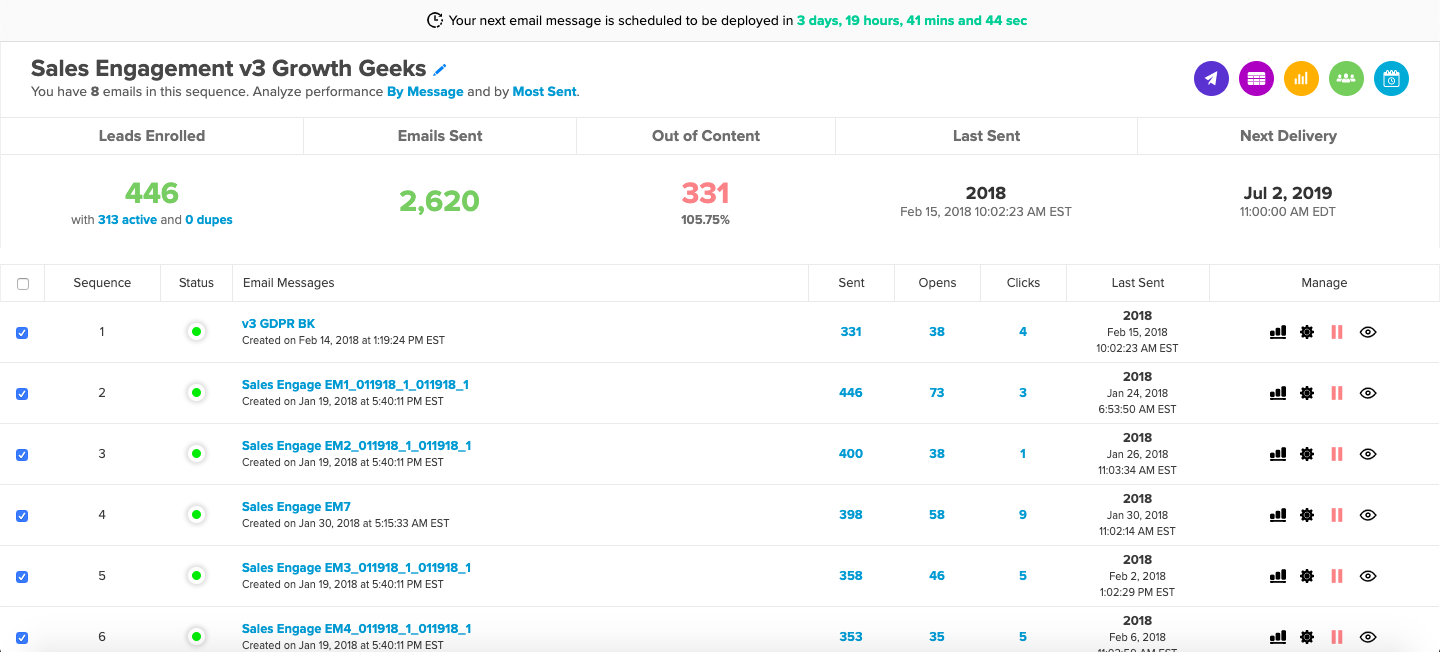 Each email sequence has an export or email function so you can report on a sequence's efficacy to your team. Each sequence also has an action to enroll your Leads manually. Via Lead automation, leads will be enrolled once they are identified.

Email Sequences membership can be dynamic, meaning as leads are added to your database or tags have been added to their lead profile, they will be automatically be inserted into your sequence. LeadFWD is constantly scanning for new leads to match.

You can add individual leads to your Email Sequences through their Timeline Intelligence Report.
Step 2 - Create/Import Email Content

Email Sequences allow for email creation and import within a singular wizard.
There are two options when adding email content to a Email Sequences. Selecting "Add Content" will allow the use of previously executed email campaigns. Selecting "Create New" will allow email creation from scratch. You may also clone emails already configured within your sequence by clicking on the manage (gear) icon associated with the email you'd like to clone.
Step 3 - Understanding Email Status'

When adding email content to your Email Sequences, an email can be considered one of three status.
Active - The email is considered active content. It is in the queue ready to send.

Paused - The email is complete but is paused within the stream and will not send.

Set-Up Incomplete - Incomplete Email Content (Setup must be completed)
Email will only send with a status of active. Content can be paused at any point if you no longer wish for records to receive that email.
Step 4 - Prioritizing Email

Within the stream you can also prioritize your content by simply dragging and dropping messages into any order you choose. Simply hover over an email and drag that email into the position you would like it to be in.
Email Sequences are intelligent meaning each Lead enrolled in your sequence will receive the next highest prioritized email at the next scheduled delivery interval. If your Lead has previously received the email that appears next in your sequence, we automatically skip that message and send them the next email in highest priority.
Please note that the status of the Email Sequences itself will always take precedence over the individual email status. Although content may be active within the Email Sequences, if the sequence itself is paused, nothing will send. You will know your campaign status by traveling to Engage > Email Sequences.
5 - Configuring Delivery Interval
Email Sequences allow for flexible customized delivery intervals designed to accommodate a wide range of scheduled sending. You can configure the frequency as well as the day/times of days for each email in your sequence to deploy.

Select "Delivery Schedule" on the top right to begin.
Select your delivery interval from the drop down, the specific time of day and the option to send your first email immediately. Email Sequences allow you to leverage calendar days for your delivery. Ex. Send every Monday and Thursday at 2PM EST. Or the first and last Wednesday of every month at 9:00AM EST.


Step 6 - Time Sensitive Content (If applicable)
If emails have specific date range relevancy, you can configure individual emails as time sensitive. Time sensitive content will have a specific date range of sending and once your configured date range has passed, the email will no longer send. Ex. A holiday promotion valid from Dec 1st- 31st. Or an upcoming event with an RSVP date ending April 14th.

To configure Time Sensitive Content, locate the email in your stream and select the far right gear icon---->Time Sensitive Content.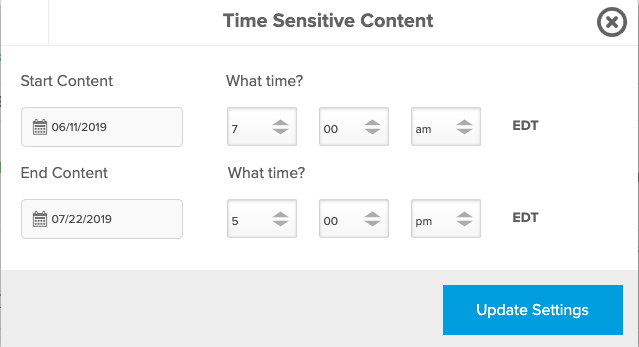 From here, select the sending date range of this email. The email interval will follow the delivery interval configured above, but will not send this email once the range has expired.
Step 7- Activating Your Email Sequences
We've now fully configured our Email Sequence. To activate your sequence, you may either click on 'resume sequence' which will be a top banner while inside your sequence man