Allowing your recipients to unsubscribe from your campaign with a single-click is best practice and we automatically handle adding an unsubscribe link to every single email you send.
---
Customize your Unsubscribe options
We provide you with several options to customize your subscribers entire unsubscribe experience. Obviously we never like to see our subscribers go, but it should be a simple and straightforward process, should they decide to unsubscribe.
These options can be found by clicking on the three dots at the top right or 'Manage Settings' then clicking on 'Advanced Settings' and finally, 'Unsubscribe Options'.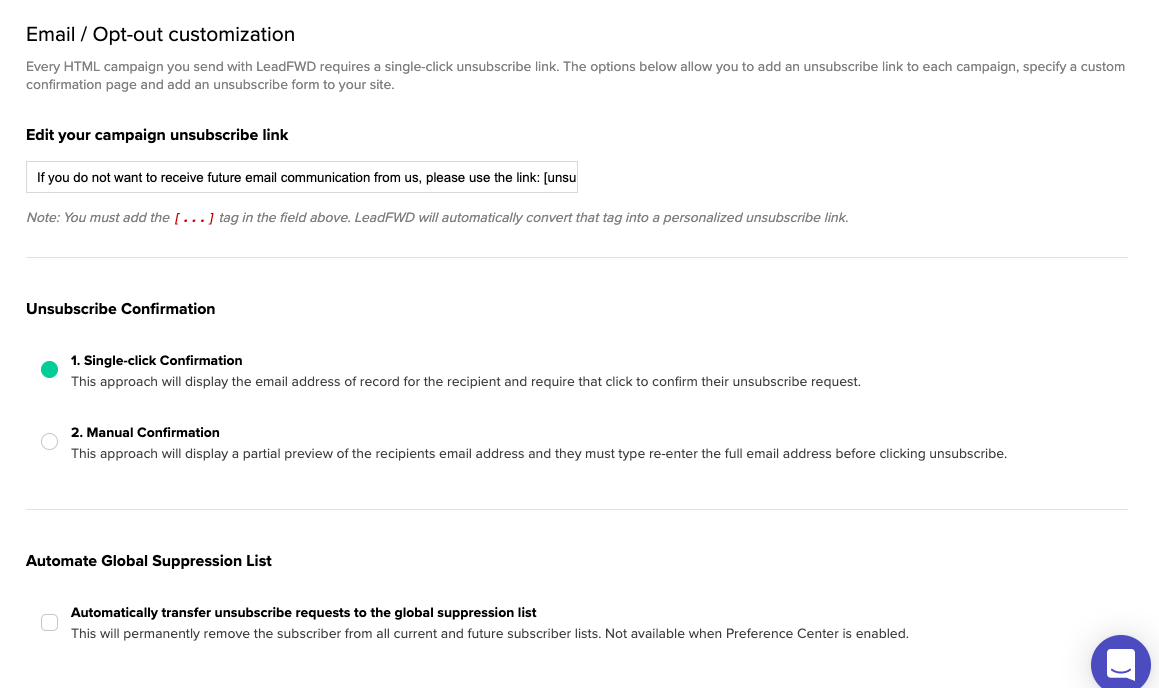 ---
Customize your unsubscribe link text
You can customize the unsubscribe link text that appears at the bottom of every email.
Default Unsubscribe Text:

If you do not want to receive anymore emails from us, please click the following link [unsubscribe].
---
Unsubscribe Confirmation

There are two (2) different unsubscribe options that can be set up. Choose the best one to fit your organization's policys.
Single-click confirmation - This is a one-step opt out process. The end user will confirm via a single click that they have opt-out of receiving messages from you.
Manual Confirmation - The user will be required to re-input their email address in order to opt-out.
---
Automate Global Suppression List

Having this option enabled will automatically add records to your Global Suppression List. Records added to the suppression list are not eligible for email campaigns. Should a record that exists on the suppression list have another version of itself uploaded, the newly created record will be checked against the suppression list (if enabled) and removed.
**Note: If you have the Global Preference Center enabled then this option is not available
---
Customize your unsubscribe confirmation page

You can also customize the confirmation page that your subscribers see when their unsubscribe request is completed. Simply enter the location of your desired confirmation page and we'll take care of redirecting your subscriber after our system processes their removal request.
Do you have multiple brands and lists? No problem, you can also have multiple confirmation pages. Just enter your confirmation page URL under the option form above and then when you create your campaign, simply select which unsubscribe confirmation page you wish to display during Step 1 of the campaign creation process.