An Email Preference Center is a subscription management system that allows your leads and subscribers to manage their subscriptions. By allowing your recipients to choose the type of content and frequency of their email communication, you will increase engagement and also reduce complete unsubscribes.
Getting Started
To access your Pro Marketer preference center, hover over the settings icon on the top right of the LeadFWD dashboard.
Select Settings -- Email -- Preference Center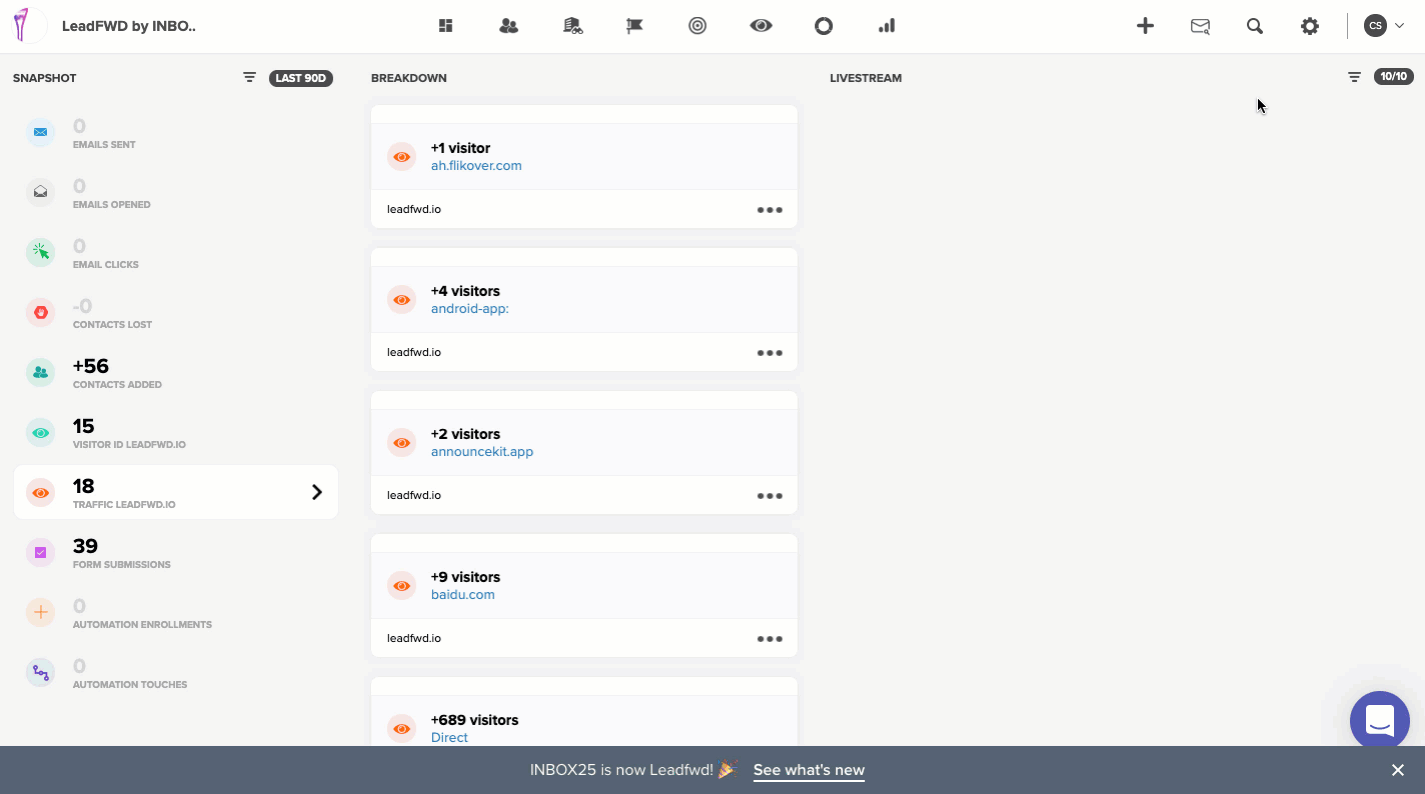 This is your preference center manager where you can edit and manage all aspects of your LeadFWD account. You will need to enable your Pro Marketer preference center on the top of your preference center manager.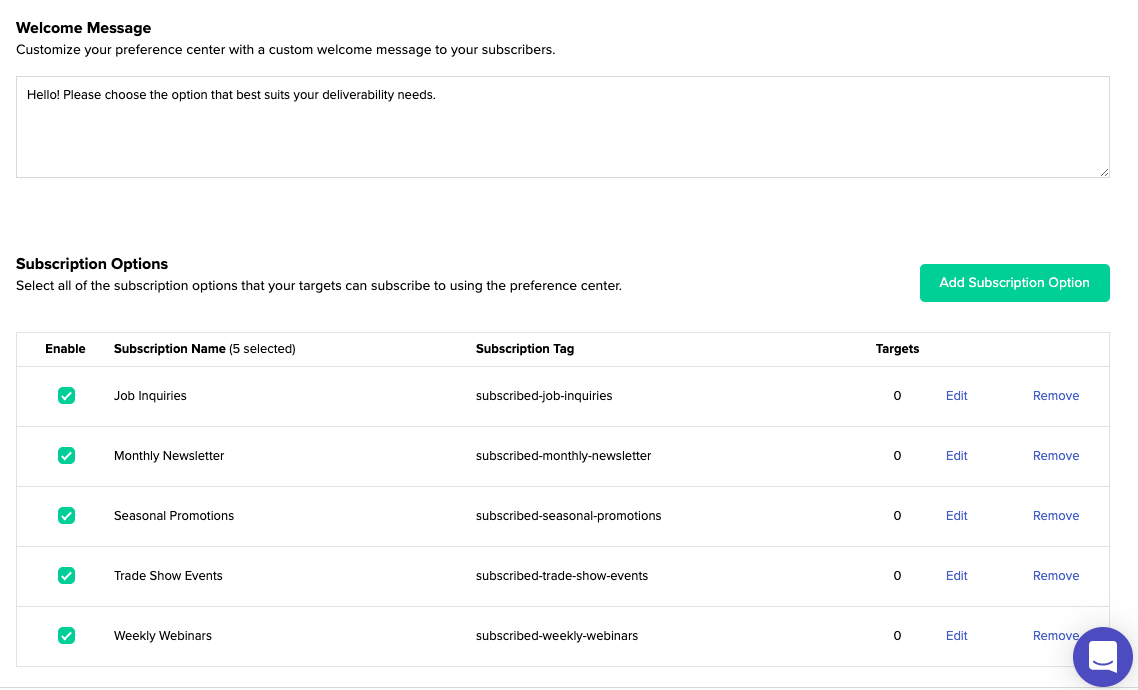 How it works?
Preference Center subscriptions are managed through the use of tags. Each subscription you create will be assigned a unique subscription tag. Subscriptions represent your different content options and/or delivery options for subscribers (ex. Newsletter, Promotions, Weekly Events etc).
When a subscriber selects to opt-in and opt-out of various subscriptions, our preference center will automatically assign or remove the subscription tag(s) based on their selection. When a tag is added, a record is added to your subscription. When a subscriber opts-out of a subscription, then the tag is removed.
When your preference center is enabled a small link is embed within your email campaigns. This link directs users to their subscription manager where they can proceed to manage their subscription preferences.
Setup
Let's start with the basics, customizing your preference center message. This message is displayed when records select to mange their category preferences.

Creating Subscriptions
Once our welcome message is configured, we can begin to create our subscription name and tag. Your subscription names will be the public label that appear in your preference center.
To begin your list creation select "Add Subscription Option".
The subscription name you provide will determine the name of the identifying tag used. In our below example my category name is "Monthly Newsletter" with the given tag name of "subscribed-monthly-newsletter". Your subscription name is the identifier your end users will see, so make the list name easily identifiable.
We highly-recommend that you provide a description for each subscription options. You should clearly indicate to your subscribers the nature of the content and the frequency they should expect.
You can choose to automatically enroll an entire list (up to 5) into your new subscription. This is a recommended approach if you're setting up the Preference Center and your various subscriptions for the first time, but you already have your email lists or marketing database setup. Enrolling your list(s) into at least one subscription would be a good start. On-save, we will automatically add the subscriber tag to each list member.

**Note- Once your subscription name and tag are created, you are able to change the subscription name but the tag name will always remain consistent. To avoid confusion, ensure you are satisfied with subscription names to avoid having to delete and recreate the same list.
Managing Subscriptions
Once your subscriptions have been created, you can manage which display live in the preference center of your subscribers. You can hide or enable subscriptions in the preference center with a simple checkbox.

Examples
You've created your subscriptions, selected those subscriptions you'd like to use, and now the time has come to see your preference center in action. When your preference center is activated, all outbound email communication sent through LeadFWD will have a preference center link embedded into your emails. This link will direct your users to their preference center manager where they can manage their category subscriptions.
Below is an example of an end user's perspective. Your welcome message is displayed at the top of the page with your category subscriptions detailed below. Each time a record updates their subscription status, LeadFWD will automatically add or remove the category tag associated with their profile. If a record decides to unsubscribe from all future email communication, LeadFWD will mark their email as "unsubscribed" and they will no longer receive any future LeadFWD sent emails.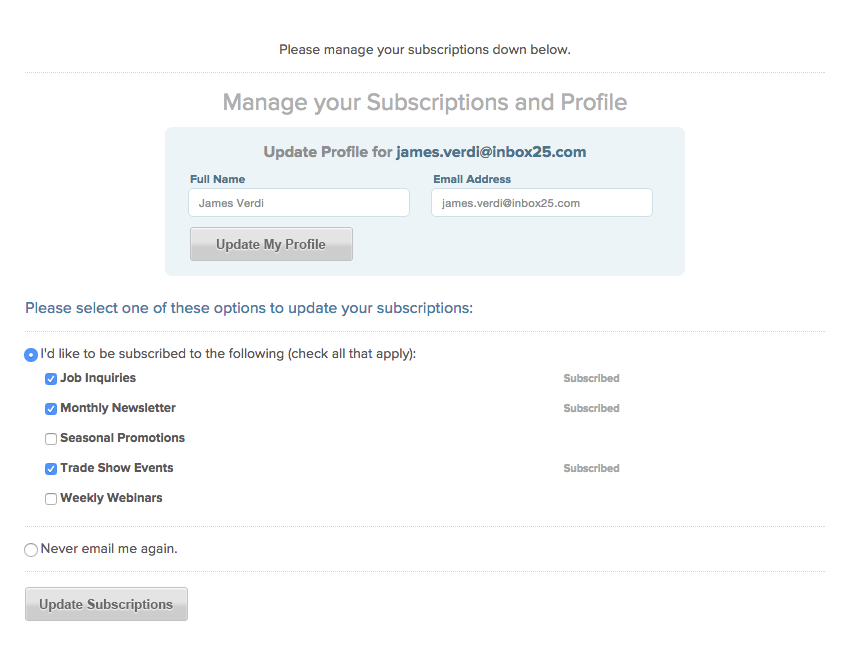 Direct Email Campaigns
Once your preference center has been fully configured, you'll need to learn how to utilize these categories for email sending. We've made this process simple and straightforward by seamlessly integrating your preference center categories into the email recipient screen.
In the below screenshot you'll notice the email recipient screen with your preference center categories listed. Each category provides the record total and is auto-updated as records opt-in and out of those listed categories. Simply check off the categories you wish to send to and viola. Managing list subscriptions have never been so easy.

Note**- A campaign sent to subscription tags are not considered SugarCRM campaigns as subscription tags are based off local list copies. Therefore you should NOT check off "sync campaign with SugarCRM" on your initial email settings screen. Doing so will cause the campaign to fail come sending.
Preference Center with Automation and Content Stream
In the above section we discussed utilizing your preference center for basic email campaigns. (E-blast). As our preference center works with tags, it's easy application within automation should come as no surprise. If you wish to target a preference center category within automation, simply utilize the tag condition with the corresponding category tag.
Let's break this down into a real world example. Below is LeadFWD's automated campaign wizard with the tags condition selected. Reverting back to our previous example, let's use our Monthly Newsletter subscription. The tag associated with our Monthly Newsletter subscription is "subscribed-monthly-newsletter" and will be our automation criteria. Once this criteria is put in place the workflow engine will target all records with the "subscribed-monthly-newsletter" tag, thus targeting all records in the Monthly Newsletter subscription. You can group together multiple tag conditions to target multiple categories within a single automation.