Lets Get Started
Your social profiles are connected with Social Connect 2.0 and it is now time to create and deploy your first social campaign. If your social profiles have not yet been configured simply follow these instructions. Facebook, Twitter and LinkedIn are their own separate applications, and as such cannot natively be managed together. Managing multiple social profiles within different browser tabs can be summed up in one word, inefficient.
Social Connect 2.0 allows you to manage all your Social Media profiles from one complete interface to increase efficiency and maximize your marketing efforts. You can post to Twitter, Facebook and LinkedIn with a single post action. We simplify the demands of a Marketing Manager by bringing more inbound/outbound marketing management tasks under the umbrella of one platform.
Step 1. Create A Social Campaign
Creating social media campaigns starts by navigating to your Social Connect dashboard. To create your first social campaign select "Create Campaign" on your Social Connect 2.0 dashboard.

First step is to name your social campaign. Social campaigns are not your individual social media posts, but rather represent the umbrella from which you will organize and deploy your social posts. Your Social Campaigns should be goal driven, grouping together relevant content to drip through your social profiles. Campaigns allow you to organize multiple posts around a single objective/cause. Once your social campaign is named, it is now time to create your individual social media posts.
Step 2. Creating your Social Post
To create a new post under this social campaign select the "New Post" button. This will bring up your post creation screen. Before we add any content to this post, let's name it. For organization and efficiency, be clear and detailed with your naming standards. Social campaigns can contain multiple posts and navigation becomes simpler when naming is specific.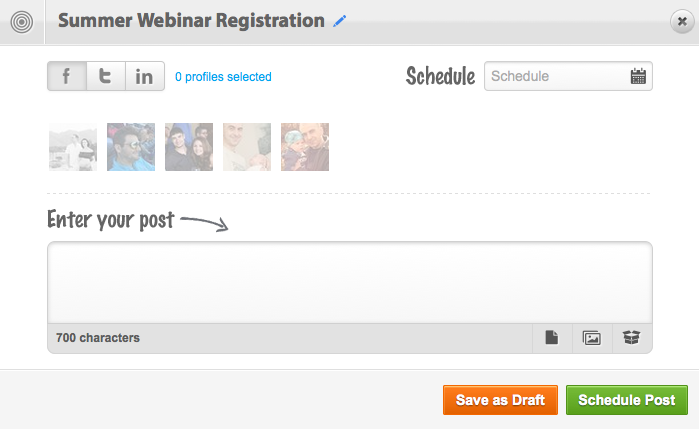 Step 3. Selecting Social Profiles and Creating Content
Now we must decide which social profiles we are targeting with this post. Social Connect 2.0 allows you to select multiple social media profiles for every post you wish to create. Once you have selected your social media profiles, you can begin to formulate your message. Depending on the profiles you select, (Facebook, Twitter & LinkedIn) each application will have their own character limit which we will display in your message box. If you are posting to more than one social application, each message will need to be configured separately within the same post window. When adding links to your posts we will automatically shorten the URL's and allow you to select which thumbnail image is displayed when the message is posted.
If you wish you to add an image to your posts simply select the "image" icon on the bottom right and select the image file from your computer. (Largest image file is 2MB) The small "paper" icon will allow you to embed an LeadFWD landing page URL into your social post. Any conversions on that landing page that have been directed from your social post will be tracked in the system and a powerful metric for analyzing the effectiveness of your social marketing strategy.
* You are unable to embed a URL in combination with an image attachment. If your post contains both, the URL will always have priority when your message is posted.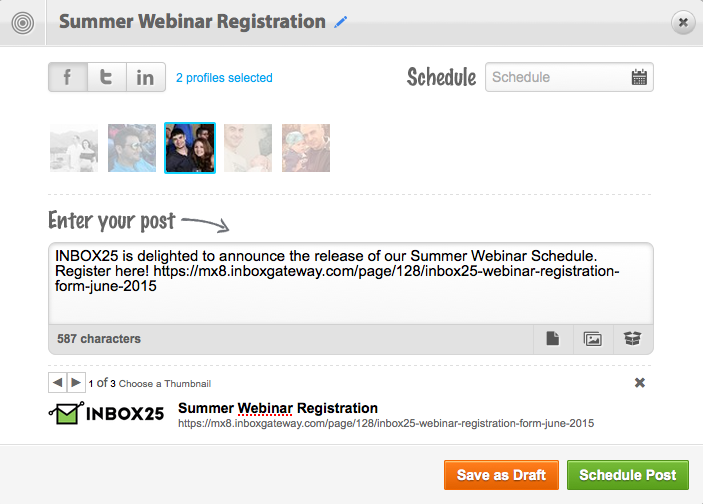 Similar to email campaigns, Social Connect 2.0 allows the user to create and use saved drafts. When saving your message as a draft it will be reusable for future posts by simply clicking "Drafts" on your Social Connect dashboard. You can also easily import previously posted content inside your post by clicking the bottom right "box" icon and selecting your previous content.
Step 4. Schedule Your Post
The last step in the creation process is perhaps the most crucial, scheduling your post. Unlike native social platforms, Social Connect 2.0 allows you to configure posts to be sent at specific dates and times. This ability allows the user to strategically map ahead and create drip style social campaigns with detailed and relevant information systematically injected to your recipients.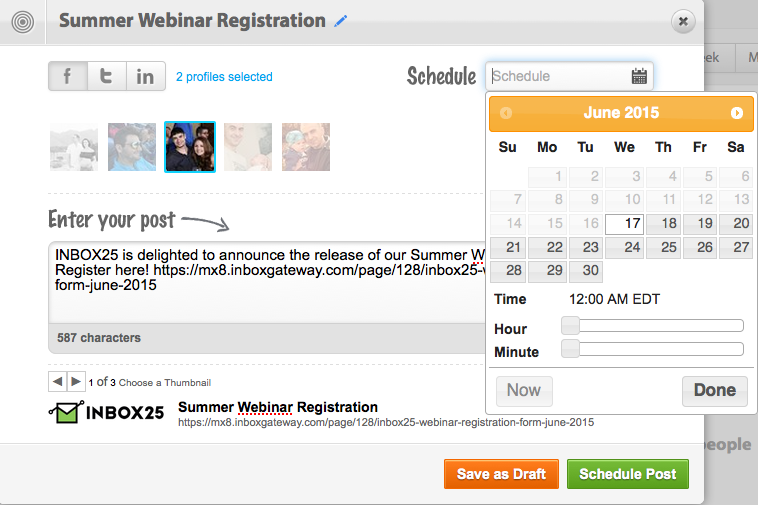 Once you have selected your scheduled date and time select "Schedule Post" and congratulations, you have just created your first social campaign and post with Social Connect 2.0.