Field Types
Once you add a field to the canvas, a field customization area will appear in the left tool panel. Each field contains its own customization parameters that are controlled on a field-by-field basis.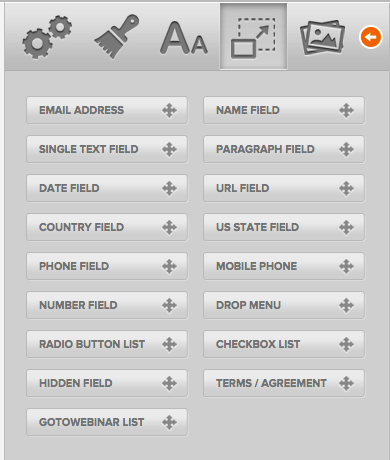 > Email Address
An Email Address field is required for all landing page forms. We automatically include a 'Confirm Email Address' field that requires a visitor to enter their email address twice, to ensure data integrity and prevent invalid email addresses.
> Name Field
The Name field is formatted for First and Last name. We recommend this field be used on all of your landing pages and forms.
> Single Text Field
The Single Text field is best utilized for open-ended data collection in situations where you could have a wide variety of entries from visitors.
> Paragraph Field
The Paragraph field provides a text area that allows your visitors to enter a text-based message.
> Date Field
The Date field allows you to select from a variety for data formats and ensures that the entry is stored in date field type.
> URL Field
The URL field is formatted to accept web addresses.
> Country Field
The Country field provides a drop-menu of every Country in the world.
> US State Field
The US State field provides a drop-menu of every State in the US.
> Phone Field
The Phone field is formatted for proper entry no matter what Country your visitor is from and is stored numerically.
> Mobile Phone
The Mobile Phone field was specifically created to store the value in a format that could be utilized for text message campaigns and workflow.
> Number Field
The Number field is formatted to only accept numeric characters.
> Drop Menu Field
The Drop Menu field allows you to create a multiple-option drop menu.
> Radio Button Field
The Radio Button field allows you to create a multiple-option field that will allow the respondent to select one option.
> Check-box List Field
The Check-box List field allows you to create a multiple-option checkbox-list for users to check off multiple options accordingly.
The Hidden field allows you to map a unique default value to a data field within the designated list.
> Terms and Agreement Field
The Terms and Agreement field allows you to enter a text-based agreement that a user must click to accept, before submitting your form.
> GoToWebinar Field
The GoToWebinar field allows you to provide a single-click solution to allow users to enroll in upcoming webinars.