Social media marketing is an evolving space, and with that a strong emphasis on delivering fresh, interesting content. Managing multiple social profiles should be intuitive allowing for more times spent on content generation. But the ability to organize and navigate through your social profiles effectively through your native social apps becomes impossible, lets call this information overload.
Native Facebook and Twitter timelines are cluttered and disorganized. LeadFWD is proud to introduce Social Connect 2.0 Social Streams. Social Streams provide a real time, visual display of your social activity through Facebook and Twitter. Social streams only concern themselves with social activity directly targeted towards your profiles. We've removed all of the fluff and clutter, providing an easy to view, organized timeline with a wealth of built in functionality to make your social marketing experience more intuitive.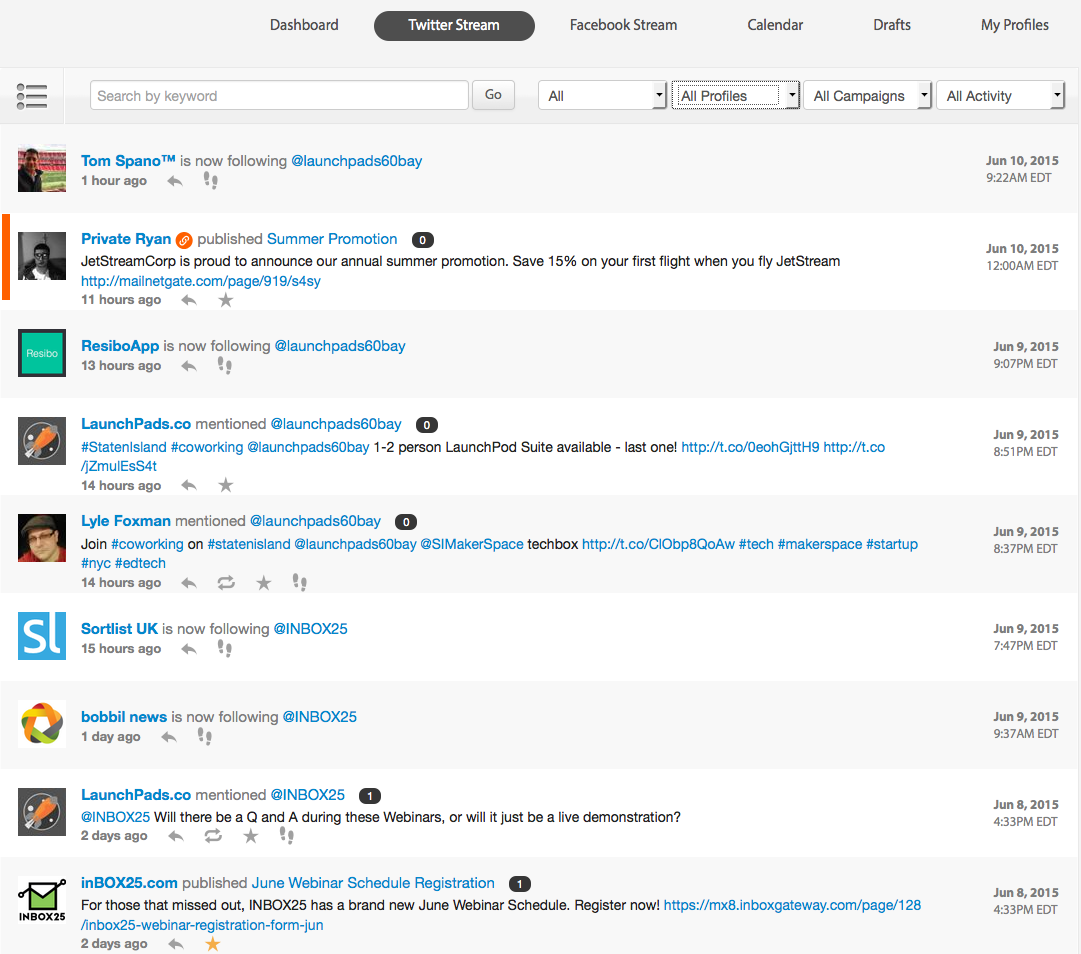 Facebook Stream
Let's start by dissecting our Facebook stream. Social Connect 2.0's Facebook stream replaces your native Facebook timeline displaying only information relevant to your Facebook profiles. Here we can monitor, but more importantly respond to Facebook activity sent through Social Connect 2.0. Your Facebook stream will display all social activity/ communication sent through Social Connect 2.0.
Engaging With Your Fans
Social media marketing is a two way street and interacting with your social fans is key for active engagement. As before mentioned social streams enhance organization by condensing your social activity, but the streams also allow access to direct fan engagement from your social posts.
Never miss a beat. Whether you're running a high traffic profile or a small time fish, it's important to know when activity has occurred on your social posts. Have people liked or commented on your social posts? Each interaction will be detailed out in a linear stream so you know who and when each person interacted with your post. Social Connect 2.0 color coordinates unread post activity with a small green icon on your Facebook stream.
In this below example I have three unread notifications, whether it be a Facebook like or comment on my Social Connect post referencing a new webinar series. This particular post has an embedded LeadFWD landing page link for our webinar registration.

Responding to activity on your social posts is simple and Social Connect 2.0's UI will display your post conversations in a linear fashion.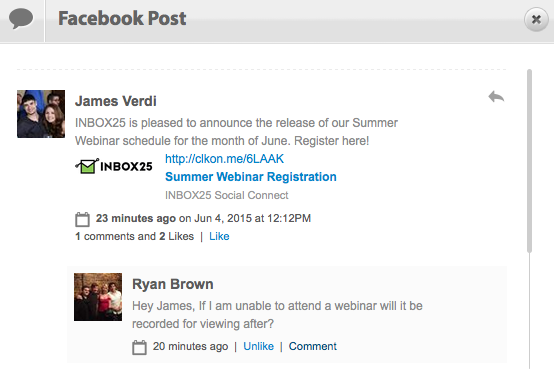 Seamlessly respond to each comment to ensure the corresponding response is notifying the correct person. Data is updated in real time to keep the conversation going.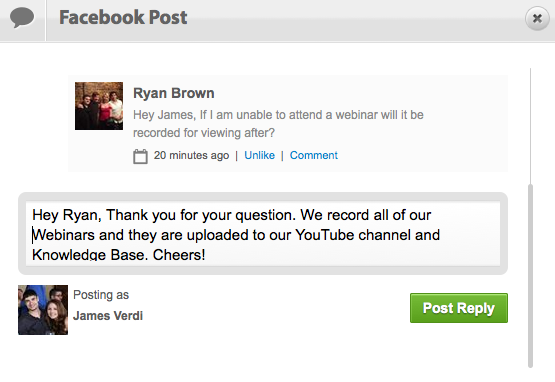 You can now manage all Facebook Activity directly inside of your marketing automation platform.
Connecting Social Fans To Your Marketing Database
Social media is an integral piece of 21st century digital marketing but is often under utilized within automation strategies. A disconnect lies between your social fans and the records held within your marketing database. Social Connect 2.0 works to bridge that gap, connecting your social fans and interactions to your existing marketing database.
Recognize a social profile as being a valued lead inside of your CRM? Go ahead and seamlessly connect each profile allowing for social activity to now influence your marketing automation strategy. Connecting your records LeadFWD record profile and their corresponding social profile will merge all tracked social activity onto your records LeadFWD timeline report.
Connecting social profiles with existing marketing profiles is quick and easy. While on your stream hover over your desired record and select "Link Profile To Target". This will allow you to search by name or email for the corresponding profile match inside of LeadFWD. Once their social profiles are connected, any past and future social activity will be logged into their LeadFWD timeline and available for various automation tools.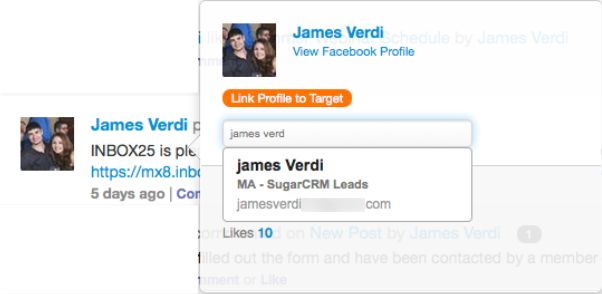 You'll know when both profiles are linked denoted by an orange bar on the left of their profile.

Once both profiles are linked, all social activity will be displayed on your records LeadFWD Timeline Report displayed below.

Twitter Stream
The Twitter stream will work similar to Social Connect 2.0's Facebook stream, but of course is now optimized for Twitter. Interactions on Twitter follow a different structure, namely in the form of retweets, mentions and follows. The structure of the Twitter stream is similar to Facebook but will allow for the direct interaction of native Twitter functions.
Following The Footsteps
Building your Twitter brand starts with powerful and intelligent content. As more valuable content is pushed in, the traction on your Twitter profiles should increase. Social media growth is key, but you want to attract those that will be relevant and helpful for your business. Delivering targeted content is one way to achieve this.
As more traffic is pushed to your Twitter profile, your "Follower" count will grow. Because Social Connect 2.0 integrates directly with your Twitter profiles, your Twitter Stream will display all new Twitter followers, with access to their profiles and ability to follow that profile back directly through your stream. Simply click on the "footsteps" to start connecting with relevant profiles and build your Twitter connection base. We're removing the fluff and keeping your analytics clean and organized.

Fan Interaction with 140 Characters
Similar to your Facebook stream, Twitter stream allows for the seamless interaction with all profile activity from retweets, to Twitter mentions. Did someone retweet and respond to your post? Keep that dialogue alive and engage immediately by responding through your Twitter stream.
Identical to Facebook, your Twitter stream will light green under any unread posts. The numerical value inside of the oval will display the amount of posts within your conversation. Select it to read and respond.

Social Connect 2.0 organizes your conversation in a clean, linear UI to ensure that no post is missed.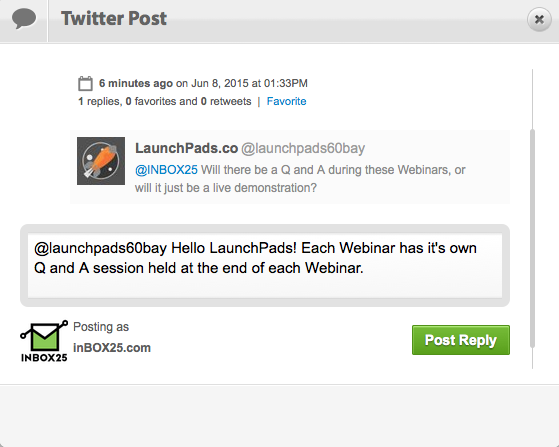 Connecting Social Fans To Your Marketing Database
Identical to Facebook, your Twitter stream will allow you to connect a users social profile with their existing LeadFWD/CRM record profile. Once both profiles are merged, all Twitter activity will be available for viewing on your records LeadFWD Timeline Report.