Account Sync
LeadFWD enables you to import accounts for direct targeting when the 'Account as a Person' feature in Salesforce is enabled. When using accounts as 'Companies' we enable you to import the account data-fields for use in conjunction with related contact records. If the feature is enabled, you can leverage accounts normally as you would leads and contacts; to map form conversions to the accounts object, leverage various criteria against the accounts via automation, inclusion in rules within the scorecard manager, use as campaign targets for direct one-to-one email blasts, drip email campaigns or automated emails. Additionally, quick segments can be created locally using a variety of criteria.
Very Important Note - If you do not have the 'Account as a Person' feature in Salesforce enabled, the Salesforce Connector Dashboard will not allow you to sync over Accounts directly. Instead, you'll be shown this reminder when attempting to sync the module.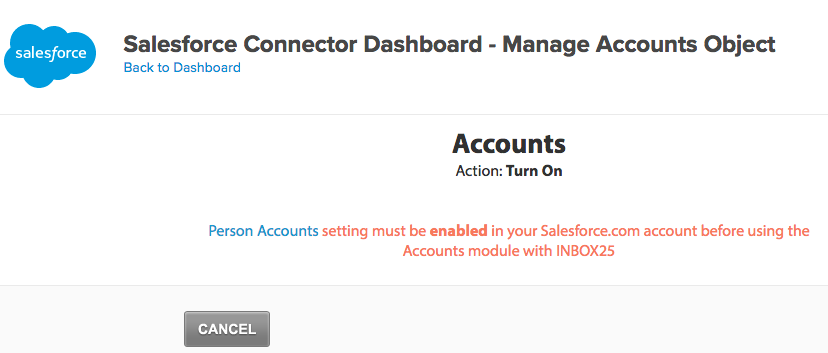 ---
Data Segmentation
The accounts object can be used either through our quick segment builder or through our list manager to generate local segments of your accounts, removing the necessity to generate a campaign and including the accounts as members. You can segment by name, email, data field values, LeadFWD tags applied to the record, by status or lead source.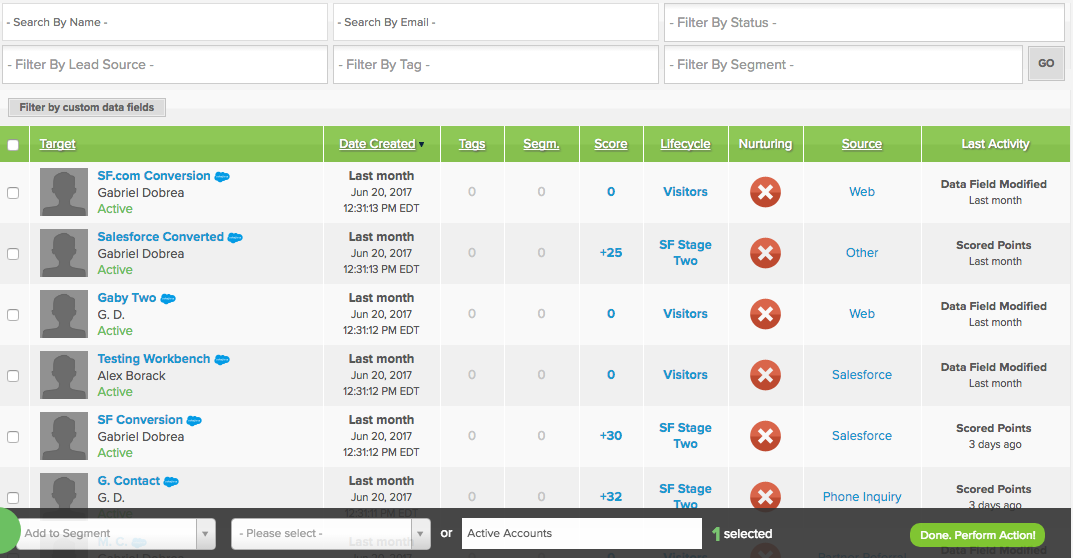 ---
Automation
Accounts can be targeted with your automated journeys. Simply selecting them from the campaign targets within the first step of creating a workflow will allow you to proceed and combine different criteria for enrolling members. You can use criteria such as membership in a SF campaign, form conversion and web activity. To see the complete list of conditions and actions with automation - click here.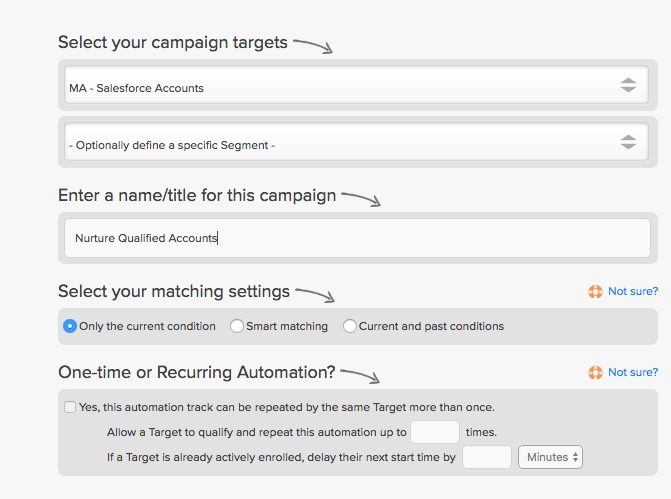 ---
Landing Pages and Forms
You can funnel form results into the accounts object by selecting them from the list of CRM objects. To see the list of all the form field types - click here.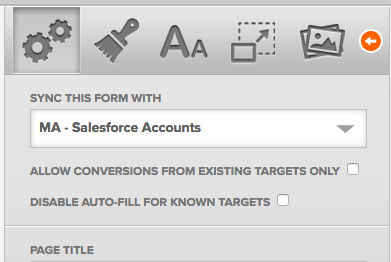 ---
Lead Scoring
Using scorecard manager, you can configure rules to score the account directly, rather than the associated contacts. You can score accounts based on profile data and email activity. To see a full list of eligible rules - click here.

---
Email Campaigns
Accounts or campaign lists with accounts as members in them can be selected via the recipients screen within the standalone email wizard. You can also use locally generated segments of accounts. Additionally, you can personalize your message and general campaign settings using account data fields.

---
Drip Campaigns
Accounts or segments that include account records can be enrolled to drip campaigns.