Sales forecasting is an integral aspect for defining both the success of your marketing strategy and sales processes. Determining potential revenue generation influences overhead, company growth and the overall health of your business. With so much at stake it's essential that a marketing automation platform provides you with the necessary tools and reporting to make accurate sales forecasting possible. With our platform's Opportunity Win/Loss Insight Report, you get a clear historical picture into the efficiency of your SugarCRM sales funnel by displaying, month to month, a complete opportunity break down of specific opportunity status and revenue outlook.
Determining revenue potential can be filtered by the year, quarter, or month to ensure you can accurately analyze growth. Visually break down sales forecasting with the chart viewed below. This interactive chart will display proportional color coordinated ratios of open, won and lost opportunities within a given timeframe.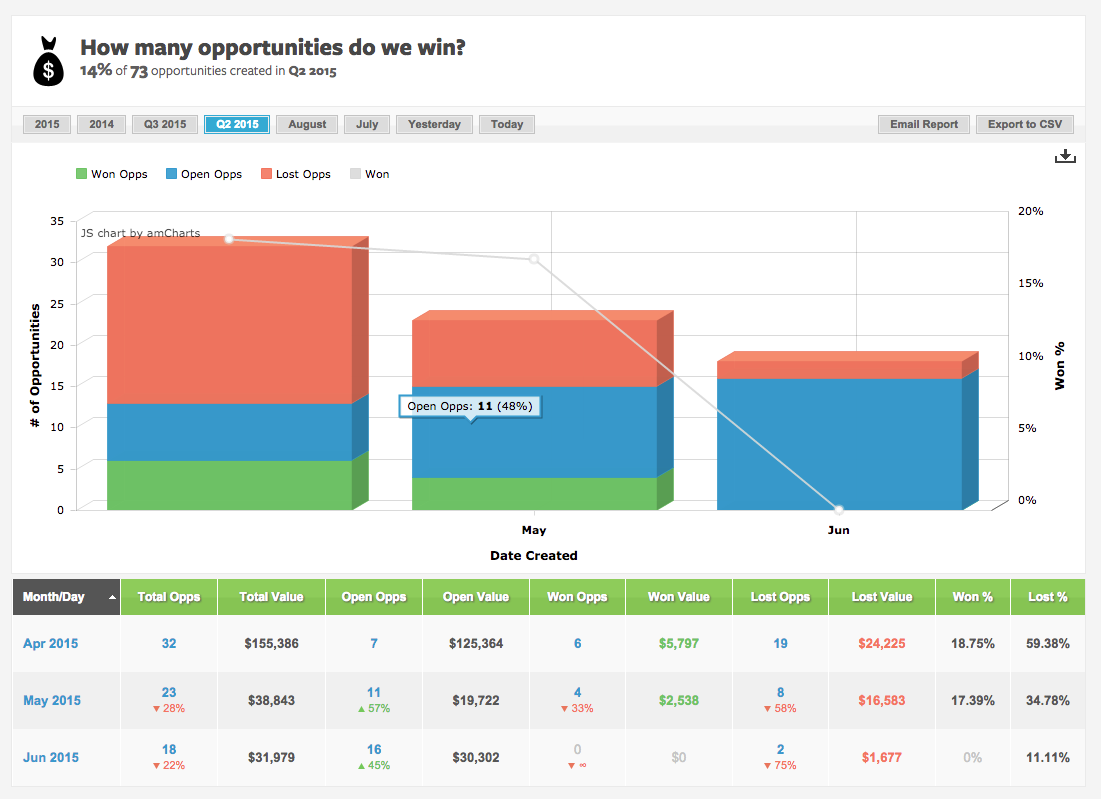 Once a timeframe is given, the Opportunity Win/Loss Insight Report will display a month by month breakdown of your opportunities. Total Opps will provide you with the total amount of SugarCRM opportunities created in that month, with the total revenue potential listed beside. Open opportunities will display opportunities still in the pipeline with the amount of open value displayed beside.
Tracking opportunity health month to month is simple as this report condenses each month into its own category. This level of categorization allows you to view the won and lost opportunities created each month. Based on the amount of total opportunities created within your timeframe, you are supplied the percentage of won vs. lost revenue.

Requirements
SugarCRM Opportunities Enabled (SymSync)