When creating your Persona you will have multiple options of criteria and filters that you can utilize. Here is a quick overview of all Filters and Criteria for your Persona.
Overview of Filters and Criteria
Location

Industry

Company Size

People

Technology Used
Location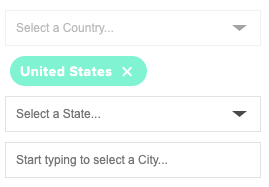 Build your Persona using two (2) different location variables:
State - choose one or multiple states for where your targets reside

City - drill down farther and target records in individual cities.
Currently Prospect only provides data from company's and contacts that reside in the United States. Because of this United States will automatically be selected as the Country option.
Industry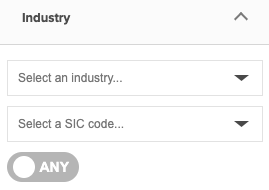 Build your Persona using known Industry's to help narrow down your search and strategy:
Industry - choose one or many industries while building your Persona

SIC Code - utilize SIC Codes to target more specific company's
Company Size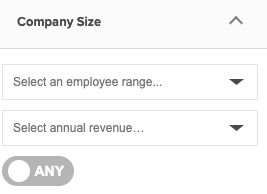 We have two (2) separate filters for Company Size that you can filter by: Employee range & Annual Revenue.
Company Size will let you filter by several different tiers including:
Myself only

1 - 10 employees

11 - 50 employees

51 - 200 employees

201 - 500 employees

501 - 1000 employees

1001 - 5000 employees

5001 - 10,000 employees

10,001+ employees
Annual Revenue will let you filter by several different tiers including:
$1MM - $5MM

$6MM - $10MM

$11MM - $50MM

$51MM - $100MM

$101MM+
People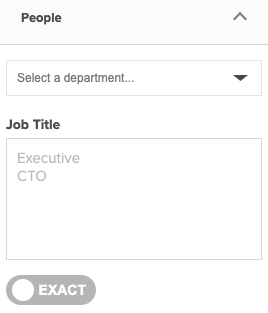 Build your Persona by looking for individuals with the exact title or department that you are trying to sell into. Under People we allow you two (2) different ways to filter and build your Personal: Role / Department & Job Title.
For Role / Department you can search for people that belong to:
C-suite

Operations

Sales

Marketing

Finance

Legal

Communication

Support

IT

HR

Other
For Job Title you can input the direct job title that you are looking to filter your results with. This could include such phrases as: Director, Chief Executive Officer, President, etc.
Note: The more specific the title the more narrow the results may be for you.
Technology Used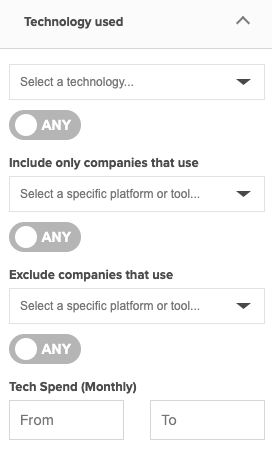 Under the Technology Used section you have four (4) additional variables that you can add on:
Technology

Include specific platform or tool

Exclude specific platform or tool

Monthly tech spend
Technology - include a specific vertical of technology used by the organization in your Persona. Examples include: CRM, Ad Tracking, Hosting, etc.
For a complete listing click here: Technology Verticals
Include/Exclude specific platform or tool will allow you to drill down even further in your search. For example, if you were in the CRM space and wanted to know which competitors your Persona's were using you could search for specific applications such as Salesforce, MS Dynamics, SugarCRM, or Hubspot.
And finally Monthly tech spend is an approximation of how many dollars per month the returned results spend on their technology. You can set a range between a minimum and maximum value per month.