Prospect does its best to validate all data ahead of time before showing you the results of your inquiry. But when dealing with big data and quickly changing landscapes even the most rigorous validation can sometimes come up short.
If you believe that a record that successfully passed through our validation process has done so in error you can easily report the problem to us. Simple click on the gear icon next to the record from the People Report screen and choose Report a Problem.

You'll then be prompted to give a reason why you believe the data to be incorrect. If the option is not available please choose Other problem and write out the issue below to us.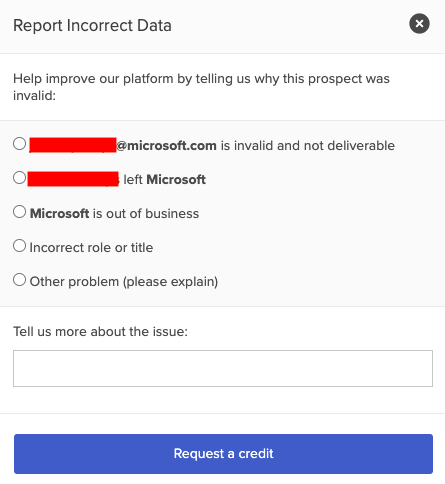 Once you click on the Request a credit button, the record will be removed from your results and your account will receive the credit back. All instances of incorrect reporting go directly to our Product and Engineering teams to help strengthen our validation processes.