Lead Assignment & Routing
You may choose to assign the exported records to users inside your CRM. You can do this in one (1) of three (3) ways:
Round Robin

Random

Single User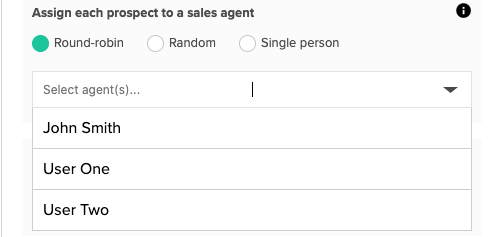 Round Robin - assign records to users in an equal style by company's. The Round Robin does not take into the account the individual contacts associated with the downloaded company for record ownership
Meaning - Three (3) company's downloaded with a total of 30 contacts
Company A - 5 contacts

Company B - 10 contacts

Company C - 15 contacts
If you chose three (3) different CRM users to receive the records then the layout would be:
User 1 -> Company A with 5 contacts

User 2 -> Company B with 10 contacts

User 3 -> Company C with 15 contacts
Random - The assignment of records will be randomized among a list of users that you include to receive the records.
Single User - All exported records are assigned to a single chosen user.