To enable the quick 'Add to Sequence' for use with Engage is a quick process.

To enable the function you need to first access Object Manager. Object Manager is located from the Objects and Fields option under Platform Tools from your Setup settings.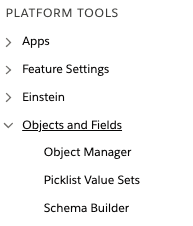 From there you will need to access both Contacts and Leads. The setup is the same for both modules. Once you have selected a module you will then see selections for Search Layouts and Search Layouts for Salesforce Classic.

Open up Search Layouts. You will then select the Default view to edit.

On this screen you will scroll down until you see the section Custom Buttons. Under there you should see Add to Sequence as an available button. Click on Add to Sequence and then select the Add arrow to move it to Selected Buttons.
Once this is done go ahead and click save. You will need to do this exact same process for both Search Layouts and Search Layouts for Salesforce Classic. Once you have done this the 'Add to Sequence' function will appear on your drop down view while looking at your lists of records.
One thing to keep in mind though is that the Recently Viewed filter is going to be the only view where the 'Add to Sequence' will not show up. This is due to Salesforce's native coding and unfortunately not something we can control.