Smart Sender Rotation saves time and dramatically optimizes inbox placement (deliverability).
Smart Sender Rotation enables you to split your email distribution for a Sequence equally over multiple connected mailboxes and unique domains. Instead of manually creating separate Sequences for each unique mailbox and/or domain, Smart Sender Rotation automatically splits your email distribution within a single Sequence. This is accomplished by defining Sender groups, which are collections of connected mailboxes within your Leadfwd account.
How Smart Sender Rotation Works
When Smart Sender Rotation is enabled your contacts will be equally assigned to a Sender/Mailbox when they move from a 'Enrolled' status to a 'Working' status within your Sequence. The assignment is automatic and your contacts are split equally, round-robin style, among your defined Sender group of connected mailboxes.
Optimize Inbox Placement and Avoid the Spam Folder
If reaching the inbox is your primary goal (and it should be!), then sending hundreds of emails from a single mailbox is a bad idea. The guardians of mailboxes globally have dramatically stepped-up their flagging and filtering of cold sales email. Sending hundreds of emails from a single mailbox is an immediate red-flag for ISPs. It's an insanely fast way to find yourself silently blacklisted and banished to the spam folder.
Use Multiple Mailboxes and Domains to Increase Email Volume
The first step to avoid banishment to the email black hole (a.k.a. spam folder) is appear to be a human. Humans don't send hundreds of emails per day. Humans don't send the same email hundreds or even a dozen times per day. Humans can't send 15 emails per minute. Get the point?
By using multiple mailboxes and domains you can both spread the technical risk and tactically execute outreach like a human.
The sweet spot that we recommend is between 25 and 35 emails per day, per mailbox. We also recommend 1 mailbox per 1 unique domain for the most optimal configuration. Example:
john@xyzwidgets.com: 25 emails / per day
john@goxyzwidgets.com: 25 emails / per day
john@tryxyzwidgets.com: 25 emails / per day
john@myxyzwidgets.com: 25 emails / per day
As you add mailboxes you're also scaling your maximum daily email output, but this is scale 'done right' with deliverability optimization as the top priority. Since Leadfwd doesn't charge based on the number of connected mailboxes (or seats), we make it simply to ramp up your outreach without busting your budget and without risking your sender reputation.
Important
Ensure your sender group of connected mailboxes is fully configured before you activate your Sequence.
Ensure your mailboxes remain connected and error-free.
If you permanently remove a mailbox from Leadfwd that is assigned to contacts in a Sequence, those contacts will fail to proceed within the Sequence. It's important to ensure that connected mailboxes remain connected and in a good state.
Adding connected mailboxes to your sender group once a Sequence has been activated will not change any existing contact assignments. The newly included mailbox will only be considered for future contacts that are moving from an Enrolled status to Working.
When enabled, Smart sender rotation will apply to all Email touchpoint(s) within your Sequence and you will be unable to specify a Sender manually for individual email steps.
Enabling Smarter Sender Rotation
1. Select Sequence Configuration

2. Select '
Smart sender rotation

' from the Sender type pick-list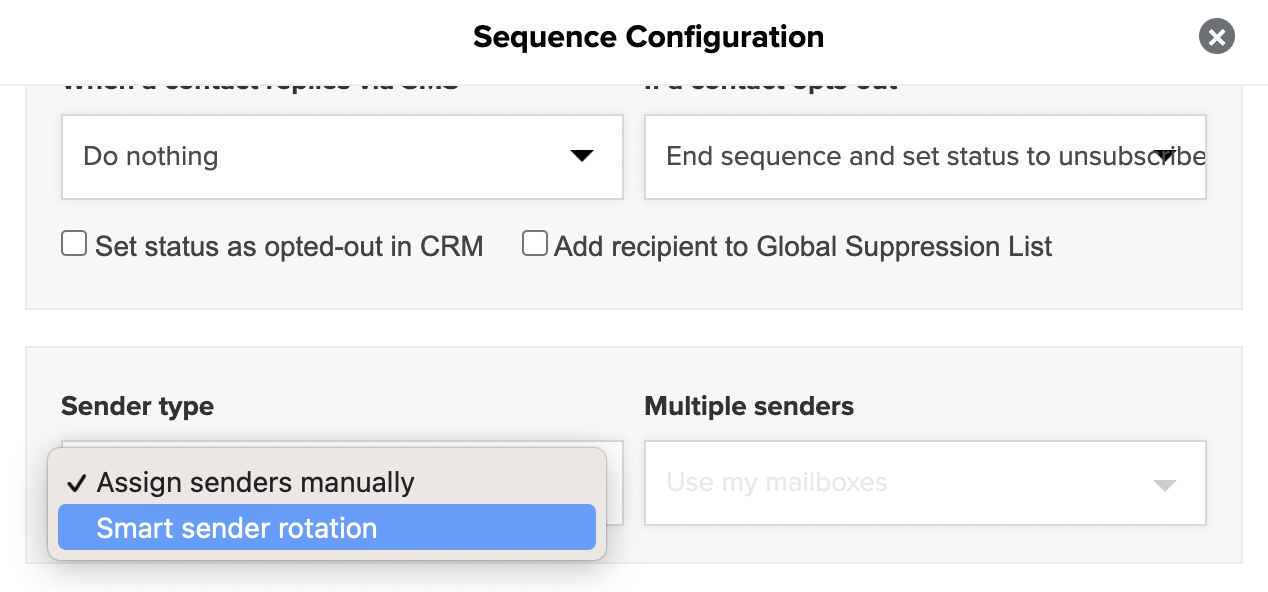 3. Choose your senders
Use my mailboxes | This option will pre-fill the selected mailboxes for your Sequence using mailboxes that you own in Leadfwd or that you have permissions to use and send from using Sequences.
Copy mailbox group from a Sequence | This option will enable you to clone and pre-fill using a group of sender mailboxes from an existing Sequence, so that you don't have to recreate the sender group again. You can only select and clone a sender group from a Sequence that you either own or that is configured as Shared.
Custom mailbox group | This option enables you to customize your sender group for scratch.